Zimbabwe's Mugabe Adds University to Long List of Things Named After Him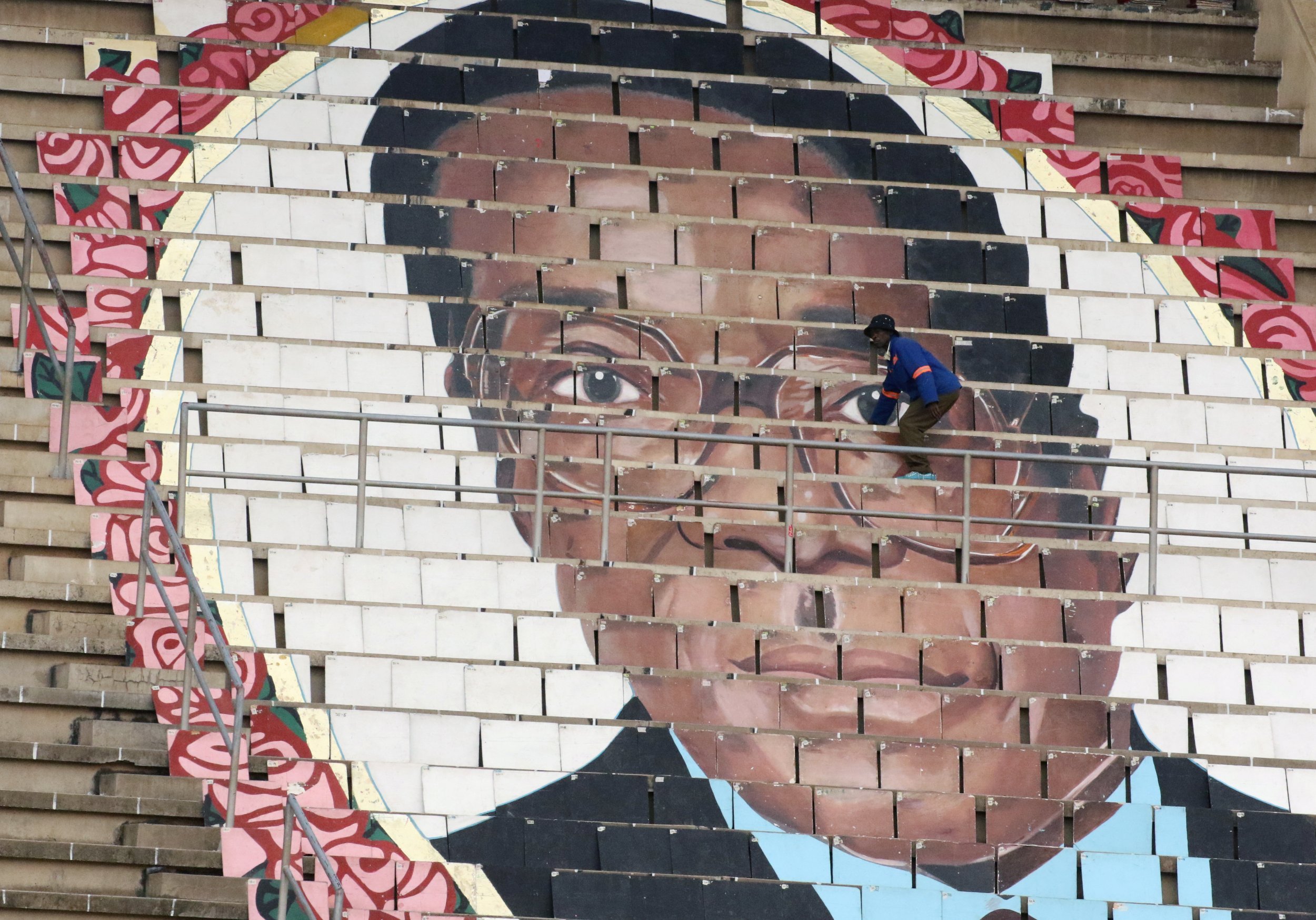 Zimbabwe President Robert Mugabe doesn't want for much. The 93-year-old ruler can sleep through meetings if he wants; is able to travel to Singapore regularly for top-notch health treatment; and holds extravagant million-dollar birthday bashes attended by tens of thousands of people.
But the government of Zimbabwe has decided that even all this is not enough for Mugabe, a former freedom fighter who came to power in 1980 and hasn't budged since. It has announced plans to set up the Robert Mugabe University.
Zimbabwe's Higher Education Minister Jonathan Moyo announced earlier this week that plans were afoot to build the university to honor "an iconic leader who has distinguished himself in the area of education and has contributed immensely to education," according to the state-run Chronicle newspaper.
The university would be established in partnership with the University of Zimbabwe, the country's oldest university, but would be owned by the Robert Mugabe Foundation, which is itself yet to be set up, Moyo said.. The minister did not announce a budget for the project and did not respond to a request for comment from Newsweek.
Moyo said the university would likely focus on the technology and engineering sectors and would be a "smart university." He added that given that other African leaders had had universities named after them—such as Nelson Mandela Metropolitan University in South Africa and Moi University, named after former Kenyan leader Daniel arap Moi—Mugabe deserved the same honor. "We need a successful university in Zimbabwe as well, signifying our exceptional leader."
Read more: Robert Mugabe isn't sleeping in meetings—he is just protecting his eyes
Mugabe claimed recently that Zimbabwe is second only to South Africa in terms of highly-developed countries on the continent. "We have got universities, our literacy rate is over 90 percent. It's the highest in Africa. Don't talk about us as if we are a fragile state," said the Zimbabwean leader at a World Economic Forum meeting in South Africa.
Zimbabwe's national statistics agency estimated that in 2011, 97.2 percent of the population above 15 years old was literate and there were 15 universities in the country. But despite this, almost three-quarters of the population lives in poverty, according to World Bank estimates, and the country reportedly has a high unemployment rate.
Should the university go ahead, it will not be the first thing to be named after Mugabe. The president, who is currently the world's oldest non-royal head of state, has become a popular eponym both in Zimbabwe and abroad.
The Robert Mugabe School of Intelligence, opened in 2007. Mugabe said the institute would produce spies able to fight threats from the West.
Great Zimbabwe University, situated in the southeastern town of Masvingo, named its education department the Robert Mugabe School of Education. The school was inspired by Mugabe's "vast contribution to the education system in Zimbabwe."
Plans are afoot to rename Harare International Airport after the president. The country's transport minister said in December 2016 that despite receiving only 20 percent of its required budget for renovating the country's airports, the priority would be changing the name to the Robert Gabriel Mugabe International Airport.
Mugabe's likeness has also inspired several sculptures of the president. The most controversial of these was unveiled in September 2016: A 12-foot, three-ton abstract statue that depicted a cartoonish Mugabe in a Superman-style pose. Mugabe himself praised the statue (and another that resembled him more closely) as stimulating "a kind of wonder" in his heart.
Finally, Mugabe has a plethora of streets, roads and avenues named after him. In Zimbabwe, there is:
Robert Mugabe Road in the capital Harare;
Robert Mugabe Way, also in Harare;
Robert Mugabe Road in Mutare;
Robert Mugabe Way in the second city, Bulawayo;
Robert Mugabe Way in Gweru;
Robert Mugabe Street in Masvingo.
Outside Zimbabwe, there is:
Robert Mugabe Road in Kampala, Uganda's capital;
Robert Mugabe Street in the South African capital Pretoria;
Robert Mugabe Avenue in Windhoek, the capital of Namibia;
And Rua Robert Mugabe in the Mozambican port of Quelimane.