Robinhood has been hit with a class-action lawsuit, after the stock-trading app halted GameStop trading on its platform on Thursday. Filed in a Manhattan federal court on Thursday, the lawsuit alleges that Robinhood "deprived their customers of the ability to use their service" and "abruptly, purposefully, willfully, and knowingly pulled GME [GameStop Corp stocks] from their app."
The lawsuit also claims that Robinhood's decision to temporarily prevent the purchasing of various securities, like GME stock, was "done purposefully and knowingly to manipulate the market for the benefit of people and financial [institutions] who were not Robinhood's customers."
Elsewhere, the filing cites a message reportedly sent out from Robinhood's Twitter account in March 2016, which said, "Let the people trade." The class-action complaint characterizes that statement as a "mantra," and argues that the company has "disregarded their mantra and have blocked access for millions of its customers to trade particular securities."
The plaintiff in the suit, a Massachusetts man named Brendon Nelson, is described in the court filing as a Robinhood user who "lost out on all earning opportunities" as GameStop shares rose significantly. Nelson is joined by more than 100 other class members represented in the lawsuit.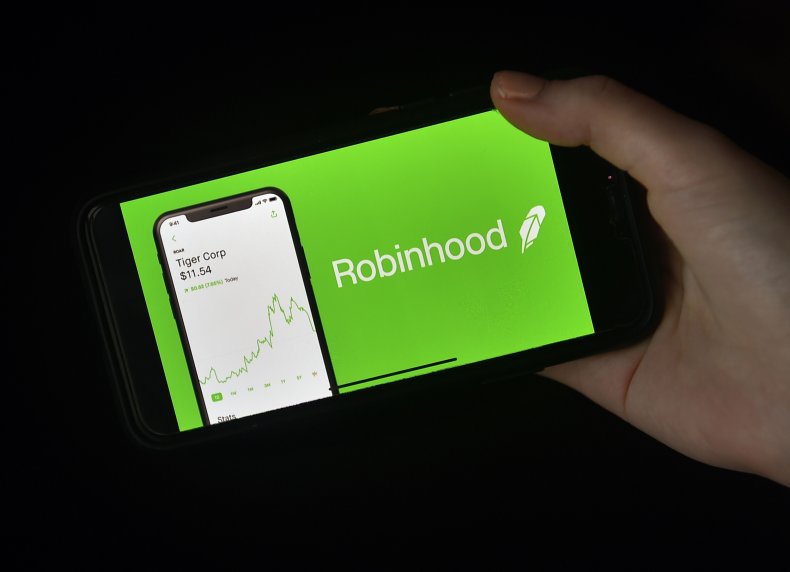 In a statement to CNBC on Thursday, Nelson's attorney Alexander Cabeceiras said that Robinhood has failed in its mission to "democratize finance for all" by pulling GME stock as it increased. "They have purposefully failed this mission and failed their clients in an attempt to—what appears to be—appease their investors and/or potential investors," Cabeceiras said.
On Twitter, Cabeceiras encouraged others who may have been affected by Robinhood's move to join the class-action lawsuit. He also noted that people from almost every state in the U.S. have contacted his offices with complaints against the company.
Newsweek has reached out to Cabeceiras for comment, but did not hear back in time for publication.
Meanwhile in Illinois, another Robinhood user named Richard Gatz, an attorney, filed a similar suit against the trading app on Thursday. He's accusing Robinhood of choosing to "protect institutional investment at the detriment of retail customers," and pointing to restrictions that were put on trades involving companies like AMC Theaters, Blackberry and Nokia on Thursday.
Ohio law firm ChapmanAlbin, who specializes in investment fraud and losses, is also taking action against Robinhood on behalf of its clients. Upon visiting the law firm's website, potential plaintiffs are greeted with a popup asking, "Are you a Robinhood user who has suffered losses?" There's also a form that can be filled out to participate in the claim against the trading app.
Newsweek has contacted ChapmanAlbin for comment, but did not hear back in time for publication.
Anyone who has been affected by Robinhood's limitations of stock trading on Thursday can join in on the class-action lawsuits. Individuals have also started sharing information about Robinhood in the subreddit r/ClassActionRobinHood, which emerged on Thursday. The group was up to more than 40,000 members at the time of this article's posting on Friday.
In a blog post published on Thursday, Robinhood stated that, on Friday, it would resume limited trading of the stocks that were temporarily blocked. The company acknowledged its decision to halt transactions and said that it was "a risk-management decision, and was not made on the direction of the market makers we route to."
"We stand in support of our customers and the freedom of retail investors to shape their own financial future. Democratizing finance has been our guiding star since our earliest days. We will continue to build products that give more people—not fewer—access to our financial system. We'll keep monitoring market conditions as we look to restore full trading for these securities," the statement reads.
Newsweek contacted Robinhood for further comment, but did not immediately hear back.
The drama over GameStop's stock has dominated headlines for the past several days, after scores of amateur traders flooded the market, buying up shares in the video game retailer. A stock that was recently being targeted by short-sellers betting against the company's health quickly became, in many people's eyes, a must-buy surging in valuation. Word of the rush on GameStop grew out of the subreddit r/WallStreetBets (which has also just seen its membership numbers skyrocket), and in the days since, the ploy to juice GameStop and other stocks has increasingly taken on a vibe reminiscent of the Occupy Wall Street movement. With these lawsuits against Robinhood starting to come in, it's likely that that mood will only be amplified.