Rochester Protesters Topple Police Barricades Over Pepper Sprayed 9-Year-Old Girl
Protesters in New York state have knocked down barricades outside of the Rochester Police station during a demonstration against police officers who were recently caught on video handcuffing and pepper-spraying a nine-year-old Black girl. The girl, according to police, had threatened to harm herself and her mother.
Videos posted to social media on Monday evening showed protesters standing in the snowfall making speeches on megaphones outside of the station as others waved Black Lives Matter flags and signs. Other videos showed protestors calmly moving and overturning the barriers while chanting "Black Lives Matter" and "No justice, no peace."
"The mother was there," said Shalonda Jones, a protester from the Community Justice Initiative, according to WHAM-TV. "In this incident, there was no reason for the police officer to be so rough with this child. We're here because we want change. We want our police officers to stop abusing our babies. We want these police officers to be human. Think of them as your own child... Think of your child being put in a position like this."
Protesters also chanted "Protect our children" while marching down the city's North Clinton Avenue before coming to the police station.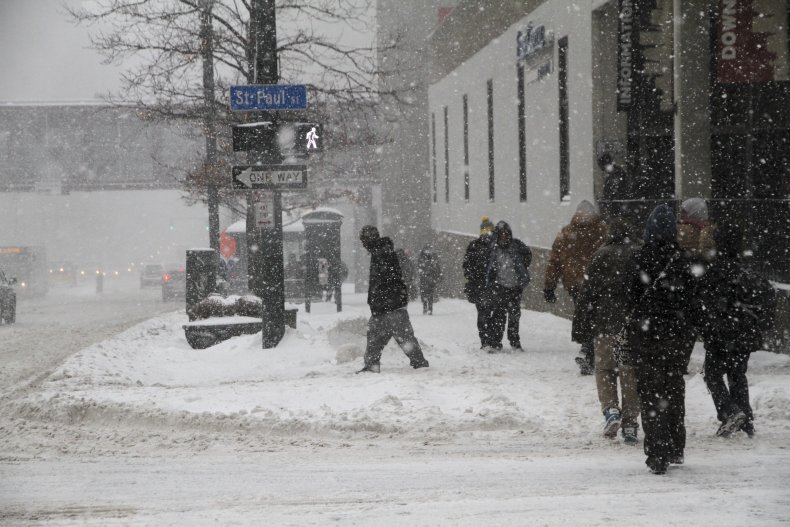 At a Sunday news conference, Rochester Deputy Police Chief Andre Anderson said that on Friday around 3:30 p.m. local time, officers responded to a call from the child's custodial mother who, Anderson claimed, said the child had threatened to kill the mother and herself.
The video showed police restraining the child as the child repeatedly screamed, "I want my dad," Officers then pushed her onto the snowy ground and then tried to put her in the back of a police car as she thrashed and kicked one officer in the chest, knocking his body camera to the ground.
When an officer told the girl, "You're acting like a child," she responded, "I am a child, what the f*ck?"
Later, a female officer threatened to pepper spray the girl if she didn't sit inside the police car.
"This is your last chance," the officer warned her, "otherwise pepper spray is going in your eyeballs."
When the girl kept pleading to see her father, a male officer said, "Just spray her." The fellow officer did, and the girl began screaming and yelling for someone to help wipe her eyes. The girl was taken to Rochester General Hospital and later released, according to Anderson.
"I'm not going to stand here and tell you that for a 9-year-old to have to be pepper-sprayed is OK. It's not," Police Chief Cynthia Herriott-Sullivan said at the Sunday news conference. "I don't see that as who we are as a department, and we're going to do the work we have to do to ensure that these kinds of things don't happen."
The police officers associated with the incident have been suspended. Local racial justice activists also demonstrated against the police following the March 2020 killing of 42-year-old Black man Daniel Prude by local police.
Newsweek contacted the Rochester Community Justice Initiative for comment.