Rocket League's annual Halloween celebration, named "Haunted Hallows," will soon be returning to the vehicular soccer game.
Developer Psyonix has confirmed some details for the upcoming event, which will this year revolve around Batman and his rogues' gallery of enemies. This DC licensed content will include special challenges, a limited-time mode (LTM), cosmetic rewards, a new arena and, of course, a selection of Batmobiles that will be added to the item shop.
The Caped Crusader has already crossed over with Fortnite earlier this year, but his stint in Rocket League will be comparatively brief. This is because the Haunted Hallows event only lasts for 18 days, after which point everything will be removed (except for items that have been purchased with credits).
For more specifics about what the update entails and when it will launch, here is everything that Psyonix has revealed so far: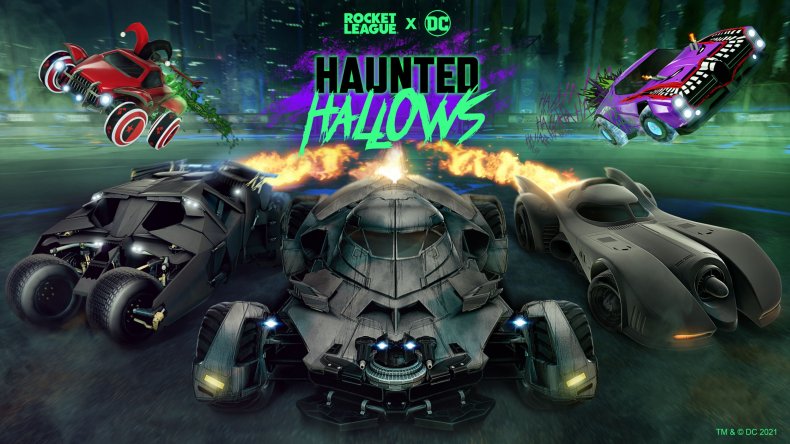 When Is the Haunted Hallows 2021 Event?
Last week, we reported that a limited-time James Bond event was available in Rocket League and that it would end on October 13.
Haunted Hallows will be replacing the 007 content the very next day, October 14. The Halloween celebration will then run until November 1, giving you just 18 days to experience all the spooky treats that it has to offer.
How To Unlock the Batmobiles in Rocket League
Comic fans will be able to live out their superhero fantasies with Rocket League's Haunted Hallows event, as three different versions of the Batmobile will be coming to the item shop.
There is the classic Tim Burton model (from 1989), The Dark Knight trilogy's Tumbler, and the behemoth that was driven by Ben Affleck in Batman V Superman: Dawn of Justice.
The cars can be purchased together in a bundle, alongside corresponding "Bat-Signal" goal explosions. This package will cost 2,000 credits, which equates to $20. Pricing details for the individual items on their own can be found on the official Rocket League blog here.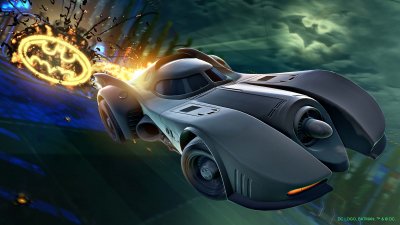 New Challenges and Villain Cosmetics
By participating in a selection of new challenges, players will be able to unlock various supervillain-themed rewards in Rocket League. These include the "Joker Dominus" decal and a matching boost option, which basically changes the appearance of your car's exhaust fumes.
Meanwhile, there will also be a "Gotham's Finest Merc" decal up for grabs, as well as Poison Ivy cosmetics, a Mr. Freeze wheelset and a Harley Quinn topper (think of the latter as like a hat for your vehicle).
There is also a log-in reward for the Haunted Hallows event, which grants players the "Dark Knight" title.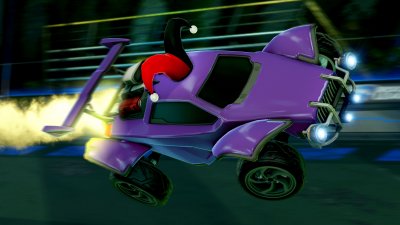 Gotham City Rumble LTM
The fan-favorite "Rumble" mode (which adds Mario Kart-style power-ups to exhibition matches) is being given a Gotham City makeover for the Halloween update.
Here, all the usual items will be redesigned with a zany comic-book twist. For example, the haymaker is being temporarily replaced with Joker's boxing glove, Harley's hammer will stand in for the boot, and Poison Ivy's vines will serve as a new version of the grappling hook.
Again, none of these changes are permanent and things will go back to normal after Haunted Hallows has concluded.
You will not have to pay for any of the reskinned items either, as they will be featured as part of the Gotham City Rumble mode.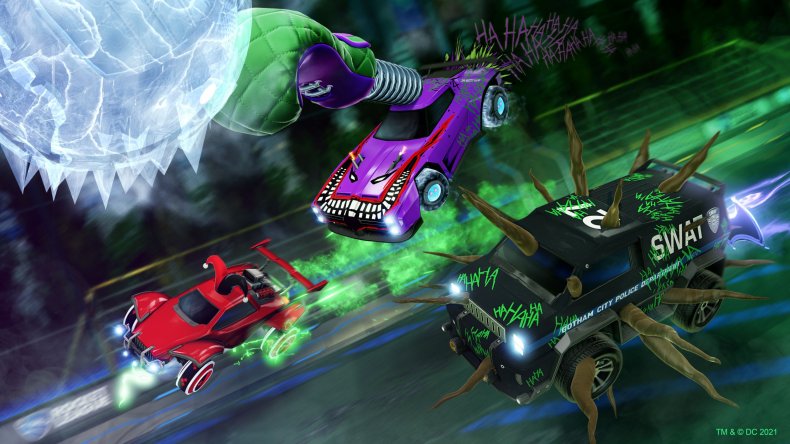 Gotham Night Arena
The Beckwith Park arena is getting updated with a "Gotham Night" redesign. It is not particularly clear, but you can make out the level variant in the background of the below screenshots (judging by the indistinct blur, it looks like we will be treated to a dark and moody skybox and towering skyscrapers).
In related news, Overwatch is now in the middle of its own Halloween celebration, while Call of Duty: Warzone is gearing up for its Haunting event.