Roderick Strong on Becoming NXT's Most Dependable Talent and His Match with Keith Lee
NXT's first episode on USA Network in September saw the Undisputed Era prophecy fulfilled when Roderick Strong defeated Velveteen Dream for the North American Championship.
The Undisputed Era consisting of Adam Cole, Bobby Fish, Kyle O'Reilly and Strong finished the night with all of NXT's mens titles and have not relinquished a single one since.
On Wednesday, the first big test for the Undisputed Era in 2020 arrives in the form of Keith Lee, a man entering the fray with lots of momentum. Lee takes on the NXT North American Champion, Strong, in what will likely be a masterful match.
As Strong prepares for a match he contemplates possibly being the biggest of his career, the champion thinks about arriving in NXT four years ago.
"With anything it takes time to get comfortable. I was with Ring of Honor for 13 years, and going to NXT and WWE was such a different environment," Strong told Newsweek. "This is where everyone wants to go. It's the big test. And I didn't realize how special NXT was until I got in there."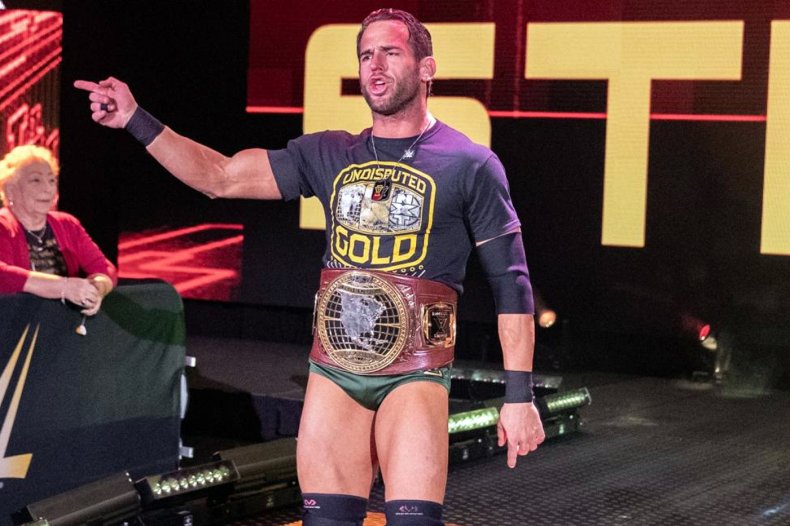 Strong wrestled for many promotions in the states and around the world, but when he arrived in NXT in 2016, his character was very different from the one fans see today. The 36-year-old was working as a babyface, going up against the likes of Andrade, Drew McIntyre, Bobby Roode and many others. But it was his feud with Adam Cole and the newly formed Undisputed Era that would change the trajectory of Strong's wrestling career.
After not accepting a place with the faction, Strong would go to war with the UE, teaming with the Authors of Pain and, eventually, Pete Dunne. At NXT Takeover: New Orleans - often regarded as the best show the brand has ever put on - Strong and Dunne would team against O'Reilly and Cole for the NXT Tag Team Championships.
Cole was subbing in for a legitimately injured Fish and already had a ladder match to become the first North American Champion earlier in the evening. When it seemed like Dunne was ready to pull out a victory for his team, Strong would turn on the former NXT UK Champion and join the Undisputed Era in a truly shocking moment.
"I was having the time of my life, [in NXT] and I had the opportunity to join the Undisputed Era which for me was the best decision of my career," Strong mused. "I think those guys and us as a group, as a whole, have been unbelievable. Time friggin' flies with how long I've been at WWE, how long the group has been together and thinking about how we are just getting started."
Strong's stamp on NXT would grow with Fish out of matches for an extended period of time. He would slide in and anchor the NXT tag team division with O'Reilly to become two-time champions and continue to raise Undisputed Era's prominence in the promotion. Roderick's penchant for being prepared for anything helped him.
"I love tag wrestling so [teaming with O'Reilly] gave me the opportunity to be in some big pressure situations. I've always been prepared. That's one of the things I knew about myself when I got to NXT is that I'm prepared for any situation. That's what all the years of travelling all over the world did," Strong recalled. "I honed this craft as best I could to be ready for the big pressure situations. I love teaming with guys. I love teaming with Adam and Bobby. All of it is just another situation to adapt and overcome, and that's what we did and that's what I'm doing now."
Strong's time wrestling in other promotions helped him adapt to many situations and answer the call, especially when NXT needed him most. This was most apparent during the promotion's November 27 episode. The show started with an NXT Tag Team Championship match between Fish and O'Reilly, alongside Keith Lee and Dominci Dijakovic. When NXT came back from commercial, Strong took Fish's place in the match after the latter suffered an injury.
"I was fired up," Strong laughed. "That's what we're there for, we're brothers. If one goes down, one fills in. That's the way it goes. And my son really wanted me to wrestle in that episode. He was talking to me prior and asked 'dad are you wrestling tonight?' I told him no and then surprise! So it was big, and my son was super pumped."
The suddenness of being inserted into a championship match and keeping the Undisputed Prophecy alive didn't phase Strong, even if it meant wrestling in his Levis 502, Calvin Klein briefs and Converse.
"That was interesting because I never really wrestled in jeans," Strong said. "I went for a diving headbutt, I haven't gone for a diving headbutt since I was 14 years-old, but I was like, you know what, by any means necessary."
Undisputed Era would retain with Strong, citing the constant communication with O'Reilly and some "bad situations" in global matches that allowed him to handle the change of pace seamlessly.
That match, despite its chaotic nature, was a perfect example of Strong's ability to put on an amazing performance, which has made him an indispensable part of the NXT roster. Triple H, the father of what NXT has become, spoke highly of Strong after his match with Matt Riddle at Takeover 25, the brand's first pay-per-view not attached to a main roster show.
"[Dependable is] what I've always wanted to be, as crazy as it sounds, because I was wrestling since I was 12 years-old and being around the world for so long. The one thing that I heard is that being dependable is priceless, and that's something I really put focus on," Strong said. "Being able to be the best opponent for someone no matter the style, size or anything. It means a lot coming from Triple H after seeing what he's done and what he's doing with NXT. He's an amazing performer [and] human. And that means more to me than winning a championship, honestly. The championship I love, don't get me wrong, but one of my goals for my legacy was to be very dependable and [to] be the guy that can work the opening match or the main event and give the fans my all."
Strong continues to give new and existing fans his all because one never knows when an opportunity will come along that replicates his build to Survivor Series in November. For the first time, NXT participated in the "brand warfare" surrounding the show, and Strong would get into the ring against legends AJ Styles and Shinsuke Nakamura to come away with the victory in a show-stealing match.
"Me and AJ have a long history outside of WWE and Nakamura and me have worked a few times as well. After all this time being in there with guys that I feel I'm on the same level as, but also have so much respect for them as opponents and as men in general," Strong said. "It honestly was the best and it gave me the chance to show the people who haven't seen or know much about me that I'm on their level too. Just because you don't know me doesn't mean I'm not good enough. So it was nice to show the wrestling world that I am."
Having to prove himself is something Strong is all too familiar with. Whether it was in Japan, WWE or other promotions,, Strong uses his opportunities to build his legacy and remind him where he came from.
"I'm always going to have to prove myself. That's the way my life has been, my career has been, and I'm OK with it. I've come to terms with it," Strong said. "There were times when I was younger that it bothered me some, but I realized that it's my path. I'm always the kid that lived in the trailer park in my mind. So I'm always constantly proving to myself that I'm better than that and that I will never go back to that. It is what it is when it comes to that, and I don't mind either. It keeps me motivated."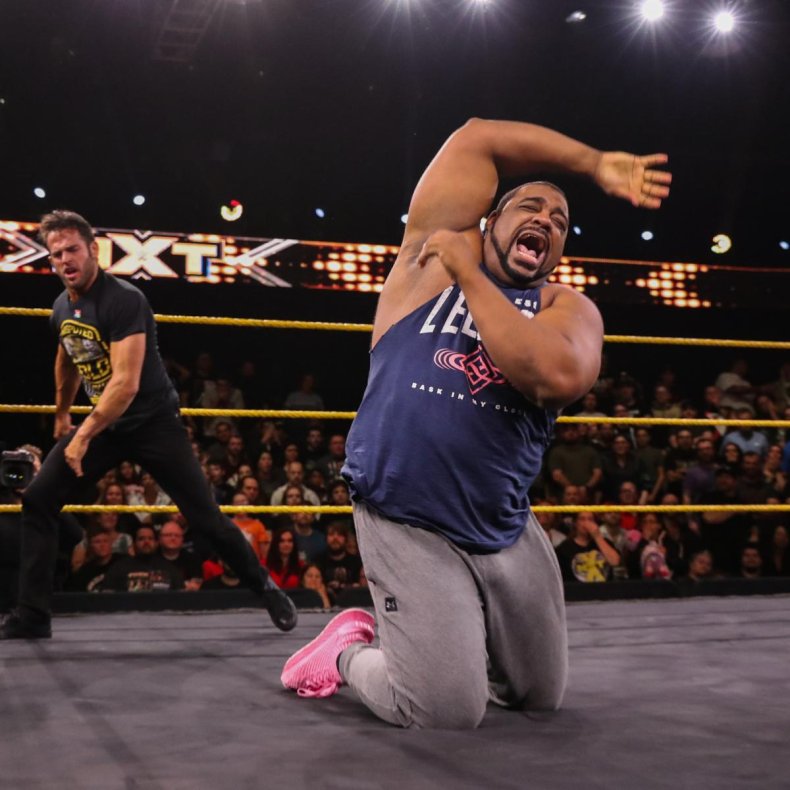 Motivated is what Strong needs to be as he enters his next high-profile match. Wednesday, the North American Champion takes Keith Lee, an opponent who himself has risen in the ranks of NXT.
Lee was crowned Breakout Star of 2019 in NXT's year-end awards, and had some high-profile moments during Survivor Series weekend. But that doesn't sway Strong, who looks to continue to make the North American Championship his own.
"It means everything, and I love the fact that it hasn't been around for a long time. Adam is the first-ever North American champion, which is amazing. But now I get to add my legacy and my fingerprints on it forever. And when people talk about it, they'll talk about me being the greatest North American Champion ever," Strong said. "I take so much pride in making it more than what people think it could be. And that brings me to Wednesday with Keith Lee. This is a very big match. This is the biggest match in Keith's career and honestly maybe the biggest match of my career. Just based on the fact that Ketih has so much momentum and he's such a special athlete that, if I don't win Wednesday, i don't know it's going to crush me. This Wednesday all my chips are in. I have to show the world no matter how big he is, how athletic he is, how strong he is, he cannot handle me."
NXT airs live Wednesdays at 8 p.m. on USA Network.