Free Rodney Reed: Four New Witnesses Come Forward With Evidence a Week Before Execution Date
Lawyers for Rodney Reed have filed new documents pushing for his release after four witnesses came forward with "powerful new credible information" which they say exonerates the death row inmate.
Reed, 51, is due to be executed on November 20 having spent more than 20 years on death row after he was found guilty of the murder of 19-year-old Stacey Stites in 1996.
With just one week before the state of Texas is due to put Reed to death, his lawyers working for the Innocence Project have filed a Writ of Habeas Corpus with the Texas Court of Criminal Appeals and the 21st Judicial District Court following statements which they argue incriminate Stites' fiancé and original suspect in her murder, Jimmy Fennell.
The Innocence Project said there is mounting evidence to suggest that Fennell is responsible for strangling her to death with a belt in Bastrop, Texas, after discovering she was having an affair with Reed.
Reed's lawyers say the four new witnesses refute the state's original portrayal that Stites and Fennell were a "happy couple eagerly anticipating their upcoming wedding." Instead, the 19-year-old victim was scared of Fennell and the former Bastrop Sheriff's Police Officer was abusive towards her, Reed's lawyers say.
The new witnesses include Richard Derleth, a deputy in the Bastrop County Sheriff's Office, who states that H-E-B staff members who worked alongside Stites would warn her whenever Fennell came into the supermarket to allow her to hide from him so he could not start a fight.
Brent Sappington has also come forward to say he would overhear "screaming and banging" coming from the couple's apartment upstairs when he visited his father, William Sappington. Brent Sappington's wife, Vicki Sappington, also stated that her father-in-law would frequently express concern that Fennell was physically and verbally abusive towards Stites.
Finally, Rebecca Peoples, another former co-worker with Stites, said that the 19-year-old confided that she was having an affair with a black man and that "she was afraid of her fiancé."
After filing the writ, Innocence Project Senior Staff Attorney Bryce Benjet is hoping the latest round of evidence is enough to finally convince Texas Governor Greg Abbott to halt the execution of Reed.
"These are not people coming out of the woodwork. They are police officers, verified co-workers of the victim, and her neighbors," Benjet said in a statement. "These people have nothing to gain by telling us what they know; and what we have learned corroborates Mr. Reed's relationship with Ms. Stites and further implicates Jimmy Fennell in the murder.
"While Bastrop County law enforcement clearly suspected Fennell in 1996, it is increasingly apparent that their shoddy investigation and rush to judgment against Mr. Reed resulted in the wrong man landing on death row."
Reed's team have previously pointed to a series of discrepancies from the original trial and new evidence which they say prove the 51-year-old's innocence. They include how the murder weapon was never tested for DNA evidence, and Reed's fingerprints were not found at the scene of the crime.
Forensic pathologists including Michael Baden, Werner Spitz, LeRoy Riddick, and Cyril Wecht have also concluded that Reed's guilt is "medically and scientifically impossible," according to Benjet.
Benjet states that the only DNA evidence against Reed was the semen taken from her body, which can be explained as the pair were having a relationship and had consensual sex the night before she was killed.
"The prosecution used this to connect him to the murder and refute this consensual romantic relationship, but supporting testimony has since been recanted and completely discredits the state's case," Benjet told Newsweek.
Three forensic experts from Reed's original trial have also submitted affidavits stating the original given time of Stites's death is inaccurate.The prosecution originally claimed that Stites was killed between 3-5 a.m. on April 23, 1996, whereas evidence later showed that Stites was killed before midnight on April 22.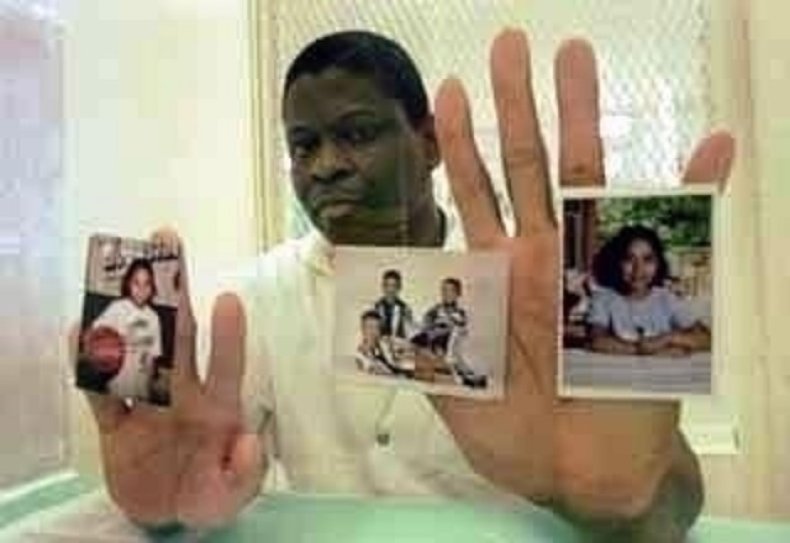 In addition to the DNA evidence, or lack thereof, there has also been a sworn affidavit from a former prison mate of Fennell which claims he confessed to killing Stites.
Arthur Snow, a former member of the Aryan Brotherhood prison gang, said Fennell told him that he "had to kill my n*****-loving fiancée" in 2010 after trying to get protection from the white supremacist gang. Fennell was serving a 10-year sentence at the time for kidnapping and raping a woman while on duty as a Georgetown police officer at the time.
There was also a separate affidavit from friend and former fellow Bastrop Sheriff's Officer Charles Wayne Fletcher, who described how Fennell told him one month before Stites' death that he believed she was "f****** a n*****."
Another affidavit signed by Lee County Sheriff's Office officer Jim Clampit states how he heard Fennell allegedly saying "you got what you deserved" towards Stites at her funeral.
"In the last four to five years, the case was re-examined and many elements were reinvestigated, which has brought an enormous amount of evidence supporting Rodney's innocence to light," Benjet said.
Benjet described how he wished the evidence from Snow and others arrived sooner to assist with their cause, but Reed's execution should have been halted long before it came to light.
"It is, of course, frustrating because we are now up against a deadline…where an innocent man's life could be taken for a crime he did not commit," Benjet said. "We hope that there will be a decision to commute Mr. Reed's death sentence so this evidence of innocence can be presented in court as soon as possible."
The case has made international news partly thanks to celebrities such as Rihanna and Kim Kardashian urging Abbott and to "do the right thing" and halt the execution.
Elsewhere, 2.8 million people have signed a petition to stop the execution, with a separate change.org petition demanding the execution of Reed to "not go forward under any circumstances" also attracting more than 475,000 signatures.
In a statement to the Associated Press, Fennell's attorney, Bob Phillips, said his client denies killing Stites and maintains that Reed is guilty.
"All the evidence makes it plain as day that Rodney Reed is the killer and these fantastic 11th hour attempts to implicate Jimmy are the same song, 200th verse," Phillips said.
The graphic below, provided by Statista, illustrates which U.S. states still practice the death penalty.