Roger Stone Video Will Play Key Part in Final Jan. 6 Hearing
Roger Stone will feature prominently in the House January 6 committee's latest hearing, with the panel set to show documentary footage showing the longtime Donald Trump ally predicting violence after the 2020 election, according to reports.
The panel looking into the events leading up to the Capitol riot is set to hold what may be its final public presentation on Wednesday, September 28.
Details about the theme of the presentation are unconfirmed, but CNN and The Washington Post reported that previously unseen footage of Stone, filmed by Danish filmmakers Christoffer Guldbrandsen and Frederik Marbell, will play a key part.
Wednesday's hearing is expected to broadcast sections of the yet to be released A Storm Foretold, which followed Stone for three years, including the weeks before and after the 2020 election. The Post, citing unnamed sources connected to the committee, said selection of clips for Wednesday's hearing has not yet been finalized.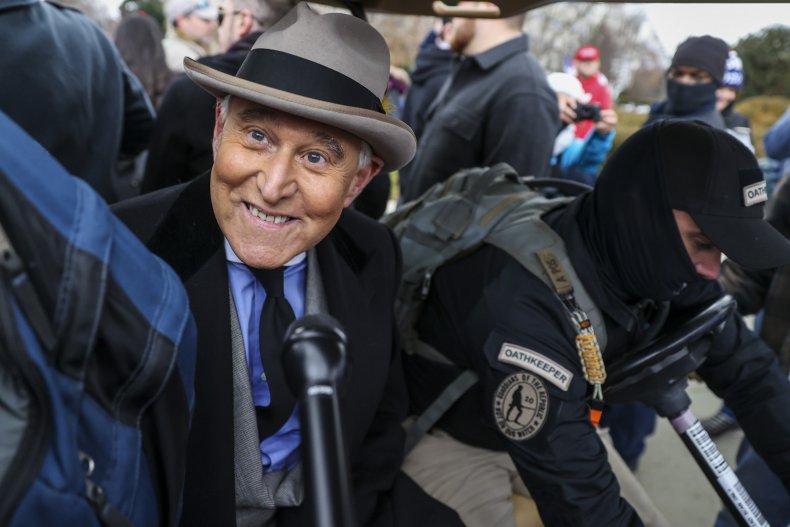 CNN reported that one section of the documentary which may be aired on Wednesday, will include Stone saying "f**k the voting, let's get right to the violence," on the eve of the 2020 election.
Stone made the remarks after attending a rally for former Georgia congressman Doug Collins, with Stone assuring he was joking.
"I am of course only kidding. We renounce violence completely. We totally renounce violence. The left is the only ones who engage in violence," Stone said.
In one clip provided to the panel, previously reported by The Post, Stone can be heard predicting the 2020 presidential election is "going to be really nasty" as far back as July of that year.
Other clips show Stone saying Trump should prematurely declare himself the winner of the 2020 election—which the former president ended up doing while the votes were still being counted in several key states.
"I really do suspect it'll still be up in the air. When that happens, the key thing to do is to claim victory. Possession is nine tenths of the law, no we won," Stone said on November 1, 2020.
Stone is heard in another clip suggesting that if electors attend ceremonial meetings in state capitals, that "armed guards will throw them out."
Stone adds while impersonating Trump: "You're not stealing Florida, you're not stealing Ohio. I'm challenging all of it. And the judges we're going to, are judges I appointed."
In a statement to CNN, Stone disputes the authenticity of the footage and any suggestions that they prove he was actively involved in the insurrection.
"I challenge the accuracy and the authenticity of these videos and believe they have been manipulated and selectively edited," Stone said. "The excerpts you provided below prove nothing, certainly they do not prove I had anything to do with the events of January 6th. That being said, it clearly shows I advocated for lawful congressional and judicial options."
Speaking to The Post, Guldbrandsen said that after spending three years with Stone and his inner circle, the documentary team "realized what we saw after the 2020 election and Jan. 6 was not the culmination but the beginning of an antidemocratic movement in the United States."
There have also been reports that Wednesday's hearing may attempt to make a direct link between Trump, Stone, and far-right extremist groups that went on to storm the Capitol on January 6.
Cassidy Hutchinson, a former aide to Mark Meadows, previously testified that Trump directed his chief of staff to contact Stone and his former national security adviser Michael Flynn on January 5, 2021, just as members of the Proud Boys and Oath Keepers were finalizing their plans for the next day.
Stone admits to using members of the Oath Keepers for security in D.C. on January 5 and 6, including those later charged with seditious conspiracy in connection with the insurrection. Stone has not been accused of a crime in relation to January 6 and denies knowledge of any planned illegal activity.
The January 6 panel members have not disclosed what Wednesday's hearing will be about.
Panel member Rep. Adam Schiff, a California Democrat, told CNN's State of the Union that Wednesday's presentation will be "potentially more sweeping" than some of the other hearings.
"It will tell the story about a key element of Donald Trump's plot to overturn the election," Schiff said. "And the public will certainly learn things it hasn't seen before, but it will also understand information it already has in a different context by seeing how it relates to other elements of this plot."
Stone has been contacted for comment.