Roger Waters Slammed for Saying He's 'More Important' Than Drake
Roger Waters is under fire for saying he's "far, far, far more important" than Drake and The Weeknd.
The Pink Floyd frontman shared his opinion with Canada's The Globe and Mail after The Weeknd's Toronto concert received more media coverage than his.
"I have no idea what or who The Weeknd is because I don't listen to much music," the 78-year-old told the outlet of the "I Feel It Coming" crooner, whose real name is Abel Tesfaye. "People have told me he's a big act. Well, good luck to him. I've got nothing against him."
The English-born musician then took aim at the "Hotline Bling" rapper. "And, by the way, with all due respect to The Weeknd or Drake or any of them. I am far, far, far more important than any of them will ever be, however many billions of streams they've got," he said. "There is stuff going on here that is fundamentally important to all of our lives."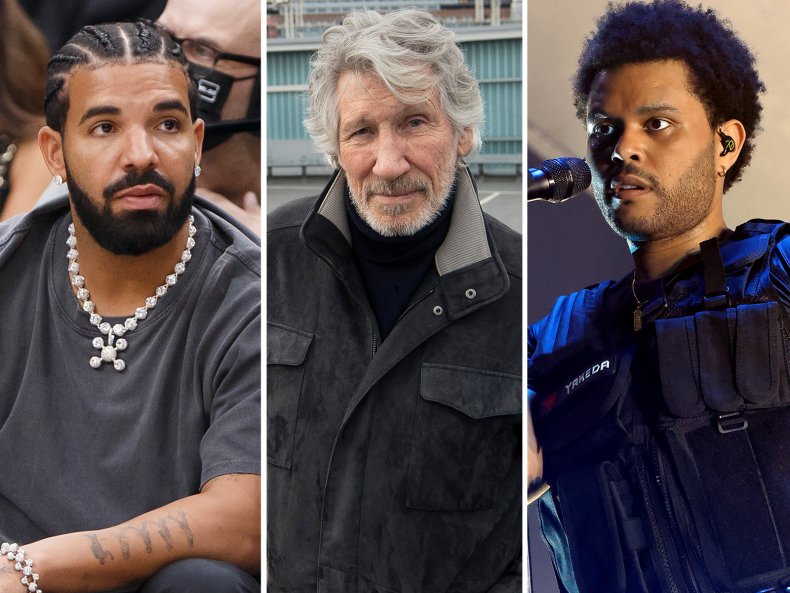 Fans quickly took to Twitter to defend the Canadian-born artists. "You're more important to who?? These young kids don't even know who the f*** you are!!" one user wrote. "Show respect for what The Weeknd and Drake have done and are doing now, they've already surpassed you at the same time in their careers. #WhothefuckisRogerWaters???"
A second person chimed in, writing: "I love The Weeknd's music. And I think Drake is wildly successful even though I'm not overly familiar w/ his catalog. But I have always loved Pink Floyd ... and my least favorite part of Pink Floyd has always been Roger Waters' ego."
Meanwhile, several on Reddit simply called the rock and roller a "pompous a**hole."
Others, however, defended Waters. "I couldn't agree with @rogerwaters more on this if I tried! They were using @pinkfloyd's music to teach us music theory in grade school in the early 80's," someone else said, while another added: "Yes, Roger Waters is 78 and still touring. Yes, his musical legacy has spanned generations. Yes, Drake and The Weeknd will be forgotten in 10 years. So, yes, Waters probably IS more important. The arrogance in saying it, though ... "
The Weeknd was set to kick off his After Hours Til Dawn Tour on July 8, but it was canceled at the last minute due to a nationwide network outage, Billboard reported. Meanwhile, Waters played at the Scotiabank Arena in Toronto that same evening.
Pink Floyd formed in London in 1965 and became one of the most successful and influential rock groups in history. Their songs including "Comfortably Numb" and "Wish You Were Here" achieved worldwide acclaim.
As a solo artist, Waters averages over 550,000 monthly listeners compared to Drake's 66.9 million and The Weeknd's 75.6 million.
Drake, 35, and The Weeknd, 32, each won four Grammys and have had success on the Billboard charts. While 11 of Drake's songs have hit number one, The Weeknd's "Blinding Lights" earned the top spot as the Billboard Hot 100 Song of All Time.