Roman Reigns Reportedly Out of WrestleMania 36 Due to Coronavirus Health Concerns
WrestleMania 36 is allegedly undergoing a major change to its card.
Roman Reigns will reportedly not wrestle Goldberg for the Universal Championship at WrestleMania next weekend over concerns about performing during the coronavirus pandemic with a compromised immune system.
Pro Wrestling Sheet's Ryan Satin reports Reigns expressed to WWE that he wasn't comfortable doing more Performance Center shows during the coronavirus pandemic. According to the source, Reigns doesn't want to risk his health because he's immunocompromised following his battles with leukemia.
The report states that WWE honored his request, and there will be a replacement. When reached for confirmation by Newsweek, WWE declined to comment.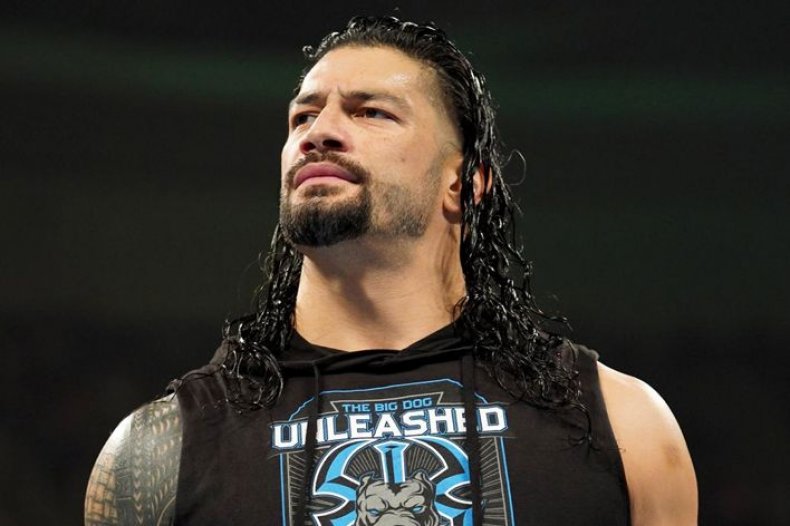 The ongoing coronavirus pandemic has completely changed the way WWE operates amid local shutdowns and mass gatherings being barred for the foreseeable future.
WrestleMania 36 was originally scheduled for Sunday, April 5 at Raymond James Stadium in Tampa, Florida. However, the spreading virus caused the promotion to move the event to multiple locations over two days. The biggest show on WWE's calendar will now take place on Saturday, April 4 and Sunday, April 5.
Many fans will remember the October 2018 episode of Monday Night RAW in which Reigns let fans know his leukemia had returned, adding he would have to step away from WWE while he fought the disease.
This was Reigns' second time battling leukemia, the first being when he was just 22 years old. The condition went into remission then, and it would again when Reigns returned in February 2019 to tell the WWE Universe he had overcome the sickness.
Reigns would wrestle Drew McIntyre at WrestleMania 35 last year, but it would seem he'll be taking this opportunity to miss the "Showcase of the Immortals" this year to take care of his health.
Goldberg returned to the ring at the Super Showdown show in Saudi Arabia in February. He challenged "The Fiend" Bray Wyatt and won the Universal Championship from him.
The following night, Roman Reigns came out to challenge Goldberg in what was being sold as a battle between the masters of The Spear. Both men appeared on the March 20 episode of Friday Night SmackDown to hold a contract signing and build up their match.
Who may take Reigns' spot at WrestleMania against Goldberg remains unknown. Friday Night SmackDown does have a few options in Braun Strowman and Jeff Hardy who don't have matches on the card so far. Fans might want to tune into SmackDown on March 27 to potentially learn more about the Universal Championship match at WrestleMania 36.
What do you think of Reigns reportedly pulling out of WrestleMania? Who do you want to see face Goldberg instead? Let us know in the comments section.