Ron DeSantis Chances of Beating Donald Trump in 2024, According to Polls
Florida Governor Ron DeSantis has emerged early as a potential front-runner for the Republican Party's 2024 presidential nomination, although former President Donald Trump continues to tease the possibility of another White House bid as well.
Neither DeSantis nor Trump has said he plans to run in the next presidential election. Meanwhile, analysts and pundits largely believe that both prominent Republicans are strongly considering the possibility. Rumors have emerged of tension between the two, but both have publicly dismissed the speculation.
Recent polls show mixed results, with both appearing to have a potential path to the nomination. Several recent straw polls have shown DeSantis as the front-runner, while national polls have generally shown Trump in the lead by double digits if he chooses to seek another term.
The Western Conservative Summit, held in Colorado on Saturday, did a straw poll of attendees. For the second year in a row, DeSantis edged out Trump as the favored choice of those at the conference.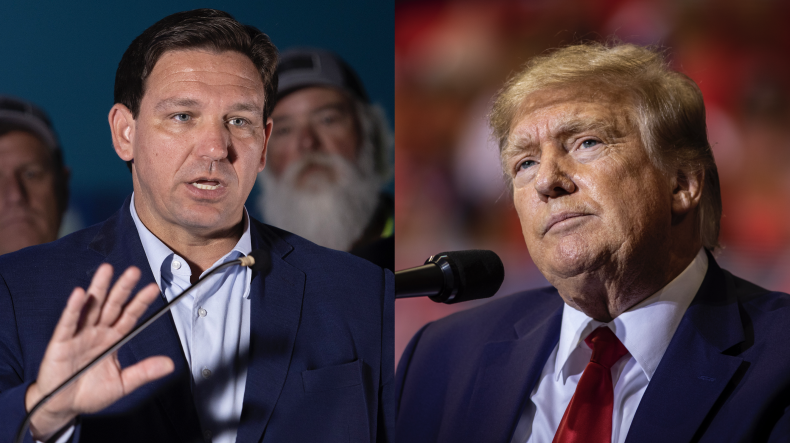 The Florida governor garnered the backing of 71.01 percent of straw poll respondents. Trump came in close behind in second place with the support of 67.68 percent. Because voters were allowed to make more than one choice, through the approval voting method, the percentages of the poll added up to more than 100 percent.
Another recent poll asking Nevada voters to rate prominent politicians found that DeSantis was generally favored over Trump. The survey, conducted by the University of Nevada-Reno, asked voters to rate politicians such as Trump, DeSantis, President Joe Biden and Vice President Kamala Harris on a scale of zero to 100, with a higher number reflecting a more favorable opinion.
DeSantis received a score of 48, compared to Trump with 42. However, the Florida governor was behind Trump when it came to just Republican voters, receiving a score of 69 to Trump's 73.
A Wisconsin straw poll of GOP activists in May put DeSantis ahead of Trump. Of 325 Republicans, the Florida governor had the support of 38 percent compared to 32 percent who backed Trump.
Recent national polls of Republicans have generally shown Trump as the clear leader for the nomination. DeSantis is regularly in second place.
A February poll conducted by Rasmussen Reports found that nearly half (47 percent) of likely GOP voters would back Trump for the nomination. DeSantis came in second, although he was well behind Trump with 20 percent.
A Harvard CAPS-Harris Poll carried out in May found substantially lower enthusiasm for Trump. In that poll, 30 percent of respondents said they'd back Trump in a hypothetical 2024 GOP primary run. DeSantis still trailed Trump by double digits at 8 percent.
New York Times journalist Maggie Haberman reported on Tuesday that the conservative economics organization Club for Growth has been polling Trump against DeSantis in multiple states. Haberman wrote that a spokesperson for the conservative group said, "Trump wins 'handily' in every state but Georgia."
A poll conducted by USA TODAY/Suffolk University as well one by Echelon Insights at the end of 2021 showed that substantial majorities of voters do not want Trump or Biden to run again in 2024.