DeSantis Tops Trump Overall, Gets Close Among Republicans Only: Nevada Poll
A new poll asking Nevada voters to rate prominent politicians found that Florida Republican Governor Ron DeSantis is generally favored over former President Donald Trump.
The survey, conducted by the University of Nevada-Reno, asked voters to rate politicians such as Trump, DeSantis, President Joe Biden, and Vice President Kamala Harris on a scale of zero to 100, with a higher number reflecting a more favorable opinion.
Overall DeSantis received a score of 48, compared to Trump with 42. However, the Florida governor trailed Trump when it came to just Republican voters, receiving a score of 69, versus Trump's 73.
By comparison, Biden received a score of 44 among all voters, while Harris beat him by just one point with 45. The poll was conducted in late May using two different samples of over 1,000 Nevada residents across the political spectrum. It has a margin of sampling error of plus or minus 3.5 percentage points.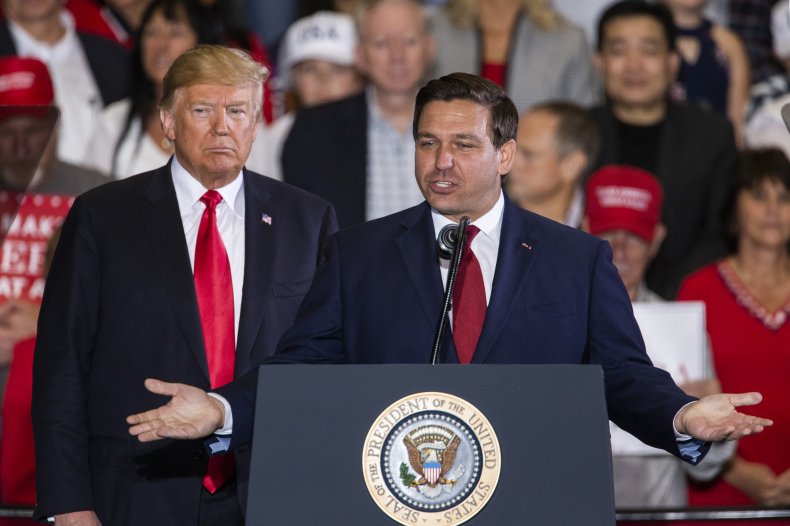 President DeSantis?
The latest survey comes amid speculation DeSantis will attempt a 2024 presidential bid against Trump, should the latter run. Several polls taken over the past few months have shown that a hypothetical race between the GOP figures would likely result in a tough showdown, while others have found that voters would prefer DeSantis to be the frontrunner for the Republican Party if Trump chooses not to run for a second term.
The Florida governor has risen to national prominence in the past year with policies that appeal to many conservatives, including outlawing abortion after 15 weeks, banning the teaching of critical race theory and cracking down on LGBTQ language in schools.
DeSantis' policies and demeanor tend to already attract Trump voters, and it may be enough to influence those who remain on the fence in the GOP, according to political analysts.
"He is Trump without the boorish behavior and name calling, the insults and the bullying—the very reasons Trump lost suburban women in 2018 and lost a significant number of college-educated suburban men in 2020," Jim Dornan, a veteran GOP strategist who worked on Trump's 2015 campaign committee, told Newsweek last month. "On the Republican Party circuit, whether it's in D.C. or the suburbs, DeSantis is the first name that comes up when people start talking about 2024."
Neither Trump nor DeSantis have publicly confirmed they intend to run in 2024. However, Trump has indicated annoyance that DeSantis has not ruled out the possibility of running against him, and the two have reportedly been sparring in recent months.