Ron DeSantis Likens U.S. Abortion Laws to North Korea, China
Florida Governor Ron DeSantis believes that the United States is out-of-step on abortion when compared to other industrialized nations, including those in Europe, and said the U.S. is "more in line" with China and North Korea regarding abortion policy.
On Tuesday afternoon, during a news conference about planning grants for the state's communities, DeSantis discussed the issue of abortion after Monday night's leak of a draft opinion indicating that the Supreme Court could possibly overturn Roe v. Wade.
"And I think part of the things with this discussion about some of the Supreme Court's case law is it's shown Americans who look at that and then look at, say, Europe just how out-of-step the United States has been and really how radical the juris prudence has been compared to a lot of industrialized countries," DeSantis said in a clip posted to Twitter.
"The U.S. is more in line with countries like China and North Korea than it is with typical European counties that are more, even, social democracies that we would consider to be more left-leaning," DeSantis added.
On Tuesday, Chief Justice John Roberts issued a statement where he confirmed the authenticity of the leaked document and stated that it is not a final decision from the Court. He also called for an investigation into the leak.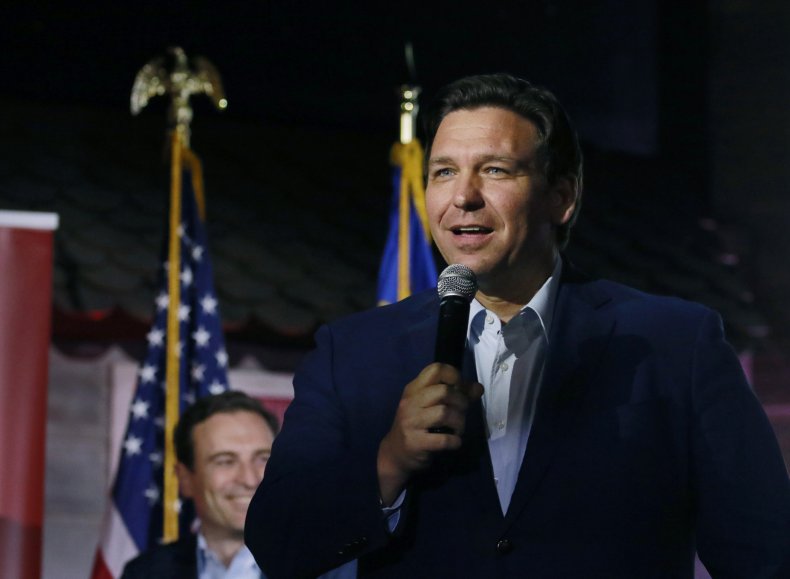 During Tuesday's news conference, DeSantis also mentioned other states in which he alleged that a child can be aborted up until the day before birth.
"Well, look I'm somebody that believes in pro-life protections. I think that it is something that is based in science. I think that it's something that is based in kind of who were are as a society. I think you look at what some of the other states are doing, going in a much different direction, where they will have one day before a baby's born—allow it to be snuffed out, nine months in. I'm just thinking to myself, 'How is that something that would ever be viewed to be appropriate?'" DeSantis said.
In response to Newsweek, DeSantis' office pointed to laws on abortion in California and New York.
"In California, abortion is legal with no restrictions up to 24 weeks and is legal with 'good faith medical judgement' of a doctor after 24 weeks (what the law defines as viability). New York has a similar law, which former Governor Cuomo signed because in his words it would 'codify Roe v. Wade' in state law," a statement from DeSantis' press secretary said.
"So, the mainstream Democrat position in the United States is unrestricted access to abortion up to 24 weeks—and access to very late term abortion, even up to 9 months, with a doctor's recommendation," the statement added.
The statement went on to claim that Democrats have adopted a position on abortion similar to those in China and North Korea.
"As Governor DeSantis noted today, abortion in most European countries is restricted after the first trimester (similar to Florida's recently passed pro-life law). The position of Democrats in America today more closely resembles abortion policy in China and North Korea," the statement said.