Florida Governor Ron DeSantis praised conservative U.S. Supreme Court Justice Clarence Thomas as the "gold standard" he seeks to emulate if elected president next year, pitching evangelical leaders on aspirations of building a conservative majority on the court that could potentially stand for a generation.
Speaking in Orlando at the National Religious Broadcasters International Christian Media Convention on Monday, the conservative firebrand and leading contender for the Republican nomination for president sought to solidify his religious pedigree among the most influential evangelical voices in the nation, selling them not only on his personal faith but how it would be expressed in office.
He touted a fatherhood initiative and programs to aid pregnant mothers—a seeming supplement to his candidacy's hardline stance on abortion—and how his first act as governor involved the baptism of his son. He outlined his support for Israel, a key but complicated U.S. ally in the Middle East and a topic of particular interest for religious conservatives. And he painted religious conservatives as a coalition under threat, highlighting allegations that the FBI was investigating Catholic groups for extremist activity.
"Make no mistake, weaponized government is one faction of society turning the reins of power against those people they don't like," he said. "And the people that are in power now do not like people of faith."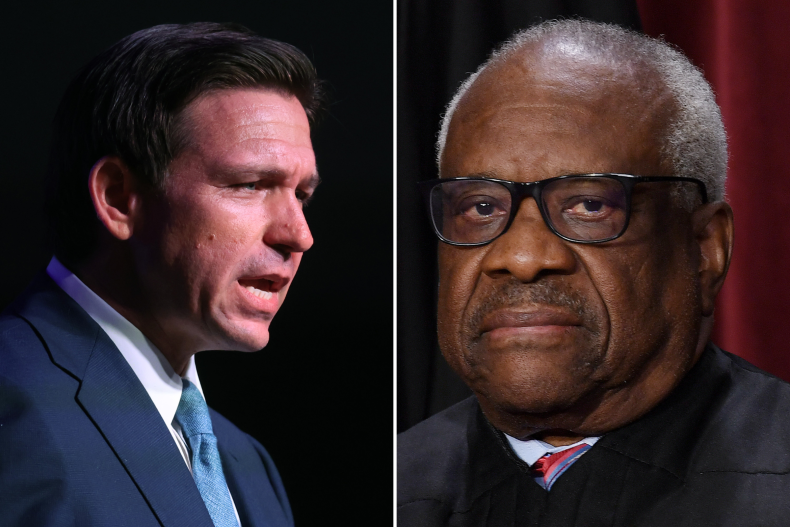 But DeSantis—who has shown unprecedented zeal in efforts to shape Florida from a purple state into a stanchion of conservatism—also discussed his ambitions for the nation's highest court, and his plans to use it to cement Republican objectives on the national stage for decades to come.
After control of the U.S. Supreme Court flipped to conservatives during the Trump years, DeSantis pitched attendees on potential opportunities in the coming years to fill vacancies on the court, allowing a Republican administration to create a 7-2 conservative majority "that would last a quarter-century."
And Thomas, he said, would be the template, helping shift the court even more to the right with the potential retirements not only of Thomas and fellow conservative Samuel Alito, but of liberal Justice Sondra Sotomayor and right-leaning Justice John Roberts—a frequent swing vote on the court—on the horizon.
"The U.S. Supreme Court with some of the recent appointments is in a much better spot than it's been in a long time," DeSantis said. "But I think if you look over the next two presidential terms, there is a good chance that you could be called upon to seek replacements for Justice Clarence Thomas and Justice Samuel Alito, and the issue with that is you can't really do better than those two. They are the gold standard for jurisprudence."
"And so you got to make sure that we're appointing people who are going to be as close to that standard as possible," he added. "If you replace a Clarence Thomas with somebody like a [John] Roberts or somebody like that, then you're going to actually see the court move to the left. And you can't do that."
DeSantis' comments came just days before he was expected to announce his candidacy for president in an interview with conservative billionaire Elon Musk on Twitter on Wednesday night. They affirm a strategy DeSantis has undertaken in Florida. On Tuesday, he announced the appointment of Judge Meredith Sasso to fill a recent vacancy on the Florida Supreme Court, bringing the total number of DeSantis appointees on the seven-member court to five and clearing the road for anti-LGBTQ+ legislation and school choice legislation his administration favors.
But DeSantis has also shown a willingness to depose those within the justice system who could potentially disagree with him. On Friday, DeSantis and his team filed a motion seeking the dismissal of Judge Mark Walker from a First Amendment case involving entertainment giant Disney over remarks he made about the governor's ongoing feud with the company.
Walker previously described actions taken by the state against the company after it criticized DeSantis' so-called "Don't Say Gay" bill as a clear example of retaliation against the company—a sign DeSantis' team claimed jeopardized Walker's impartiality in the case.
DeSantis' praise of Thomas also comes against a backdrop of controversy involving an individual many perceive to be the most conservative voice on the nation's highest court.
Already facing lingering questions around his wife's alleged involvement in efforts to overturn the results of the 2020 election, Thomas is facing questions over an alleged two-decade-old corruption scandal involving millions of dollars in undisclosed gifts and perks from GOP megadonor Harlan Crow, whom critics believe could have used his access to influence the court.
Crow, meanwhile, has urged Congress not to launch an investigation into the alleged ethics violations. On Monday, his attorneys sent a letter to Senate Judiciary Committee Chairman Dick Durbin arguing that it lacked the authority to investigate justices on the court, that the committee's investigation was "part of a larger campaign to target and intimidate Justice Thomas and unearth what the Committee apparently believes will be embarrassing details of the Justice's personal life."
Durbin's office criticized the letter in a lengthy statement furnished to Newsweek Wednesday.
"Harlan Crow believes the secrecy of his lavish gifts to Justice Thomas is more important than the reputation of the highest court of law in this land," Durbin wrote. "He is wrong."