DeSantis Video Critiquing Trump's Approach to Putin Resurfaces
An older clip of Florida Governor Ron DeSantis criticizing former President Donald Trump over his relationship with Russia has resurfaced as the pair's political rivalry continues to heat up.
Trump is currently the only major declared candidate for the 2024 presidential election, seeking the Republican nomination and a second term in the White House following his loss to President Joe Biden in 2020.
While DeSantis has not formally announced a bid of his own, his high-profile status among the party nationwide and his strong performance in the recent midterms have led many to consider him Trump's primary opponent for the GOP nomination next year.
As this quiet rivalry continues to heat up, a clip resurfaced on Twitter on Tuesday from more than five years ago in which then-Congressman DeSantis offered a thinly veiled and mocking criticism of Trump's friendly relationship with Russian President Vladimir Putin.
The clip was shared by Ron Filipkowski, a former federal prosecutor and outspoken critic of trends in the modern GOP, and has so far been viewed nearly 120,000 times.
"Clinton tried to work with him [Putin], Bush tried to work with him, Obama tried to reset, Trump was very positive about Putin," DeSantis said in the clip, putting emphasis on the statement about Trump. "And I think that reality has set in that this is not going to work out that way and you're better off dealing with Putin by being strong."
The clip originates from a speaking engagement DeSantis took part in on April 17, 2017, at Embry-Riddle University, which has a campus in DeSantis' home state of Florida.
The exchange was prompted, according to Mediaite, by moderator Marc Bernier asking the future governor about Trump's comments suggesting that it would be "a great thing if we could actually get along with Russia."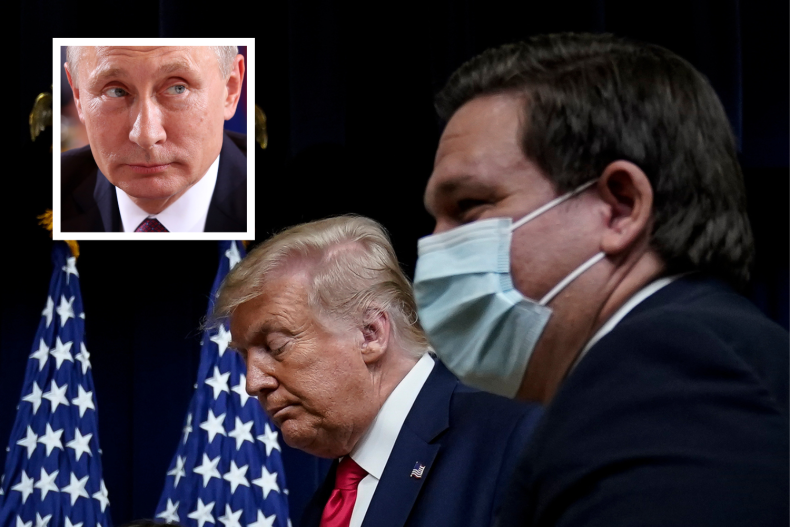 In his full remarks from the engagement, DeSantis claimed that working with Putin might be a fruitless endeavor, given his supposed true motivation to rebuild the Russian empire, a sentiment that has also resurfaced amid Russia's recent invasion of Ukraine.
"Well, this idea that, like, it would be good to get along with Russia. Yeah, it'd be good to get along with anybody," DeSantis was quoted by Mediaite. "But you got to understand, when you're dealing with somebody like Vladimir Putin, he does not see the world the same way that we see the world.
"He views the biggest tragedy in the 20th century to be the fall of Soviet communism and the evil empire. That was something that was responsible for enslaving millions of people. Millions died on the watch of communism. And yet he thinks that's a tragedy. He wants to reconstitute the Russian empire."
Newsweek reached out to DeSantis' and Trump's offices for comment.