Ron Johnson Edges Past Mandela Barnes in Ominous Poll for Democrats
Ron Johnson, a Republican senator in a tight reelection race in Wisconsin, is now nearly dead even with his Democratic challenger in a new poll showing the latest signs the GOP could retake control of the Senate.
A new poll released Wednesday by Marquette University Law School shows 49 percent of voters support Johnson's reelection to a third term. Democratic candidate Mandela Barnes, the state's current lieutenant governor, was supported by 48 percent of voters in the survey after earlier polling established him as the frontrunner. The poll spells more potential bad news for Democrats who are fighting to keep a narrow Senate majority as the November election draws nearer.
A poll released by the university in August shortly after Wisconsin's primary showed Barnes ahead with 52 percent of likely voters compared to Johnson's 45 percent. While Johnson is ahead in the new survey, conducted between September 6 through 11 among 801 registered Wisconsin voters, his lead remains within the poll's margin of error.
Both candidates sought to use the sign of the tightening race to rally their supporters.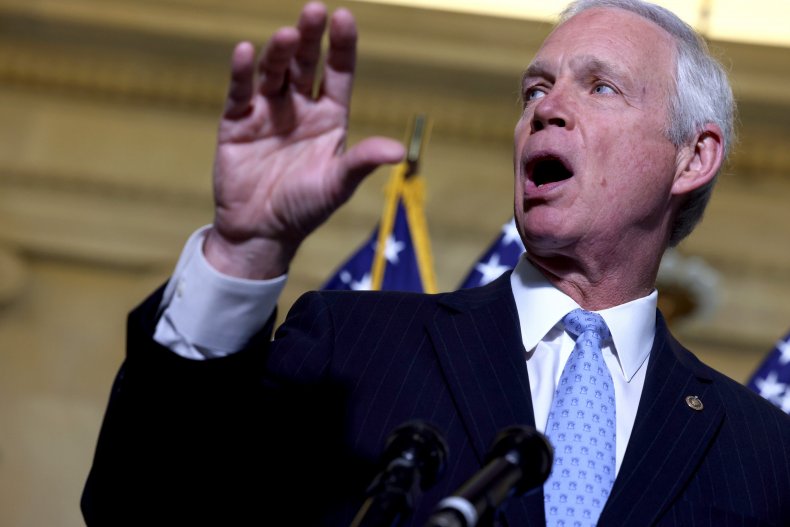 "The latest poll today shows Ron Johnson and I are neck and neck in this race," Barnes said in a tweet asking for campaign donations. "Social Security, abortion access, marriage equality – everything is on the line. We need the resources to compete and flip this seat."
Johnson also reacted with a tweet saying he had always treated the race as being close, adding that Wisconsinites have a better sense of his opponent.
"We've finally been able to honestly tell Wisconsinites what Barnes truly believes," he added. "He is a radical progressive who is simply unfit to be a United States Senator."
Republicans only need to gain one seat in the 2022 midterm elections to take the majority in the evenly divided Senate. Democrats have eyed Wisconsin and Pennsylvania, two states with Republican incumbents that voted for Joe Biden in 2020, as their strongest potential pickups.
The Wisconsin survey follows two recent polls pointing to tightening races in Nevada and Georgia. Democratic senators in both states are fending off Republican challengers backed by endorsements from former President Donald Trump.
A poll conducted this month in Nevada by Emerson College Polling, 8 News Now and The Hill placed GOP Senate candidate Adam Laxalt narrowly ahead with 42 percent compared to incumbent Democrat Catherine Cortez Masto's 41 percent.
Republican Herschel Walker, a former NFL star who won the coveted Heisman Trophy while in college, is leading Georgia's Senate race with 47 percent, according to an InsiderAdvantage/FOX 5 Atlanta poll released earlier this month. The results currently show Democratic Senator Raphael Warnock behind with 44 percent.
Newsweek reached out to the Democratic Senatorial Campaign Committee and the National Republican Senate Committee for comment.