Ron Kim Accuses Cuomo of Protecting 'Profits Over People's Lives' Amid Nursing Home Deaths
New York Governor Andrew Cuomo has been accused of prioritizing corporate interests over the recovery of COVID-19 patients.
Cuomo "chose to protect business profits over people's lives and now the whole world is paying attention to that decision and he needs to be held accountable for that," State Assemblyman Ron Kim (D-Queens) said to CBC News.
The accusation is one of many cases of tension between Kim and Cuomo, who recently came under fire for reportedly concealing the number of COVID-19 related deaths that occurred in state nursing homes.
Kim's accusation refers to a March 25 executive action Cuomo took amid the raging early weeks of the pandemic. The governor ordered that "no resident shall be denied re-admission or admission to the NH [nursing homes] solely based on a confirmed or suspected diagnosis of COVID-19."
After this order, about 90,000 COVID patients were brought into nursing homes across New York, potentially contributing to the rapid spread of infection. Rather than reverse the decision, Cuomo reportedly agreed to the the demands of the lobbying group for the nursing home industry.
The lobbying group, the Greater New York Hospital Association (GNYHA), demanded for the ability to limit how many coronavirus victims would be able to file malpractice suits against facilities, which would potentially hurt finances in the industry, The Wall Street Journal reported. In response, Cuomo granted full legal immunity to nursing homes, including C-suite executives.
The Journal reported the group paid Cuomo back by featuring the governor in television ads touting his response to the pandemic and controlling public safety.
"GNYHA advocated for the State's COVID-19 immunity law," Brian Conway, a spokesperson for the GNYHA, said in an email to Newsweek. "We continue to believe, given the extraordinarily challenging circumstances facing hospitals and other providers during this pandemic, that it is right to protect health care facilities and their staff from liability except in cases of gross negligence and intentional wrongdoing."
Conway confirmed GNYHA's communication with the State Legislature and Governor's office consisted of their group submitting "immunity language" for to include in policy—"a common practice" among advocacy groups. He added that state officials and GNYHA were in "constant communication" since the start of the pandemic to address concerns of their member hospitals related to COVID-19 treatment, such as the state directive to increase bed capacity, transferring patients among hospitals, and properly discharging patients.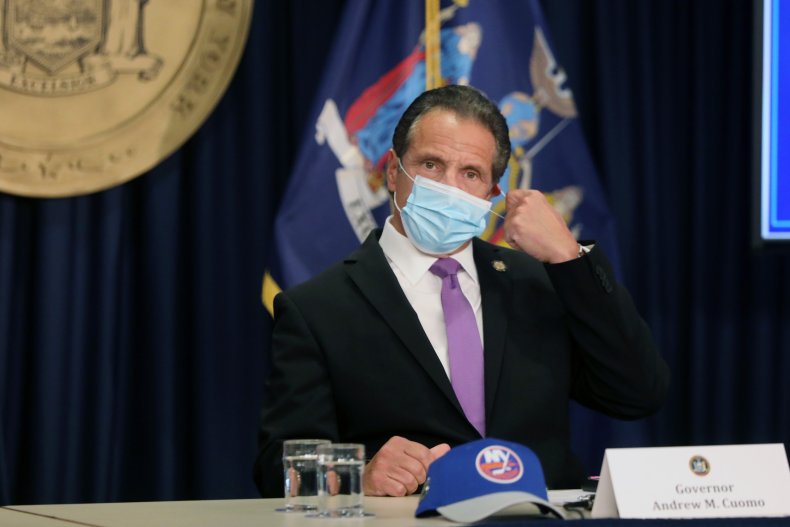 Kim, who is the chair of the state legislature's committee on aging, has condoned protecting for-profit long-term care facilities, saying the liability protections inhibited corporate misdoing and actually protected nursing home executives whose profit-minded actions potentially threatened lives.
On February 10, Cuomo's top aide, Melissa DeRosa, acknowledged during a Zoom meeting with state lawmakers that the administration "froze" when the Department of Justice under the Trump administration requested data on COVID-19 in nursing homes. DeRosa said Cuomo's team held back the data in order to avoid a "political football" that would be used by Trump.
Kim, who was one of the people on the video call, gave a comment to the The New York Post the next day. He said DeRosa's move were "like they admitted that they were trying to dodge having any incriminating evidence that might put the administration or the [Health Department] in further trouble with the Department of Justice."
A political firestorm between Kim and Cuomo broke out afterwards. In a transcript of a February 17 press conference provided to Newsweek, Cuomo said he was "surprised" at Kim's negative comment to the Post, considering that he seems "positive" after the video conference. Kim, alternatively, stood by the comment he made to the Post and reportedly refused to change his statement when Cuomo called him, irate, and requested he change his story.
"Everything that I experienced, even before this pandemic, is about control and portraying an image of authority,' said Kim, as quoted by CBC.
Since then, the two lawmakers have had increasing tensions. Kim has accused Cuomo of abusing his power, and Cuomo has alleged Kim engages in illegal political practices.
"Now these there's a web of lies and excuses why they couldn't provide information but sooner or later, the truth will come out," Kim said on Fox News' Cavuto Live last week. "That's what's happening now, and everything is unraveling. And [Cuomo is] shaken, and he's trying to rope everyone in...as many elected officials as possible, instead of telling the truth to the 15,000 families who lost loved ones in the last 10 months."
Newsweek has reached out to Cuomo for comment.
Updated 11:56 AM ET, with a comment by the Greater New York Hospital Association.