A majority of New Yorkers believe Governor Andrew Cuomo mishandled the coronavirus crisis in nursing homes after recent reports revealed his administration undercounted thousands of deaths, according to a new poll.
The survey, which was published by Marist College on Tuesday, found that 61 percent of 813 registered voters in New York "perceive some wrongdoing" by Cuomo's policy toward nursing homes throughout the pandemic.
The survey was conducted between February 15 and 17. The margin of sampling error is plus or minus 3.8 percentage points.
The results follow a month of reports that said Cuomo's administration miscounted COVID-19 fatalities and withheld mortality data from the public.
In January, an investigation by New York Attorney General Letitia James found that Cuomo's administration had failed to attribute thousands of COVID-19 deaths to nursing homes. Then, on February 11, the New York Post reported that one of Cuomo's top aides, Melissa DeRosa, admitted to underreporting the death tolls in order to prevent former President Donald Trump's Justice Department (DOJ) from going after the governor's administration.
In a leaked conversation, DeRosa said the governor's office "basically froze" out of fears that reporting the correct numbers could be used against the Cuomo administration by DOJ prosecutors.
The Democratic governor has since faced a severe political backlash. On Monday, members of the New York State Democratic Committee introduced a formal resolution to censure him, while state senators have called for his emergency powers to be stripped.
On the same day, New York State Assembly member Ron Kim, a Democrat, went a step further and called for the governor to be impeached.
According to the Marist College poll, 41 percent of New Yorkers said they believe Cuomo has done something unethical, but not illegal, in his handling of nursing homes during the pandemic, while 19 percent said his actions were against the law.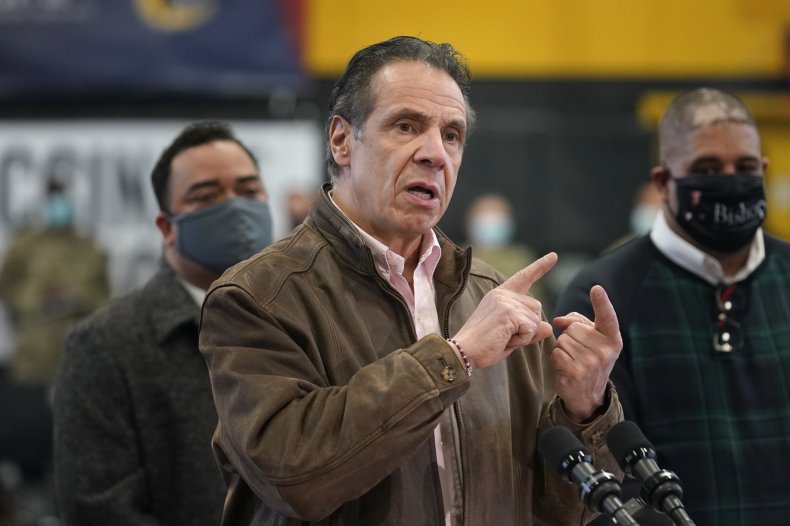 Nonetheless, Cuomo's overall approval rating has remained high among New York voters.
When reached for comment, Cuomo's office directed Newsweek to a Morning Consult poll conducted between February 12 and 21, which found that 57 percent of New Yorkers said they still approve of the governor's performance.
Senior Cuomo adviser Rich Azzopardi told Newsweek, "Yesterday's Morning Consult poll of over 3,000 people had the governor's approval rating at 57 percent. The numbers between the various surveys always vary, and we remain focused on fighting this pandemic, administering as many vaccines as possible, and safely and smartly reopening our state for all New Yorkers."
Additional polls have found the governor's approval rating has remained at that level since November.
On February 19, Cuomo defended his administration's actions, saying that "if anyone had the perfect answer to nursing home deaths, and if anyone tells you they do, they're lying."
"Because people are going to die in nursing homes today. If you have the perfect answer, then why will people die in nursing homes in this state, and every other state, in this country?" the governor asked. As he spoke, a visual aid read, "We saved tens of thousands of lives."
Newsweek, in partnership with NewsGuard, is dedicated to providing accurate and verifiable vaccine and health information. With NewsGuard's HealthGuard browser extension, users can verify if a website is a trustworthy source of health information. Visit the Newsweek VaxFacts website to learn more and to download the HealthGuard browser extension.