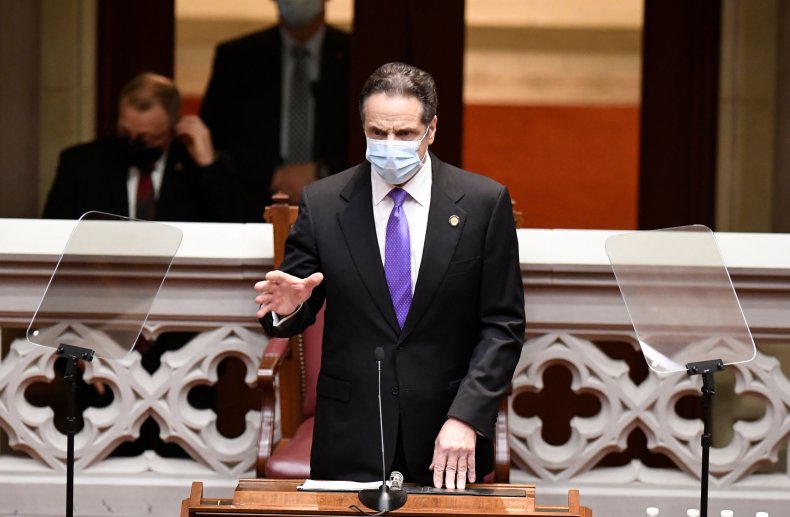 New York State Assemblyman Ron Kim (D-Queens) expressed support for Andrew Cuomo's former aide Lindsey Boylan, who earlier accused the New York governor of sexual harassment.
"Cuomo is a coward who has abused his powers," Kim said in a tweet on Wednesday. "His pattern of abuse and harassment toward his aides, journalists, lawmakers, and critiques is despicable. As a lawmaker, I have the duty to hold him accountable. I will not stand down. I will stand with Lindsey Boylan."
Boylan, who served as deputy secretary for Economic Development and Housing for the state of New York and special adviser to the governor, revealed accounts of Cuomo's alleged "sexual harassment and bullying" via a Medium blog post on Wednesday.
In her post, Boylan wrote "there are many more of us" within the administration who had been subject to "intimidation, harassment and humiliation" by Cuomo, "but most are too afraid to speak up."
Kim has previously spoken against Cuomo, who allegedly threatened Kim's career and accused the assemblyman of illegal political practices.
"I will stand with my colleagues who have endured his verbal abuse," Kim said in a Twitter thread. "I will stand with the 15,000 families who lost loved ones in nursing homes. Andrew Cuomo is a coward."
Earlier in February, Kim attended a Zoom meeting with other state lawmakers when Cuomo's top aide, Melissa DeRosa, acknowledged the administration had held back information requested by the Department of Justice regarding COVID-19-related deaths in New York nursing homes.
Kim, who is the chair of the legislature's committee on aging, was critical about the missing data in a comment to The New York Post. When Cuomo heard of Kim's negative comment in the newspaper, he allegedly called Kim and threatened the lawmaker's career.
The assemblyman subsequently filed a letter with other state lawmakers demanding for the legislature to rescind Cuomo's emergency executive powers and accusing the governor of "intentional obstruction of justice." He has also alleged Cuomo abused his power as governor.
In her post, Boylan quoted New York City Mayor Bill de Blasio, who said in an interview that Cuomo's aggressive leadership tactics are "nothing new," and confirmed "a lot of people in New York state have received those phone calls."
Boylan, too, said she was prepared to receive backlash from the governor and his aides for sharing her accounts of "inappropriate" behavior from Cuomo—including him allegedly asking her to play strip poker, likening her physically to a former girlfriend, and kissing Boylan once she had been promoted to a senior position.
Last year, Boylan she tweeted about her and other women being sexually harassed by Cuomo at the time the governor's name mentioned as a potential candidate for U.S. attorney general. She said in response to her tweets, Cuomo leaked a file to try to "smear" her career and his "loyalists called around town, asking about me."
"I expect the Governor and his top aides will attempt to further disparage me, just as they've done with Assemblymember Kim," Boylan wrote in the Medium post. "They'd lose their jobs if they didn't protect him. That's how his administration works. I know because I was a part of it."
Caitlin Girouard, Cuomo's press secretary, disputed Boylan's allegations in a statement on Wednesday, saying: "Ms. Boylan's claims of inappropriate behavior are quite simply false."
Newsweek has reached out to Cuomo, Kim and Boylan's offices for comment.