Rosie O'Donnell Calls Trump a 'Traitor' While Clapping Back at TikTok User
Rosie O'Donnell has taken aim at former President Donald Trump once again, calling him a "traitor" as she clapped back at a TikTok user.
Actor and comedian O'Donnell, who recently expressed her happiness about the FBI's search of Trump's Florida estate for classified government documents, this week shared a video of herself responding to a comment that read: "Only if you were nice."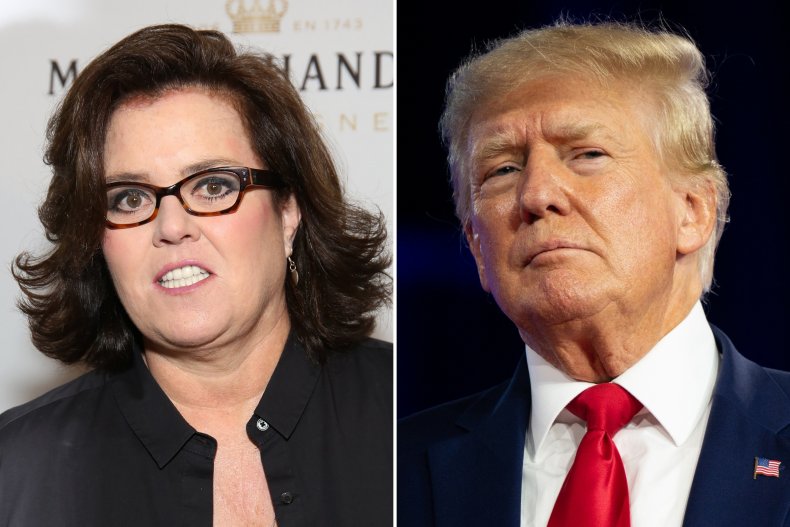 Playing on the TikTok user's display name, Libby, O'Donnell sung her own rendition of Libby's canned food commercials from decades past, before declaring: "I'm nice to you. I'm just not nice to Donald Trump, because he's a traitor. That's why."
Responding to the video, another TikTok user wrote: "Trump is the best president ever! So sad you liberals are so blind and brainwashed. I'm still waiting for you to move to Canada." O'Donnell wrote back that they should "go away."
"You're entitled to your opinion but that doesn't mean it's right," wrote another, and O'Donnell replied that "facts say [it's] right—wake up."
O'Donnell, 60, who counts Trump as a long-time nemesis, said in August that those who support Trump are "willfully blind."
Responding to a comment that read, "Rosie stop, [you're] better than that," O'Donnell said in a video, "Apparently, I am not better than that. Not at all, not one bit. Listen, all you got to do is look it up. You're willfully blind if you believe in Trump."
The initial comment appeared to be a response to one of O'Donnell's recent TikTok posts about Trump, particularly in the wake of the FBI raid.
On August 8, Trump confirmed that FBI agents had searched his Mar-a-Lago estate in Palm Beach and condemned the move.
"Nothing like this has ever happened to a President of the United States before," he said in a statement. "After working and cooperating with the relevant Government agencies, this unannounced raid on my home was not necessary or appropriate."
Calling the raid "prosecutorial misconduct" and a "weaponization of the Justice System," Trump also said the raid was hatched by "Radical Left Democrats" seeking to prevent him from running for president in 2024.
That same day, O'Donnell said the raid proved that "no one is above the law" and suggested that Trump's image as a billionaire real-estate mogul was manufactured.
"OK, so we've proved to the citizens of the United States that no one is above the law," O'Donnell said on TikTok. "Trump's home raided and [the FBI] seized 15 boxes. A lot of boxes seized. So, you know, there's no civil war today, by the way. I looked around and there's no civil war happening."
O'Donnell said: "So I think America has come to understand his true essence and he doesn't have quite the following that he used to and people have woken up to the illusion of Donald Trump.
"Because that's what it was—an illusion created by Mark Burnett on The Celebrity Apprentice that he was somehow some sort of successful businessman, which he never was.
"He got all his money from his dad, who was a slumlord, and his company was mostly logo-slapping, not building," O'Donnell said.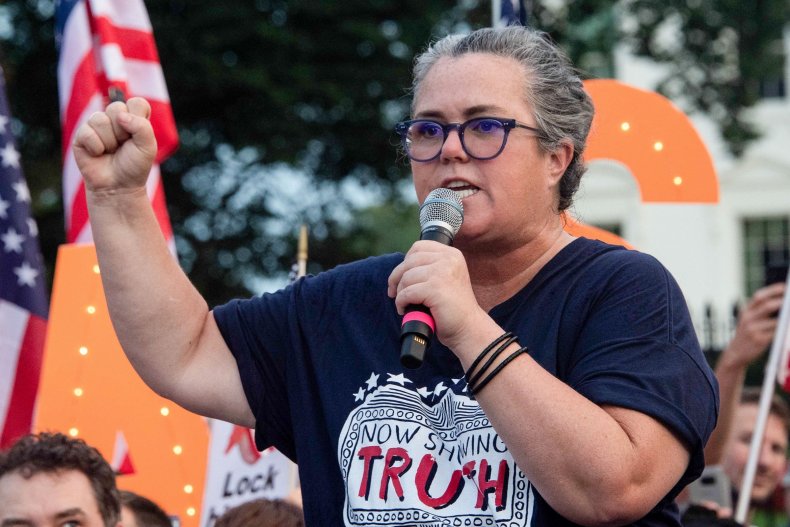 In another video, O'Donnell said of the businessman-turned-politician: "The guy's a criminal, a convict. He's the worst person to ever hold that office."
After the raid on Trump's property, two high-level U.S. intelligence officials told Newsweek that the raid was specifically intended to recover Trump's personal "stash" of hidden documents.
For several years, O'Donnell and Trump have been engaged in a public feud, which began in 2006 when the comedian criticized him on ABC's The View, a show she formerly co-hosted.
O'Donnell slammed Miss USA pageant owner Trump for not firing the 2006 winner Tara Conner, who admitted to drug use and underage drinking.
During a segment on The View, O'Donnell said she didn't "enjoy" Trump, alleged that he was bankrupt, and described him as a "snake-oil salesman on Little House on the Prairie."
At the time, Trump rebuked her statements, saying she was "a woman out of control."
"You can't make false statements. Rosie will rue the words she said," Trump said. "I'll most likely sue her for making those false statements—and it'll be fun. Rosie's a loser. A real loser. I look forward to taking lots of money from my nice fat little Rosie."
The pair's feud has continued since then, with each taking regular shots at the other through the years.
"When someone dies, maybe he'll shut up," O'Donnell said about Trump on MSNBC in 2018. She also called the former president "the dumbest human living" and a "creepy fascist."
Trump, who is known for attacking his enemies on a regular basis, has called O'Donnell a "mentally sick woman, a bully, a dummy and, above all, a loser" and someone with "no talent and no persona."