All the Royal Family's COVID Gaffes, From Posh Dinners to Misjudged Jokes
The royal family have worked hard to support vulnerable people during the COVID crisis—but blunders have led to claims they downplayed the seriousness of the virus.
Queen Elizabeth II showed early leadership to a worried nation when she recorded a rare public broadcast in April promising: "We will meet again."
However, just weeks earlier, her grandson Prince William had joked the royal family were spreading COVID and suggested the threat of the virus had been exaggerated.
Another of the queen's grandchildren, Princess Beatrice, attended a dinner with friends at a high-class restaurant this month, apparently flouting rules on public gatherings.
Also this month, William and his wife Kate Middleton raised eyebrows by undertaking a train tour of Britain.
William: 'I bet everyone's like, "I've got coronavirus, I'm dying"'
Prince William's early jokes about the coronavirus did not age well after he asked a paramedic whether the pandemic was "being hyped up."
The Duke of Cambridge was on a tour of Ireland when he visited the Guinness Storehouse, Dublin, and spoke to first responder Joe Mooney on March 4.
His comments came a day before the U.K. recorded its first coronavirus death, a woman in her 70s treated at the Royal Berkshire Hospital, just 20 miles from Windsor Castle.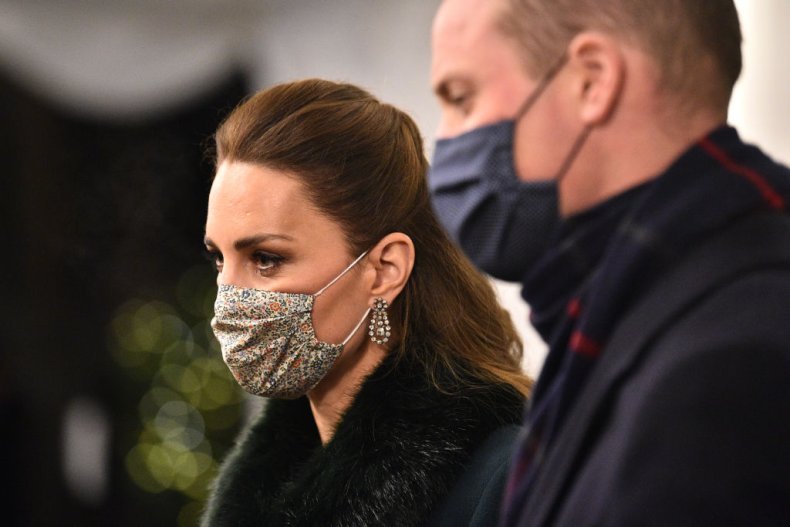 Video footage shows William telling Mooney: "I bet everyone's like, 'I've got coronavirus, I'm dying,' and you're like, 'No, you've just got a cough'. I'm sure.
"It does seem quite dramatic about coronavirus at the moment. Is it being a little hyped up, do you think, by the media?"
He went on to joke: "By the way, the Duke and Duchess of Cambridge are spreading coronavirus. Sorry."
Journalist Jessica Hubbard wrote on Twitter at the time: "Just the future king joking about a virus that has killed thousands. Nothing to see here."
Harry: 'Things are better than we're led to believe'
In April, William's brother Prince Harry told the Declassified podcast how campaigner Captain Tom Moore showed the "very best of the human spirit" by raising $34 million for health service charities.
However, he went on to say the media were being too negative about COVID, and if "you are on the right platforms, you can really sense this human spirit coming to the forefront."
He told Declassified: "It's also proving that I think things are better than we're led to believe through certain corners of the media. It can be very worrying when you're sitting there and the only information you are getting is from certain news channels.
"But then if you are out and about or you are on the right platforms, you can really sense this human spirit coming to the forefront."
The day the story broke, 596 coronavirus deaths were recorded in the U.K., bringing its total to 16,060.
Nadra Ahmed, of the National Care Association, told The Sun Harry "hasn't seen all the evidence," adding: "Some of the things I have heard are harrowing."
William's secret COVID diagnosis
The Duke of Cambridge was criticized last month after it emerged he had coronavirus in April but did not tell anyone.
The Sun reported that William revealed his diagnosis to an observer on a royal engagement, but had kept it private because he did not want to worry people.
He was criticized for the decision, however, with Graham Smith, chief executive of anti-monarchy campaign group Republic, saying it had damaged trust.
Smith told Newsweek: "It's not really justified given that every other public figure has been open about this.
"There are also questions about who he did tell. Did he tell the people he was working with?
William and Kate's royal train tour
The Duke and Duchess of Cambridge completed two days of engagements across Britain last week to thank frontline workers for putting their own lives at risk tackling the coronavirus.
However, they got a frosty reception in both Scotland and Wales, where they were accused of undermining COVID travel restrictions.
Vaughan Gething, the Welsh health minister, told BBC Radio 4: "I'd rather that no one was having unnecessary visits, and people always have divisive views about the monarchy.
"But their visit isn't an excuse for people to say that they are confused about what they are being asked to do."
A palace source told Newsweek: "Travelling across the border is permitted for work purposes."
However, one Twitter user wrote: "It will raise a hollow laugh with many that Buckingham Palace says a three-day trip round the UK by William & Kate on the eye-wateringly expensive royal train is exempt from travel restrictions because it's work.
"Better to have given the money it's costing to foodbanks."
Beatrice's dinner with Beyoncé's stylist
Princess Beatrice, older daughter of Prince Andrew, was criticized after a dinner out with husband Edoardo Mapelli Mozzi, friend Peter Dundas and others.
They were photographed indoors at the London restaurant Isabel, where the most expensive bottle of wine costs $1,600, despite a ban on indoor gatherings of people who live in different households.
Royal sources told The Sun the meal was allowed under an exemption for work events, though guidelines say work gatherings must be "reasonably necessary."
Dundas, who dressed Beyoncé at the 2017 Grammys, posted a photo of the pair standing close enough that Beatrice had her head on his shoulder.
He wrote on Instagram: "Catching up w this lovely #BeaYork."