The Royals' Top Ten Buckingham Palace Garden Party Fashion Moments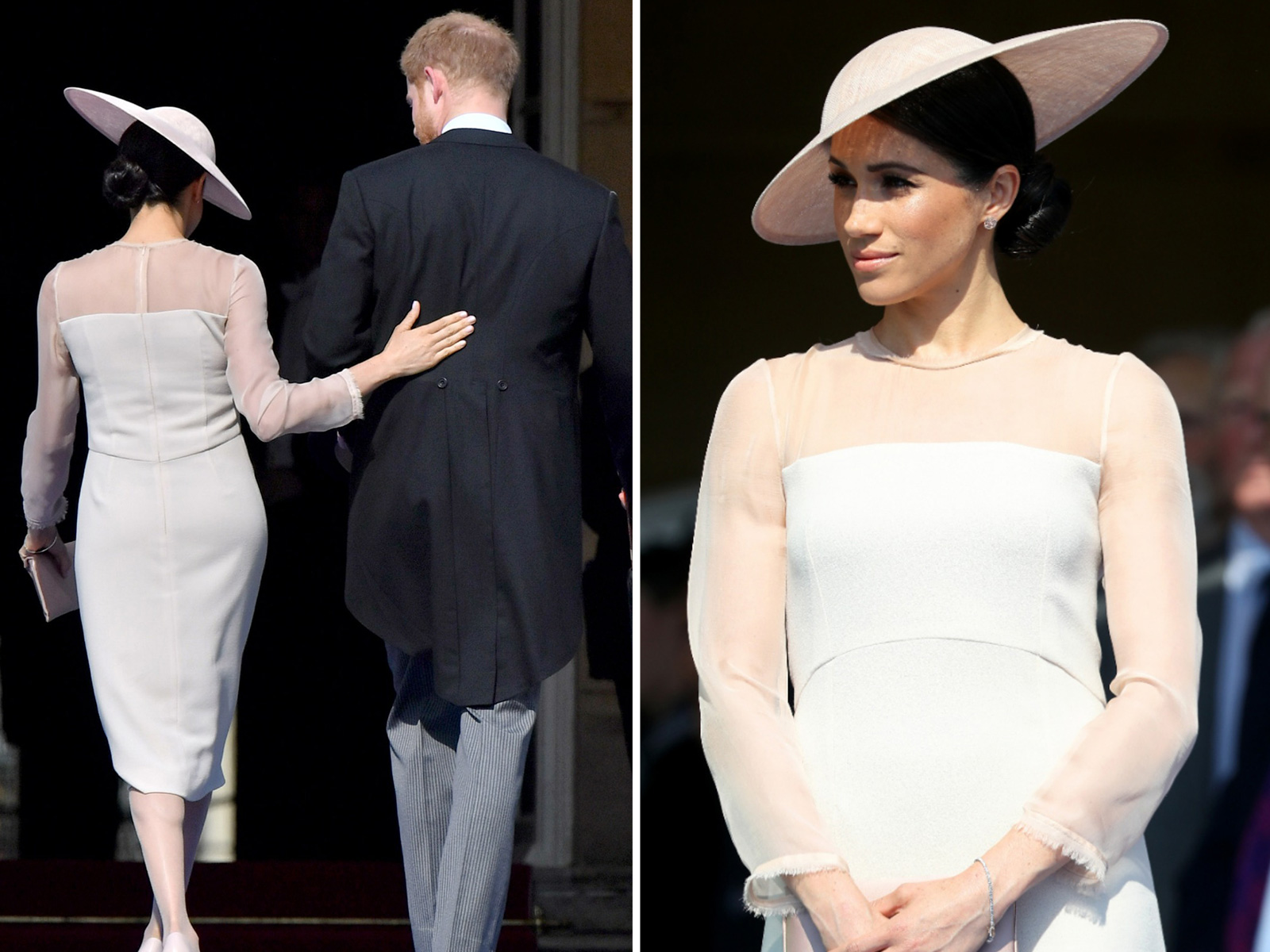 Each year a series of summer garden parties are held at Buckingham Palace, honoring and celebrating members of the public.
In previous years the Queen has hosted these garden parties flanked by members of her family, who attempt to meet and greet as many of the attendees as possible.
It was announced by Buckingham Palace this month that following the 96-year-old's "episodic mobility problems," the Queen would be represented at this year's parties by members of her family.
Princess Diana, Kate Middleton and Meghan Markle have all created memorable royal garden party fashion looks and here, as this year's events get started, Newsweek looks at the top ten.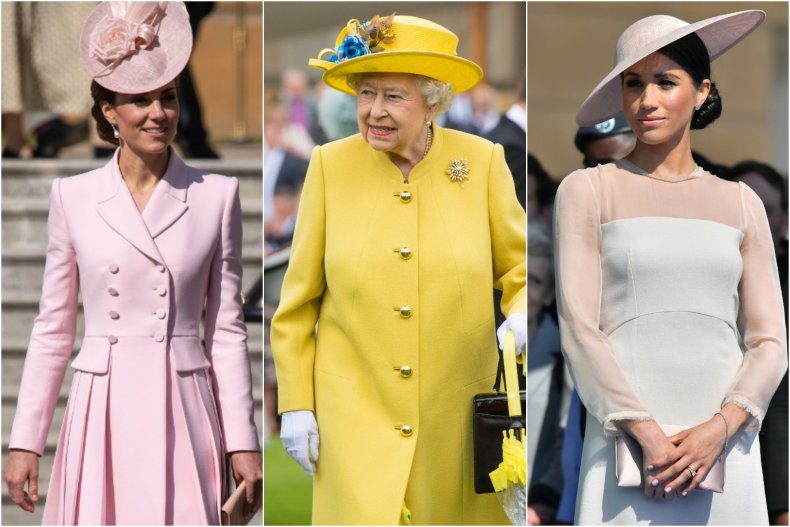 Princess Diana—July 15, 1993
Princess Diana did not attend many garden parties throughout her time as a member of the royal family but in 1993 was present at one hosted on July 15. For the occasion she wore an elegant primrose yellow suit with an oversized longline blazer and wide-brimmed woven hat.
The princess paired her look with pearl accessories and she supported the Queen during the event alongside the monarch's cousin, the Duke of Kent.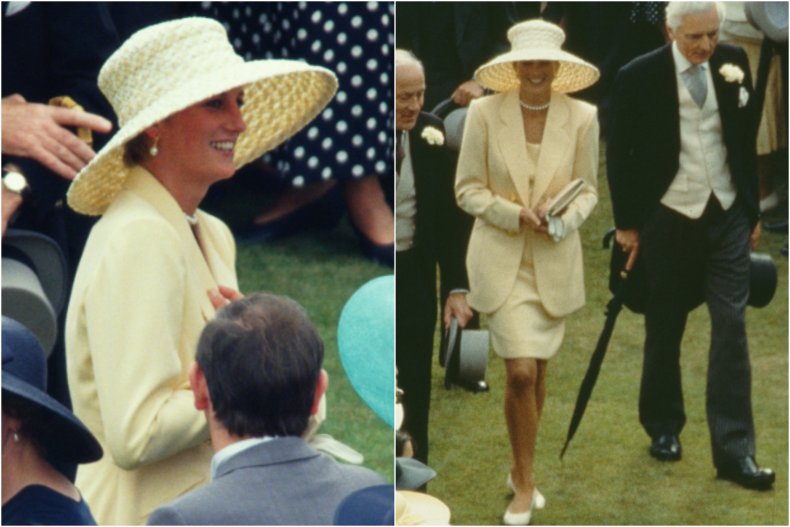 Kate Middleton—May 22, 2013
When Kate Middleton joined the royal family she was praised for her fashion choices, and this extended to her choice of maternity wear. Where in previous decades royal women did not appear at official events heavily pregnant, Kate made an appearance at a palace garden party alongside the Queen, Prince Charles, Prince Philip and Camilla, Duchess of Cornwall.
Kate wore a custom coat dress by designer Emilia Wickstead and a hat by Jane Corbett.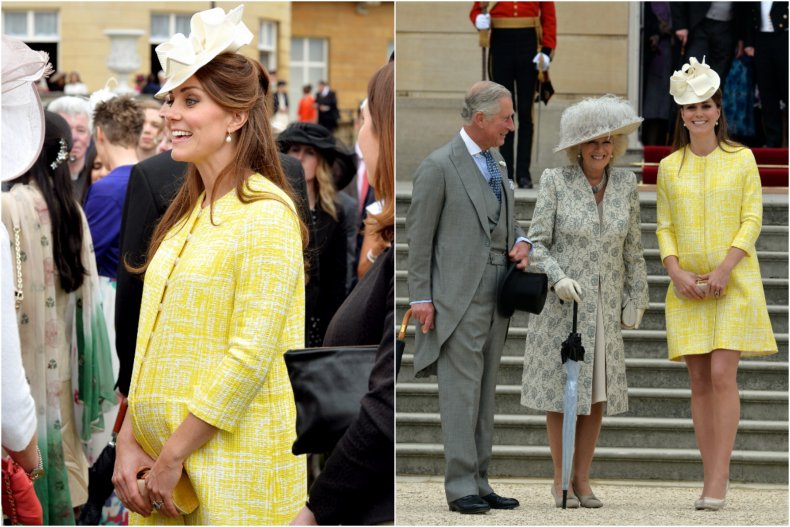 The Queen—May 20, 2015
For a garden party appearance in 2015 the Queen wore a stylish boucle tweed coat dress in shades of muted cream, pink and blue. The monarch's outfit also featured small embroidered flowers and a bold ruffled detail bordering the center-front opening.
The Queen paired her outfit with a heritage diamond star brooch and her favorite pearl necklace while carrying her iconic black Launer London handbag.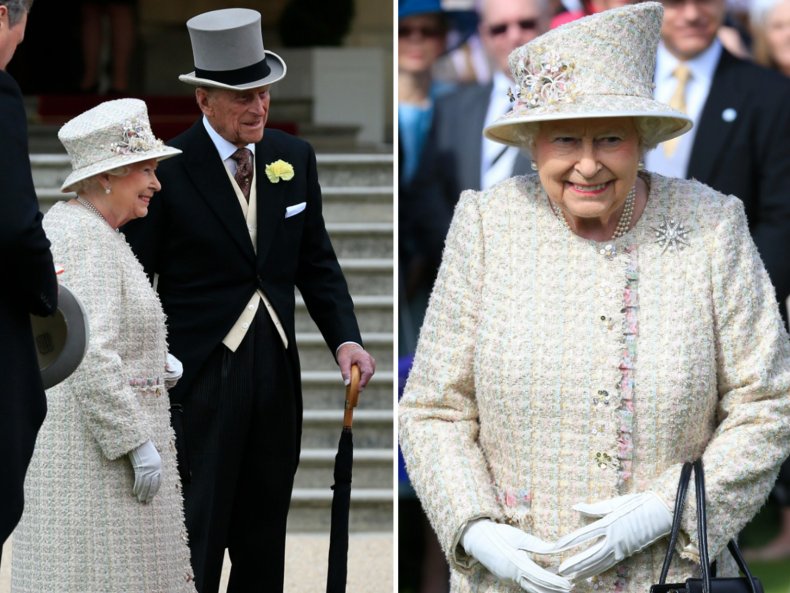 Princess Anne—May 28, 2015
Princess Anne, the Queen's only daughter, undertakes many charity and official duties throughout the year and often tops the list of hardest-working royals. In 2015 the princess attended a garden party at Buckingham Palace supporting the Queen, wearing an eye-catching purple and green ensemble with a jacquard piped coat and purple floral hat.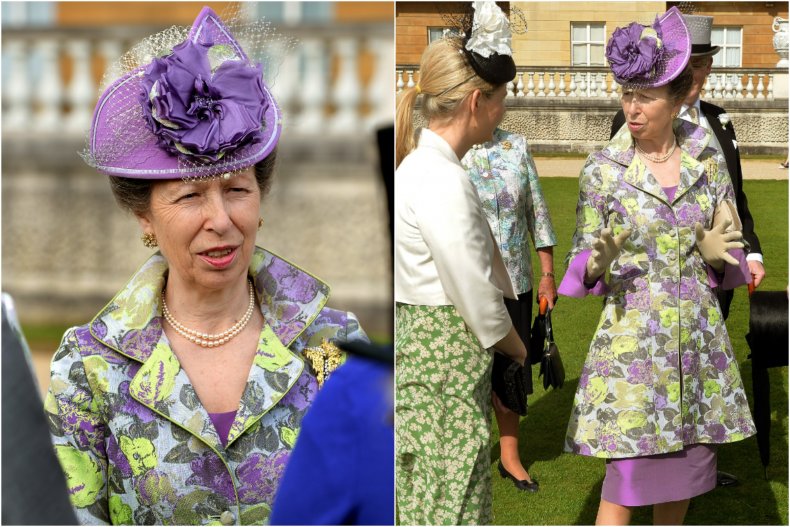 Kate Middleton—May 16, 2017
For a 2017 Buckingham Palace garden party Kate wore an elegant bespoke ice blue coat dress by designer Christopher Kane. The sleek longline design of the coat dress featured princess seaming and a coordinating belt which the duchess paired with a hat by Lock & Co and a vintage 1930s handbag by the designer Josef.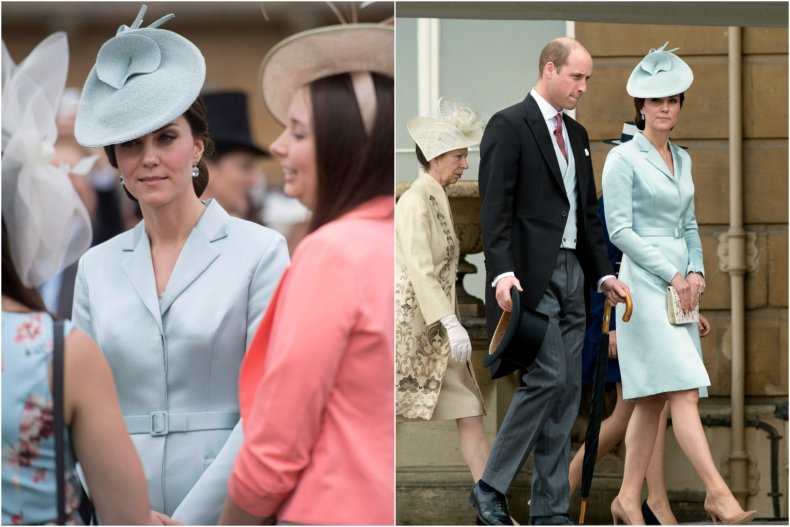 The Queen—May 23, 2017
To a 2017 garden party the Queen wore a sunshine yellow outfit that helped her to stand out from the thousands of attendees. The queen's outfit was punctuated by pops of royal blue which were present in the band of her hat and the floral printed dress worn beneath the block yellow coat.
During this garden party a special two-minute silence was held for the victims of the Manchester Arena bombing, which had taken place the day before.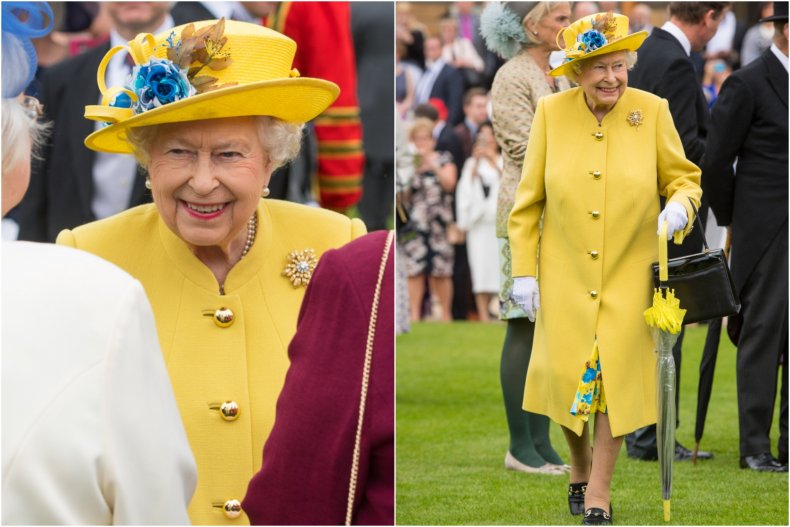 Meghan Markle—May 22, 2018
Meghan Markle has, so far, only attended one Buckingham Palace garden party. That was one immediately following her May 19 wedding to Prince Harry in 2018.
The party was held specially to mark the Prince of Wales' 70th birthday and the guests were all representatives of his charities and staff from previous decades.
Meghan wore a pale pink dress by the fashion label GOAT which featured organza sleeves and a high neckline. With this dress she paired a Philip Treacy saucer hat and an oyster silk clutch bag by Wilbur & Gussie.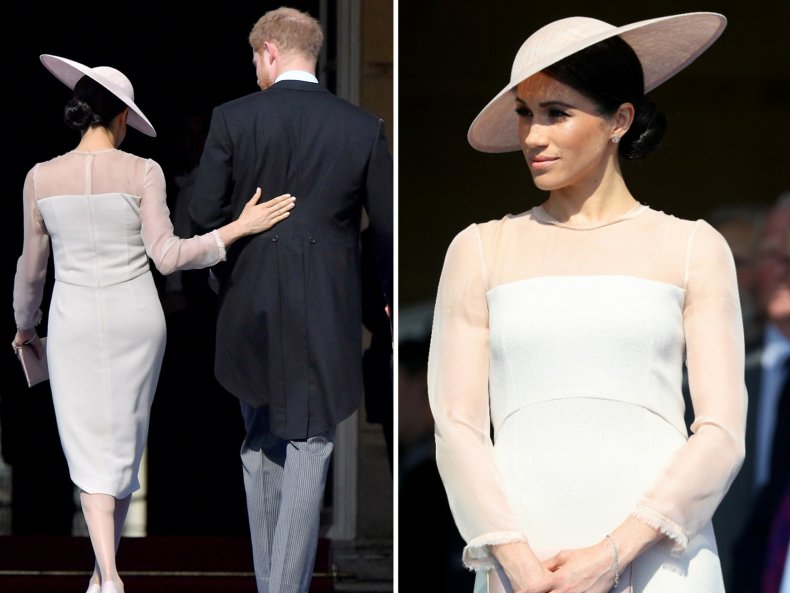 Princess Eugenie—May 31, 2018
The queen's granddaughter Princess Eugenie has made a number of garden party appearances since she became an adult, one of the most notable being in 2018 when she raised eyebrows by wearing a dark navy dress—breaking away from the conventional bright colors usually adopted by royal women for the event.
The princess wore a hat by Misa Harada with the word 'love' piped across it as the garden party took place just months before her September wedding to Jack Brooksbank.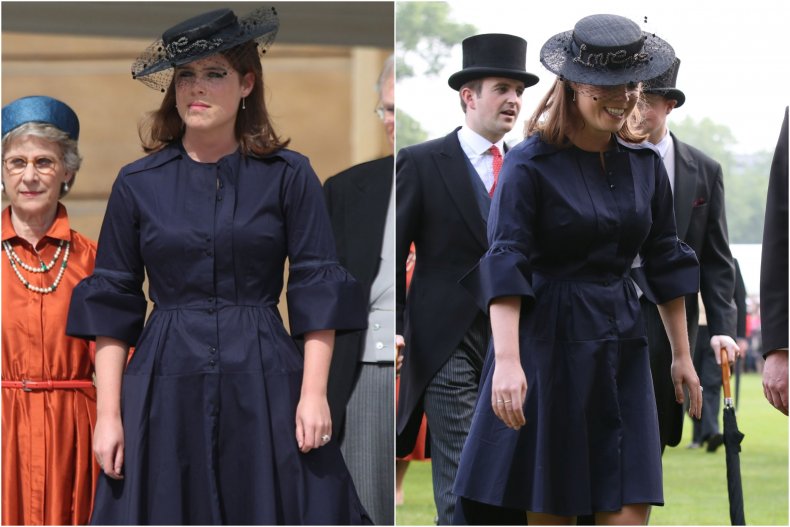 Kate Middleton—May 21, 2019
For her last garden party appearance before the pandemic break, Kate wore a bespoke pink Alexander McQueen coat dress with pleated skirt panels falling from the waistband. With her look Kate paired a hat by Juliette Botterill and a Loeffler Randall clutch bag.
The royal attended the party with Prince William and for the occasion wore a pair of pearl earrings known as the 'Collingwood Earrings,' which had been given to Princess Diana as a wedding present in 1981.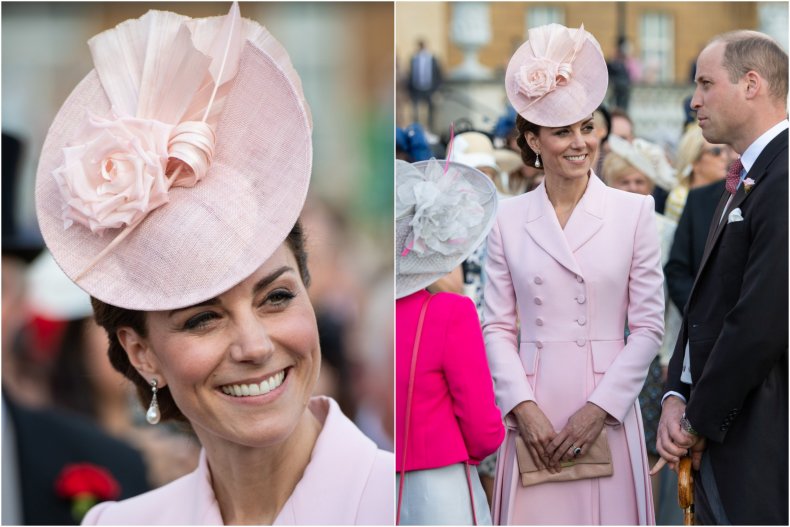 Camilla, Duchess of Cornwall—May 11, 2022
For the first Buckingham Palace garden party since the beginning of the pandemic, Prince Charles and Camilla, Duchess of Cornwall stepped in on behalf of the Queen to host the event.
Camilla has been a staple guest at palace garden parties since she married Charles in 2005 and for the first 2022 event she wore an elegant blue fit and flare coat with white piped embroidery around the neckline, cuffs and center front opening.