Rudy Giuliani Selling Sandals Online Sparks Widespread Mockery
Former New York Mayor Rudy Giuliani has taken to Twitter to promote a collaboration with MyPillow.com to sell sandals at $49.98.
On Thursday night, he tweeted an image of eight different sandals in a variety of colors and a promotional code.
"Great products at reasonable prices. Use code 'Rudy' for additional savings," he captioned the image.
The poster said that the regular price for the MyPillow sandals is $79.98 but with the promo code "Rudy" they would drop to $49.98.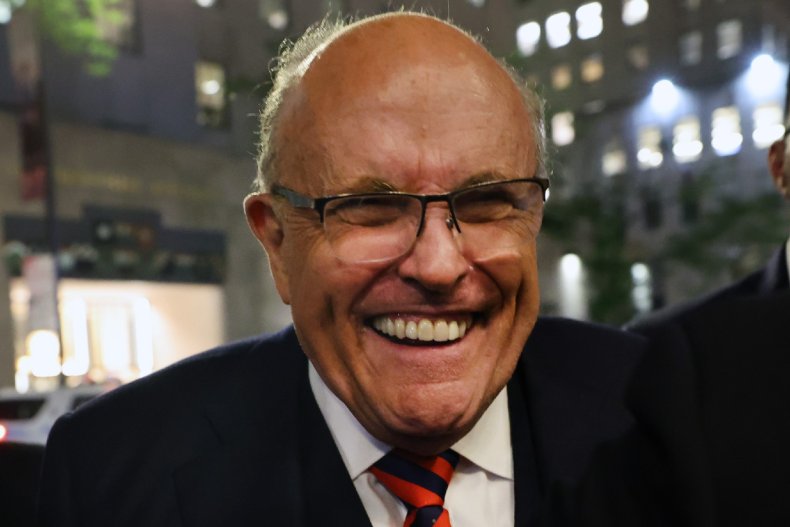 The specifications for one of the Cambodia-made sandals on display in the poster says it reduces stress put on feet and joints, is "super fashionable," and can be worn anywhere and is easy to clean and care for.
Following the product endorsement, social media users have taken to Twitter to mock the lawyer.
"'Are you wearing the-'
"'The $49.98 Rudy Giuliani x My Pillow sandal collab? Yeah, I am,' Texas Monthly staff writer Cat Cardenas tweeted as she shared a picture of Anne Hathaway with the sandals photoshopped onto her feet.
"Roll up, roll up, buy your official Rudy Giuliani TOP LAWYER sandals, perfect for landscaping in all four seasons," TV critic Toby Earle tweeted while sharing the promotional poster.
"Well he isn't my usual sandal vendor but I might give Rudy Giuliani a shot," Author James Felton joked.
"'Are you wearing the...'
"'The $50 Rudy Giuliani sandals? Yeah, I am,'" The Hill Staff writer Zack Budryk also tweeted.
In June last year, Giuliani was mocked for another collaboration he did with MyPillow promoting its products on his podcast.
"I been sleeping on MyPillows for some time, I love them, they are simply the very best pillows ever made," he said in the ad.
"But I just found out that they also have a wide assortment of other incredible products like their mattress topper sheets, towels and slippers and more."
Earlier this week a video of Rudy Giuliani went viral as it showed the moment he was assaulted while in a supermarket in New York.
He was slapped on the back in ShopRite on Staten Island by a store employee. However, he has been ridiculed for the incident and accused of exaggerating the extent of the attack.
Speaking to the New York Post, Giuliani said he felt "tremendous pain" when the incident happened.
"All of a sudden, I feel this, 'Bam!' on my back. I don't know if they helped me not fall down, but I just about fell down, but I didn't," he said.
"I feel this tremendous pain in my back, and I'm thinking, 'what the,' I didn't even know what it was.
The lawyers of the Daniel Gill, who was charged with assault in the slapping, has alleged that the former mayor gave a misleading account of the incident to keep his name in the media.
The Legal Aid Society on Monday blasted Giuliani in a statement accusing him of overplaying the incident and law enforcement of overreacting to the widely publicized encounter in a grocery store.
The non-profit law firm said Giuliani sustained "nothing remotely resembling physical injuries" and that Gill "merely patted" him during the altercation to get his attention.
Newsweek has contacted Rudy Giuliani for comment.