Rudy Giuliani's Son Potentially Exposed Most of Trump's Legal Team to COVID During RNC Press Conference
A campaign lawyer for President Donald Trump said that most of his legal team may have been exposed to COVID-19.
During a conference call Friday morning, Trump campaign lawyer Jenna Ellis said that the legal team was likely exposed—after Andrew Giuliani, Rudy Giuliani's son, tested positive for the virus on Friday, Axios reported.
Later that afternoon, Ellis tweeted that she and Rudy Giuliani, who is President Donald Trump's personal attorney, had so far tested negative for the virus, and that the rest of the legal team will continue to "follow the advice and protocols of our doctors."
Andrew Giuliani, a White House staffer, is thought to have exposed members of the legal team at a press conference, which featured his father, at the Republican National Committee (RNC) headquarters in Washington, D.C., on Thursday.
On Friday morning, the younger Giuliani tweeted that he was experiencing mild symptoms and following recommended protocols to prevent spreading the virus further.
"This morning, I tested positive for COVID-19. I am experiencing mild symptoms, and am following all appropriate protocols, including being in quarantine and conducting contact tracing," Andrew Giuliani wrote.
He is the latest of many Trump administration and campaign officials to have become infected with the coronavirus. Over the course of the pandemic, there have been three separate White House outbreaks.
The news of Andrew Giuliani's positive test comes as his father, Rudy Giuliani, continues to lead Trump's legal battles in an effort to overturn the results of the 2020 presidential election.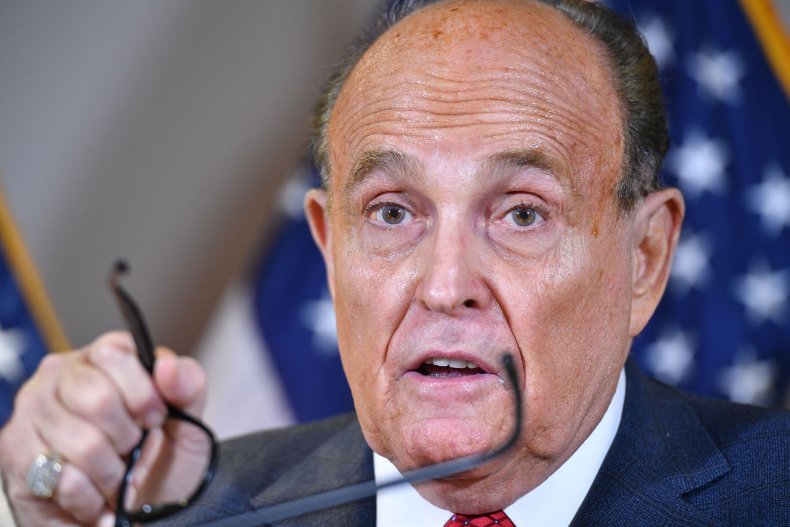 According to Axios, during Friday's conference call, Trump lawyers said that possible coronavirus exposure would prevent key members of the Giuliani legal team from attending a meeting at the White House between the president and two Michigan GOP lawmakers.
The meeting appears to be the latest attempt by the Trump campaign to subvert Michigan's election results, after the two GOP officials voted to certify the states 16 electoral votes to President-elect Joe Biden on Tuesday evening.
On Wednesday, Trump claimed that Michigan could not certify its election results due to fraud, just hours after the state became one of the latest to do so.
"The Great State of Michigan, with votes being far greater than the number of people who voted, cannot certify the election," the president tweeted, adding: "The Democrats cheated big time, and got caught."
Trump's lawyers have repeatedly pushed the narrative that the election was stolen due to widespread fraud and have pursued lawsuits in each of the key swing states that Biden has been projected to win, but have so far gained little to no success in court.
Of lawsuits filed in Michigan, Georgia, Arizona and Pennsylvania, two cases have been dismissed, one has been denied, and three more have been dropped by his team.
During Thursday's RNC press conference, Rudy Giuliani said that he was in possession of "hundreds" of affidavits proving voter fraud, but said he could not release them to the press due to matters of national security.
In response, many critics said that Giuliani's claims were filled with misinformation and pointed to his lack of evidence to support the allegations. Former Cybersecurity and Infrastructure Security Agency Director Christopher Krebs, who was fired by Trump on Wednesday, called the statements "dangerous."
"That press conference was the most dangerous 1hr 45 minutes of television in American history," Krebs tweeted Thursday. "And possibly the craziest. If you don't know what I'm talking about, you're lucky."
Newsweek reached out to Rudy Giuliani and the Trump campaign for additional comment, but did not receive a response in time for publication.