RuPaul's Drag Race All Stars Season 7, Episode 7 takes us over the halfway point of the Paramount+ show—and it still feels like any of these queens could win.
The All Winners season's second design challenge takes us back to the fun of Raja's original season, where the sheer amount of design challenges drove everyone a little insane. And who does not like to see our queens sweat a little?
Episode 7, however, begins post-blocking, and post-Yvie's win. The fact that Yvie won this challenge really highlights how stupid the "you win a star to give away" twist was—if a queen only makes it into the final because of a star she is given, then it cheapens the whole process.
While Yvie is celebrating, Vivienne is clearly letting the process get to her a little. Which makes sense—she does not know her fellow competitors as well as they know each other. She also arguably had more to prove coming into this competition as the only non-U.S. winner. So getting blocked must hurt all the more—though it is hilarious that she got her revenge by inadvertently blocking Jinkx during a challenge Jinkx was almost guaranteed not to win.
Side note—whoever in production followed Viv's instruction and changed her caption to "Karen—on hold for the manager" deserves a Legendary Legends badge all of their own.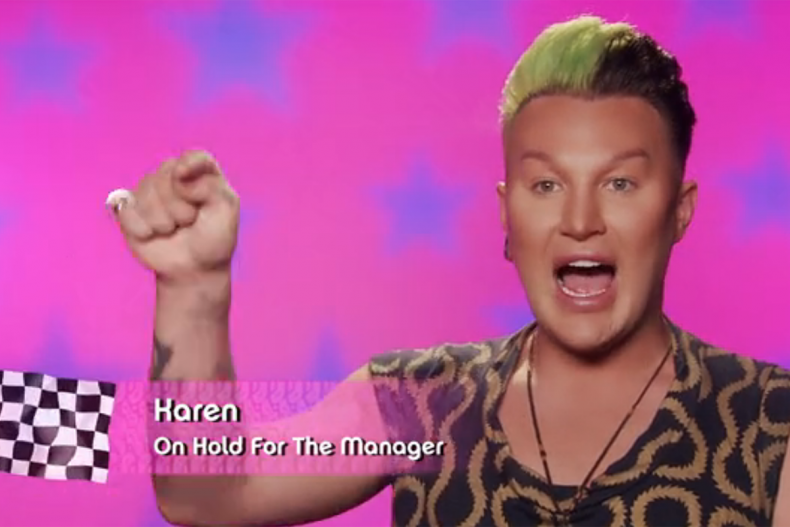 This week's challenge sees all the queens having to design outfits inspired by some of the most famous RuPaul looks. This being Drag Race, though, the challenge is also spon, this time for Pinterest. Somehow, Pinterest feels like even more of a throwback than the TRL references last week.
As last week's winner, Viv gets to pick first, and chooses Ru's gold "DESPY Awards" gown—perhaps the best dress Ru ever wore on the show. Trinity picks the big-bowed Season 8 promo look, Monet the futuristic "facekini" look, Shea her Season 5 pink leopard print gown, Jaida her VH1 Divas 2000 ensemble, Yvie the classic 1992 Supermodel of the World dress. Raja then gets the worst look by far, the Season 7 Born Naked look with all the slashes, aka, "American Apparel, but make it drag."
While the queens assemble their looks, we get one of the season's best Ru walkarounds. Ru reminiscing with Yvie about her 1992 rise to stardom (which was the year Yvie was born) was cute, especially if the rumors about Ru being on her way to retirement are true.
Ru telling Monet that her "facekini" look was just her trying something new was interesting—especially as the rumor that has circulated around Drag Race fans for years was that she was too sick to do her make-up that week.
Shea, meanwhile, decides that she is going to make her own print for her look that week, giving Project Runway fans everywhere a warm feeling of nostalgia to that show's print challenge. Good times.
While Shea is hard at work, Jinkx is losing her mind. After making her bodice, she discovers it does not fit. Jinkx of Season 5 would be lost to a fit of narcolepsy at this point, but luckily new Jinkx has Yvie to spank some life into her. Jinkx's reaction here highlights why sewing challenges are great, and why the show got worse as we got less and less of them. Trying to create couture in mere hours is near impossible, so it brings a manic energy that is a lot of fun to watch. Plus, we get fierce looks by the end. As Trixie might say to the sound of tumbleweeds, winner winner chicken dinner.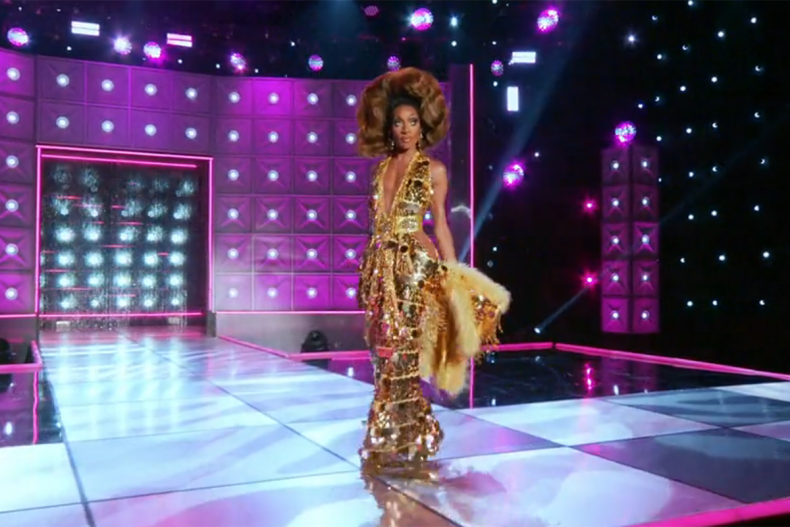 Next is the runway, which is a real testament to the level of talent in the All Stars, All Winners season. Even Jinkx's look doesn't suck! Here's a breakdown of the looks:
Yvie: Inverting the outfit to put the tulle on top is a fun idea, and those pants are a stunning piece. But the top half does not really live up to the bottom, and kind of gives your basic friend at Coachella vibes.
Vivienne: Like many challenges so far, Viv is really slept on tonight, with her Vivienne Westwood take on the look and her make-up pretty near perfect. You can maybe see why she was not in the top (other queens have more interesting takes on their assigned look) but she should have been much more in the top two conversation.
Shea: Shea deserves credit for taking the most liberties with her assigned look, turning the voluminous gown into a headscarf and arm ruffles. The result is high fashion Angelyne, which you cannot be mad at, even if you wish she had showcased that beautiful fabric print she made a little more.
Trinity: The pinnacle of pageantry, and a real feat of sewing—even if those very sharp bows are a little arts and craft.
Raja: Only Raja could pull off a look like this. It is not a million miles away from Jiggly Caliente's notorious "baked potato couture" in Season 4, and yet somehow Raja makes it look incredibly chic. She should also be commended for making something so high-fashion from the absolute worst assigned dress. Plus, Raja describing it as "Bed, Bath and Beyond Thunderdome" is thee quote of the episode.
Jinkx: Are we grading on a curve because it is Jinkx, or is this actually good? Sure, the saloon vibes are hardly original for Jinkx, and the half-painted lip does not read well on camera, but it all kind of works.
Jaida: Pure perfection. Sure, she was given the best fabric to start with, but that stuff is not easy to sew, and what Jaida does with it is breathtaking.
Monet: The hat that Monet spent so long working out is sure to be divisive (the feathers are probably a step too far), but this is a fun interpretation on the look, and making a bodysuit that well-fitting is not easy.
Then we are on to the critiques. Except we cannot really call them critiques, because everything is positive. We get that this is the highest-caliber of drag, and you probably had to promise these queens a lot of positive coverage to get them to come back, but it remains unfun to watch these queens just get complimented for 15 minutes—even when they deserve it.
Once every contestant has been praised, the judges pick Trinity and Jaida as the top two. There are looks on that stage better than Trinity's, but the amount of help she gave everyone with their sewing makes the win feel deserved.
Jaida, meanwhile, has her third star, all but guaranteeing her place in the finale at this point. Many would agree that she deserves a place there, but it is also slightly annoying. Jaida has only won two challenges and has three stars thanks to the "give a star" twist, while Trinity has won three challenges and has two stars (as has Jinkx).
These queens may deserve their wins, but they don't deserve to have to lip-sync to a Jessie J song. "I Want Love" has all the right dynamics for a good lip-sync song, but "I want you and me, there's no confusion/Breakin' all our New Year's resolutions" remains one of the all-time dumb couplets—what, Jessie and her beau are deciding to end their diets and stop going to the gym, but in a sexy way?
The lip-sync is pretty evenly matched, but Trinity takes the win. Though we all know there is only one winner this week, and it's the split guest judge Betsey Johnson did on the runway.
Trinity blocks Yvie, which makes sense in one way (she has two stars), but not in others (she has only won one challenge). At this point, however, the queens must all be so frazzled that it's a surprise Trinity does not accidentally block herself.
RuPaul's Drag Race All Stars Season 7 continues Fridays on Paramount+.