Russia Has at Least 151 Diplomats Removed From Various Countries in 7 Days
At least 151 Russian diplomats have been or are in the process of being expelled from countries around the world in the past seven days alone as Russia contends with the ongoing fallout from the war in Ukraine.
The total was raised Friday when Japan announced plans to oust eight Russian diplomats, Axios reported. Japan also said it would phase out Russian coal and oil imports because of the Ukrainian invasion.
The U.S. and Europe have jointly expelled more than 400 Russian diplomats and embassy workers since Russia launched its attack on Ukraine in late February, according to an Axios count. But recent events in Ukraine have apparently spurred countries to take immediate action in the past week.
Germany and France, for example, announced plans Monday to kick out Russian diplomats and embassy staff over reports of mass civilian killings in the Ukrainian town of Bucha, which have drawn international condemnation.
While announcing the ousting of Russian diplomats from Japan during a news conference Friday, Prime Minister Fumio Kishida described some of Russia's actions in Ukraine as "unforgivable war crimes," Reuters reported.
"Russia has repeatedly violated international humanitarian law by killing civilians and attacking nuclear power plants," Kishida said.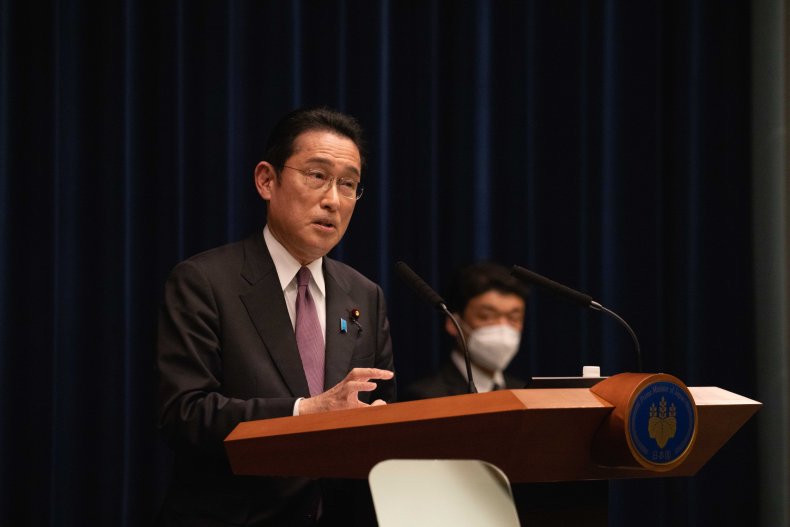 Japan will prohibit imports of goods like lumber and vodka, boost sanctions on Russian banks and freeze the assets of more than 400 people and groups with ties to the Kremlin, in addition to halting Russian coal and oil imports, Kishida said.
"With decisive measures [against Russia] and support that meets the Ukrainian people's needs, we will make it clear that the international community will never accept Russia's outrage and Japan stands together with Ukraine," Kishida said, according to Reuters.
The U.S. was the first to expel Russian diplomats after the war began February 24, Axios reported. Olivia Dalton, a spokesperson for the U.S. Mission to the United Nations, said in a Twitter thread at the time that the 12 U.N. diplomats who were being kicked out had "abused their privileges of residency in the U.S. by engaging in espionage activities that are adverse to our national security."
The United Nations' General Assembly took an additional step Thursday, voting to suspend Russia from the Human Rights Council, a move that was pushed by the U.S.
Expulsions and suspensions are just some of the ways the international community has attempted to punish Russia for initiating the Russia-Ukraine war. The U.S. and Europe have also imposed unprecedented sanctions on Russia since the conflict began. Experts say the sanctions are moving Russia toward its first foreign debt default in more than a century.
Newsweek reached out to Russia's Foreign Ministry for comment.
Update 4/8/22, 10:45 a.m. ET: This story was updated with additional information and background.