Russia Accuses U.S. of 'State-Sponsored Gangsterism' and Illegally Smuggling Syria's Oil After Troops Moved to Protect Oil Fields
Russia has accused the U.S. of "state-sponsored gangsterism" after it claimed that plans to send troops to Syrian oil fields was a cover to protect American oil smugglers who circumvent sanctions in return for petrodollars.
Newsweek first reported on Wednesday that the U.S. had made plans to send troops and tanks to guard Syria's eastern oil fields despite President Donald Trump's ambitions to pull forces from the region.
Russia's Deputy Foreign Minister Sergei Ryabkov said on Friday he was "concerned" with the move—disapproving of America's continued presence in the country—and a Defense Ministry spokesman went a step further on Saturday, stating that the presence was maintained for the continued smuggling of Syrian oil.
"Tank trucks guarded by U.S. military servicemen and private military companies smuggle oil from fields in eastern Syria to other countries," Defense Ministry spokesman Igor Konashenkov said.
"In the event of any attack on such a convoy, U.S. special operations forces and combat aviation are immediately used to protect it."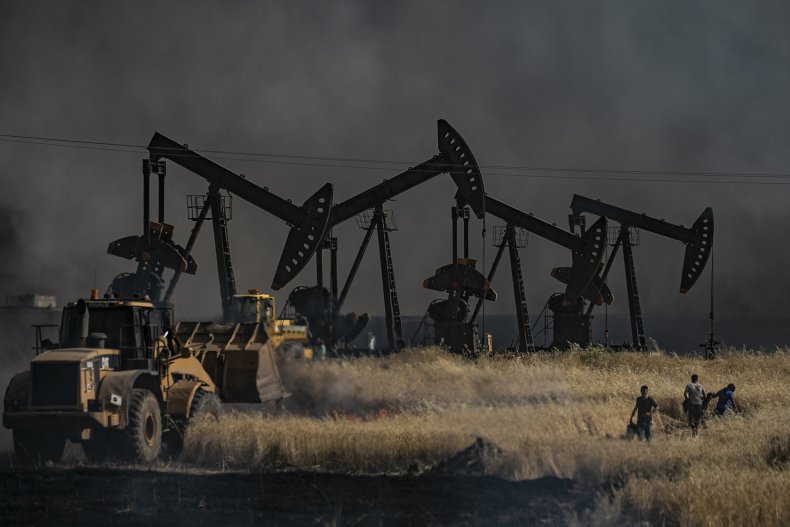 He added that oil was extracted by a U.S.-controlled company called Sadcub and had been smuggled to other countries and sold in contradiction of U.S. sanctions. He said the company generates revenues of $30m a month.
"Revenues from smuggling Syrian oil arrive at numbered bank accounts of US private military companies and intelligence services through brokerage firms that interact with it," Konashenkov added.
"To secure such a continuous financial flow free from control and taxes, the top officials at the Pentagon and Langley will be willing to guard and protect oil wells in Syria from the imaginary 'hidden cells of the Islamic State (ISIS)' indefinitely."
The comments were reported by the state-sponsored TASS news agency and follow Trump's decision to pull troops from north-east Syria earlier this month.
Trump's decision then prompted a Turkish incursion on border towns and the commander-in-chief was accused of betraying the region's Kurds—a key ally in the struggle against ISIS.
Following days of bitter fighting between Turkish forces and Kurdish troops from the Syrian Democratic Forces (SDF), Russia and Turkey have since reached a ceasefire agreement that mandated the withdrawal of the Kurdish People's Protection Units (YPG), the primary component of the SDF, from the border.
Despite the agreement and relative cessation of fighting, Trump confirmed Newsweek's reporting and announced that troops would be sent to Al-Tanf as well as other oil fields under Pentagon-backed SDF control.
"What Washington is doing now, that is, capturing and holding oil fields in eastern Syria under its control, is, putting it bluntly, international state-sponsored gangsterism," Konashenkov added.