Alexei Navalny's Prison Guards Try to Break His Hunger Strike By Frying Chicken Near Him
Jailed Russian opposition politician Alexei Navalny, who is over a week into a hunger strike, has said prison guards have tried to break his resolve by frying chicken in front of him.
There is growing international concern at the failing health of the Kremlin critic who is forgoing food to force the prison in the Vladimir region outside Moscow to give him proper medical care amid his complaints of acute pain in his back and legs.
Navalny has also said he has a heavy cough and a fever and that others in his prison unit have been hospitalized for tuberculosis.
Amnesty International said it fears the conditions he faces in the colony in the Vladimir region north of Moscow are slowly killing him. President Joe Biden is "disturbed" by Navalny's declining condition, White House press secretary Jen Psaki has said.
In an Instagram post, Navalny, who faces a 2.5 year prison term for breaching parole conditions from a 2014 embezzlement charge he says is trumped up, described with a touch of humor how the hunger strike he has been on since March 31 has been panning out.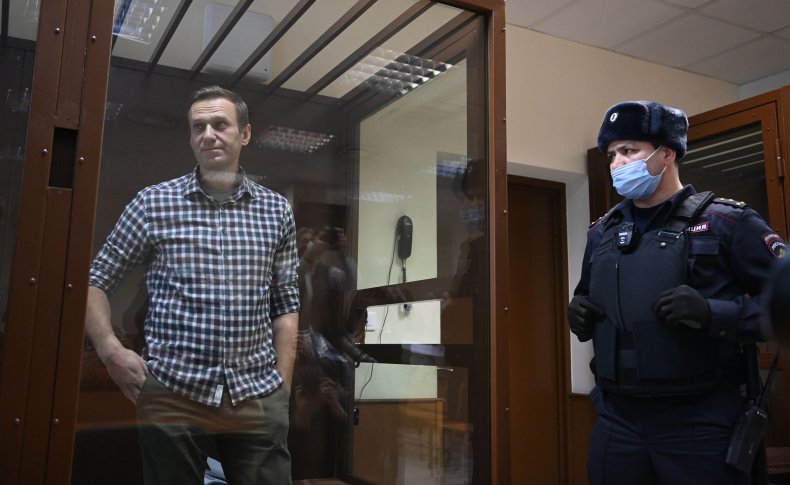 He wrote how he knew that the authorities "would want to discredit the hunger strike and ridicule it."
He was careful to always be accompanied by a prison staff member when he went into the kitchen to drink water, writing that Kremlin-controlled media outlets had reported "Navalny is secretly eating cookies," which he described as "a lie."
He then described how he had laughed off his lawyer's warning during one visit that prison staff would fry and eat chicken in front of him to torment him.
Navalny said this would be impossible partly because "it is forbidden to cook in the kitchen," and also the only facility there was a kettle, but in any case, chicken as far as he knew, was banned.
"And then what do you think happened? Two days later, I go to the kitchen for a drink and a prison guard is standing there frying chicken," he wrote, adding, "all the rules and regulations have been cancelled."
"I grinned and thought that this was their instruction. And then I thought again and realized: no, this is just what they believe in," he said, describing it as "the essence of this power."
In his post which as of Thursday afternoon had been liked more than 565,000 times, he insisted that he was undertaking a "100 percent hardcore prison hunger strike. Without any tricks like sweet tea, salted water, juice, vitamins, etc. Only water."
His account comes as momentum grows for further protests this spring against his incarceration. On Thursday, Leonid Volkov, who heads Navalny's regional headquarters network, tweeted that more than 400,000 people had registered on the "Free Navalny" website their intention to take part in demonstrations.
He has said that the actions, on a day yet to be announced, look set to be bigger than the protests that took place across the country in January, posing a problem for President Vladimir Putin and his government going into parliamentary elections later this year.
The graphic below provided by Statista shows how long Putin has been in power.