Russia Says U.S. Sanctions for Navalny Poisoning Will Fail as Putin's Popularity Plummets
Moscow has condemned U.S. sanctions aimed at punishing the Kremlin for the poisoning of opposition politician Alexei Navalny. At the same time, Navalny's biggest target, President Vladimir Putin, faces waning support among Russians to stay in power beyond 2024.
Washington said it would sanction seven senior Russian officials following an intelligence assessment that concluded "with high confidence" the Federal Security Service (FSB) was behind Navalny's poisoning by the Novichok nerve agent in August 2020.
Their U.S. assets will be frozen, and any U.S. transactions with them will be subject to prosecution in the first sanctions on Russia imposed by the administration of President Joe Biden since he took office.
They have been coordinated with EU actions against four top Russian law enforcement officials and follow international outrage at the attack and jailing of Navalny.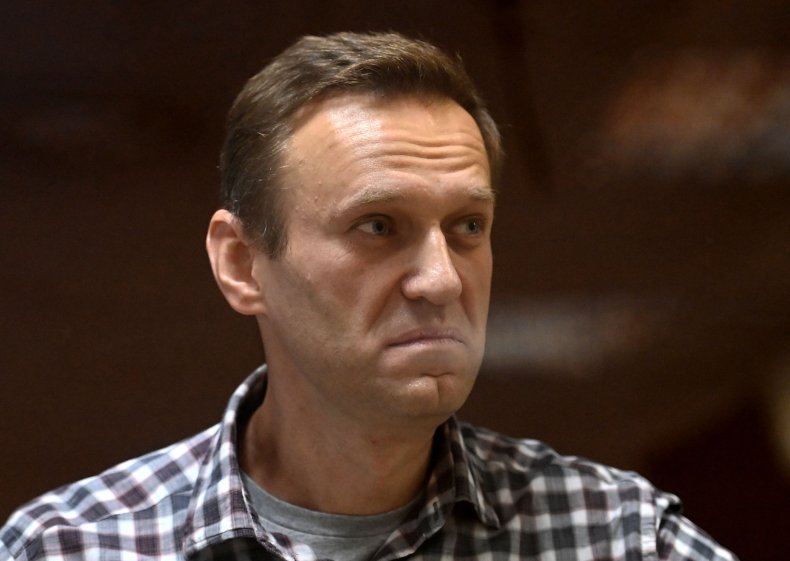 When contacted for comment, the State Department referred Newsweek to the statement by Secretary of State Antony Blinken that the U.S. government aimed "to send a clear signal that Russia's use of chemical weapons and abuse of human rights have severe consequences."
But Russia's foreign ministry spokeswoman Maria Zakharova has hit back at the sanctions, saying that "based on the principle of reciprocity, we will respond but not necessarily with symmetrical measures."
"The White House is again trying to cultivate the image of an external enemy," she said, "we have repeatedly commented on this U.S. policy which lacks logic and common sense."
Reiterating the Kremlin denial of responsibility for Navalny's poisoning, she said the U.S. should focus on areas like destroying its chemical weapons which, "Russia hasn't possessed since 2017."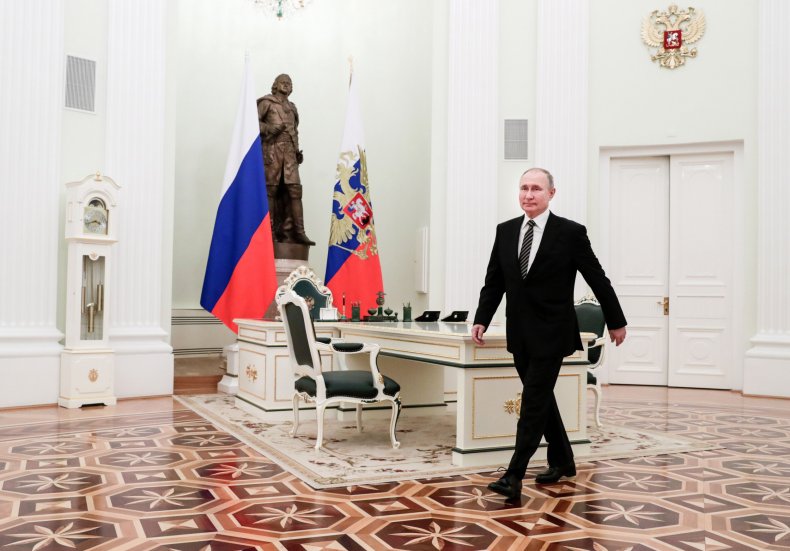 "Any hopes to impose something on Russia by way of sanctions or other pressure have failed in the past and will fail now," she said, according to a transcript of her comments on the foreign ministry's website, "We urge our colleagues not to play with fire."
After Navalny was arrested on his arrival in Moscow from Berlin, where he was recovering from the poison attack, protests across the country led to a crackdown and more than 11,000 arrests.
After such political turbulence, a poll by the independent Levada Center has shown that Russians are becoming increasingly lukewarm to the prospect of Putin remaining in power past 2024 when his current term ends. Last year, Russia's constitution was changed, allowing Putin to stay as president until 2036.
The Levada poll found that 48 percent of Russians wanted him to stay president after his current term ends, the lowest number since October 2013.
The poll conducted in February, with a 0.95 percent margin for error, also found that 41 percent of people did not want Putin to stay leader after this time, which was the highest level of opposition to his tenure also since October 2013.
Support for Putin was lower among younger voters. Over half (51 percent) of those aged between 25 and 39, and 57 percent of those aged between 18 and 24, did not want Putin to stay president.
Meanwhile, one Russian economist said that the U.S. sanctions on the officials, who include FSB chief Nikolai Bortnikov and Prosecutor-General Igor Krasnov, are unlikely to have an impact.
"Most of these individuals who are subject to sanctions are already on different sanctions lists. There are no economic consequences that many feared," Vladislav Inozemtsev told Real Time TV. "It was expected that sanctions would be imposed on Russian oligarchs and big businessmen, nothing of the kind happened."
Navalny's Anti Corruption Foundation (FBK) has provided Congress with a list of three dozen members of Russia's elite it says should be targeted in any kind of punishment for Navalny's poisoning and jailing. Newsweek has contacted FBK for comment.
The graphic below provided by Statista shows Russian President Vladimir Putin's time in power.