Russia and Belarus War Games Place Enemy in Poland and Baltics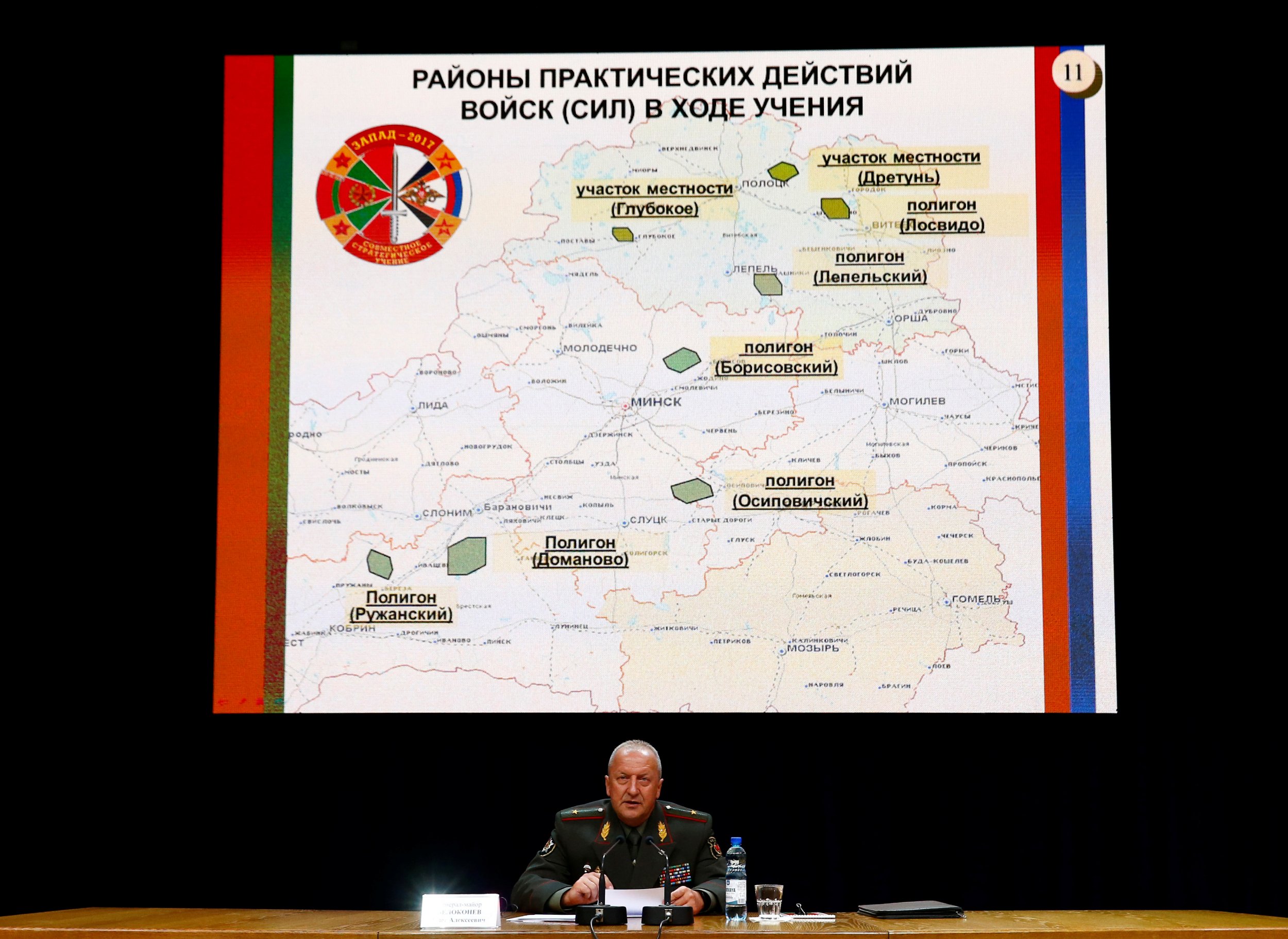 Russia and Belarus's joint military drill is not, as some European countries fear, a simulated assault on NATO, its organizers argue. The exercise will instead take on the fierce (though hypothetical) foes that are Vaisnoria and its Western backers Wesbaria and Lubenia, according to the newly presented program for the upcoming event, Belarus's deputy defense minister said on Tuesday.
The exercise, called Zapad (West) 2017, is scheduled to start September 14. It will last six days and involve around 12,000 troops, though past iterations of such drills have expanded tenfold nearer to the date, despite similar initial personnel numbers announcements.
Formally, Russia and Belarus have called it a defensive drill, one with a focus on counterterrorism maneuvers, while Lithuania and others have described it as a simulation for war with NATO. The drill scenario described by Belarusian Deputy Defense Minister Oleg Belokonev has done little to allay fears among Belarus's western neighbors.
Vaisnoria, the main antagonist of the drill, is a hypothetical region of Belarus, held by mystery insurgents. It sits on Belarus's northwestern territory, bordering NATO allies Lithuania and Poland. The Belarusian regions under Vaisnoria's imaginary rule are curiously ones with a higher number of Catholics, compared with the rest of the predominantly Orthodox Belarus.
This choice has a peculiar parallel with the electoral map of Belarus, local news site Charter 97 pointed out.
A quick look at where Belarus and Russia imagine the main partners of Vaisnoria sit is also unlikely to calm anybody concerned by Zapad 2017. Wesbaria and Lubenia occupy territory that in reality falls in Poland, Lithuania and Latvia. All of them are NATO neighbors that are among the most concerned about the drill and its aftermath. Poland has suggested Russia is using the drill as a cover to pour military westward, into Belarus that it does not intend to pull back.
Even the chosen names of the hostile, imaginary republics are neither Belarusian nor Russian but have their roots in the Baltic languages, Belarus's Nasha Niva newspaper reports.
Belokonev's description of the insurgency also seemed to blur the lines between a military and militant target. According to the defense official, the exercise was designed that way to practice combat against "international separatist and terrorist organizations, having external support," Belarusian state news agency BTA reports.
Vaisnoria's insurgency is in fact represented by a joint front, labeled the "Western" team, and the "Northern" team, consisting of Belarus and Russia, whose post-Soviet political alliance is also known as the Union State.
"The main reason for the intensifying situation is the attempt of the 'Westerners' to destabilize the situation on the [Belarusian] republic's territory and succeed in worsening ties between those in the Union state," Belokonev said of the exercise, national news website Naviny reports. Belarus is the one trying to contain the situation, "and Russia supports it politically, financially, technically and militarily," he said.
Fear of war among the Baltic states continues to be high since Russia's annexation of Crimea from another former Soviet state—Ukraine. Polls show more people in the Baltics currently fear war than extremist attacks.