Russia, China Offer Support to Syria Amid Biden Moves in Afghanistan, Iraq
Russia and China have expressed support for Syria at a time when U.S. President Joe Biden is overseeing policy shifts in Afghanistan and Iraq, two other countries where U.S. troops are deployed.
Unlike Kabul and Baghdad, however, the Syrian government in Damascus has opposed U.S. military presence in the country, receiving assistance instead from Moscow and Beijing.
Russia reiterated its position Monday through a statement released by the joint Russia and Syrian interdepartmental headquarters for the return of refugees, a bilateral body that signed some 15 agreements during the latest trip by a delegation from Moscow to Damascus.
The deals were said to be designed to improve the lives of Syrians and expedite reconstruction of damage incurred through a decade-long civil war, while the two parties blamed the West for impeding the country's recovery and the return of the millions who fled.
"It is worth noting that the indicators presented were reached in the face of continuous opposition to the return of refugees to Syria by Western states continuing to take a destructive position and convince the world community that Syria has not yet created conditions for refugee return," the statement said. "As a result, many Syrians postpone their return to their homeland."
The pair presented a three-point criticism of such policies.
"First of all, it is a course of Western countries aimed at maintaining sanctions pressure on Damascus," the statement said. "Every year, extended restrictive measures against Syria slow down the post-war recovery of a country whose population cannot meet their basic needs. Secondly, it is an illegitimate stay in Syria of foreign military contingents, which impedes stabilization in occupied areas.
"Third," it read, "this is out-and-out politicization of a purely humanitarian issue, which implies discrimination aimed at Damascus-controlled areas as far as humanitarian assistance goes, the refusal to help restore social infrastructure and facilitate the return of refugees, letting terrorists off the hook, plans to preserve and expand the cross-border mechanism, which violates the norms of international humanitarian law and the ruling principles of United Nations General Assembly Resolution 46/182."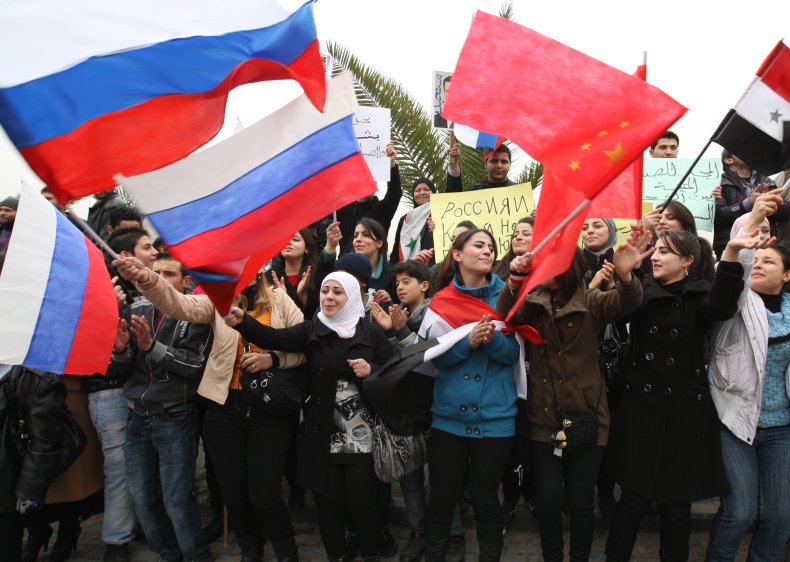 U.S. troops have been in Syria since at least 2015, a year after Washington rallied an international coalition to battle the Islamic State militant group (ISIS) as it stormed through mass stretches of both Syria and neighboring Iraq, where U.S. troops and allies also operate against the jihadis. U.S. forces had just withdrawn from Iraq in 2011, the same year protests in Syria devolved into civil war, following a years-long stay since a 2003 invasion.
The conflicts are linked to the broader U.S.-led "War on Terror" that commenced with the intervention against Al-Qaeda and its Taliban ally in Afghanistan in the wake of 9/11. Ten years later, a new front opened for U.S. forces as part of a NATO-led intervention on behalf of rebels against longtime Libyan leader Muammar al-Qaddafi after a U.N. Security Council vote for intervention passed with Russia and China abstaining.
But when the U.S. and Western allies sought to then condemn Syrian President Bashar al-Assad later that year amid worsening unrest in Syria, both Russia and China came to his aid through a double veto at the U.N. Security Council. The two would continue to frequently cast identical votes. while the U.S. pursued a covert effort to back insurgents. But the U.S. focus later switched to support a mostly Kurdish militia known as the Syrian Democratic Forces against ISIS in 2015.
Around this same time in 2015, Russia staged a direct military intervention in support of Assad in Syria, helping him and Iran-backed militias reverse nationwide losses and regain much of the country. Today, the Syrian government holds about two-thirds of the nation's territory. The Syrian Democratic Forces hold much of the northeast, while opposition groups backed by Turkey are in control of stretches along the northern border.
Israel, meanwhile, continues to target Iran-linked sites across Syria, while occupying the southwestern Golan Heights since 1967.
U.S. troops are also deployed alongside Syrian rebels at a garrison in the southeastern Al-Tanf desert region. These soldiers, along with those of Turkey and others operating without Assad's permission, are considered occupying forces by Syria.
Calls to respect Syria's borders were echoed Monday, along with renewed efforts to find a political solution to the 10-year conflict by Russian Ambassador to Syria Alexander Yefimov.
"Naturally, we are keeping up close cooperation with Damascus on the political track: defending the sovereignty, national unity and territorial integrity, as well as Syrians' right to determine the future of their own country," Yefimov said, according to the state-run Tass Russian News Agency.
This point was also featured in a letter Monday by Chinese Foreign Minister Wang Yi to his Syrian counterpart Faisal al-Mekdad to mark the 65th anniversary of relations between their two countries.
"Minister Wang Yi stressed that China and Syria share a traditional friendship, and both support the defense of the basic rules governing international relations, including the principle of non-interference in internal affairs," the Syrian Foreign Ministry said.
"Minister Wang also affirmed his country's unwavering support for Syria's efforts to safeguard its sovereignty, independence and territorial integrity," the letter continued, "and that China will continue to provide whatever assistance it can to Syria to combat the COVID-19 pandemic and reconstruction."
The Chinese top diplomat was also said to have "concluded his message by expressing readiness to make joint efforts with the Syrian side to continue to consolidate the traditional friendship between the two countries and towards the continuous development of Sino-Syrian relations."
The letter came just about a week after Wang visited Syria to meet Assad and Mekdadi on the first stop of a regional tour that also included Egypt and Algeria.
"During the meeting, it was agreed to move towards a new stage in strengthening these relations and opening wider horizons for bilateral cooperation in all fields to serve the interests of the two countries and peoples," Assad's office said in a readout at the time.
This readout, as well as one released by the Chinese Foreign Ministry, stated that both sides agreed Syria could play a bigger role in China's global Belt and Road Initiative of investment projects. It added that Beijing has offered Damascus even more political, security and economic support as the lingering effects of the conflict, a financial crisis and COVID-19 compound the nation's woes.
"China strongly supports Syria in safeguarding state sovereignty, territorial integrity and national dignity, and opposes any attempt to seek 'regime change' in Syria," the Chinese side said.
"China firmly supports Syria in properly handling domestic problems under the 'Syrian-led, Syrian-owned' principle established by the UN Security Council, and in formulating an inclusive and united political solution," it added.
It also quoted Wang as saying that "China firmly supports Syria in opposing unilateral sanctions, alleviating its humanitarian dilemma and combating terrorist forces in any form," and "is willing to strengthen communication and cooperation with Syria to help the country improve its counter-terrorism capacity, and firmly supports Syria in playing a due role in regional and international affairs.
Russian presidential envoy to Syria Alexander Lavrentiev also met with Assad on Monday and "discussed joint efforts and bilateral cooperation between Syria and the Russian Federation on the issue of the return of Syrian refugees who were forced by terrorist crimes to leave their country," according to Assad's office.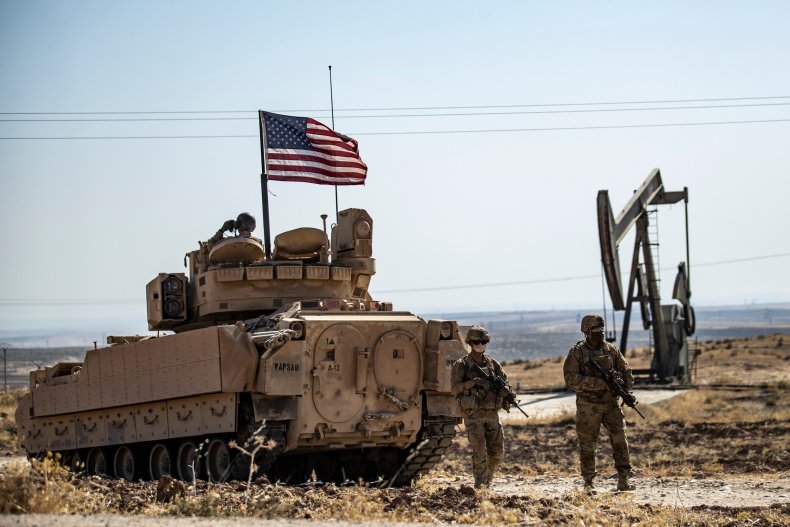 Washington has criticized Moscow, Beijing and Tehran for the support the provide Assad's government, with which former President Barack Obama's administration cut ties early on in the conflict over accusations of mass human rights abuses.
Since coming to office in January, President Joe Biden has mostly maintained the position of his predecessor. Former President Donald Trump focused the U.S. military presence on securing eastern oil and gas sites near the Iraqi border, and ordered airstrikes on both sides of it against suspected Iran-backed militias in response to rocket attacks against U.S. positions.
Biden has also followed through on Trump's efforts to end the 20-year U.S.-led war in Afghanistan, where troops are set to leave by the end of next month. And in Iraq, where Trump began a drawdown of forces last year, Biden announced the end of U.S. combat operations at a White House press conference alongside Iraqi Prime Minister Mustafa al-Kadhimi.
Senior administration officials had previously confirmed this development to reporters on Friday. Asked about whether a similar effort, or any changes, were being considered for Syria, one official said nothing had been discussed.
"I don't anticipate any changes right now to the mission or the footprint in Syria," the official said.
"I would just add, as you know, just in Syria, we're supporting Syrian Democratic Forces in their fight against ISIS," the official added. "That's been quite successful, and that's something that we'll continue."