Russia Shoots Down Drone Amid Unrest After Syria-Turkey Tensions Turn Deadly
The Russian armed forces have downed a drone near their base in northwestern Syria, a restive region recently beset by deadly violence between the country's military and neighboring Turkey.
The Russian Foreign Ministry said Monday that one of the military's Panstir-S surface-to-air missile and gun systems deployed to Hmeymim Air Base in Latakia successfully shot down a small unidentified drone approaching the Russian-run facility from the nearby Mediterranean Sea. The unmanned aerial device approached at night but was intercepted by the base's radars and then eliminated.
"The target was destroyed by the Panstir-S missiles at a distance from the airbase. No one was hurt. No material damage was done," the ministry said, adding that the airbase is operating routinely, according to the state-run Tass Russian News Agency.
Militant groups in neighboring Idlib province have previously sent drones to attempt to attack Russia's coastal military positions, mostly without success. The latest incident came at a particularly tense period, however, as Russia's ally Syria and negotiating partner Turkey exchanged bloody blows in recent days, risking further escalation in a country already devastated by nearly nine years of war.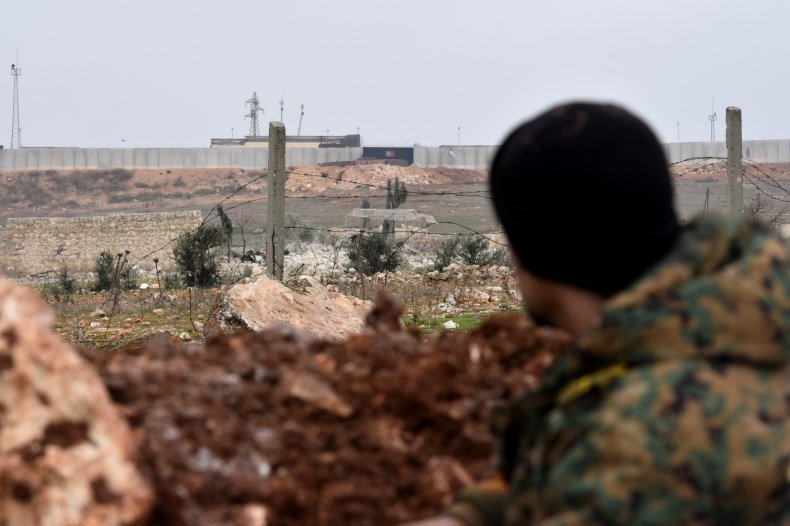 Despite another truce brokered last month by Russian President Vladimir Putin and Turkish President Recep Tayyip Erdogan, Syrian troops and insurgents continued to clash in Idlib province and its outskirts, with the government making new gains in the last part of the country in the hands of rebels and jihadis. Russia, along with Iran, backs Syrian President Bashar al-Assad, while Turkey sponsors his opposition.
Both countries have troops deployed to Syria, whose own forces have steadily neared Turkish military outposts in territory reclaimed from insurgents. Moscow has actively sought to avoid direct clashes between the forces of Ankara and Damascus but the two powers found themselves on a collision course Monday when Syrian artillery struck a Turkish military position in Idlib.
The Turkish Defense Ministry said Sunday that five of its troops were killed, along with three civilians attached to the Turkish military at the Tarnabah checkpoint, west of the frontline city of Saraqib in eastern Idlib. Seven other soldiers were reportedly wounded and, while Russian officials argued they were not informed of the Turkish movements as per an arrangement designed to prevent such incidents, Erdogan vowed to swiftly avenge the fallen men.
The following day, the ministry reported that Turkish aircraft had bombed Syrian military positions, targeting at least 54 positions and "neutralizing" up to 76 soldiers. The Russian Defense Ministry, however, denied that any such counterattack took place.
"Turkish Air Force aircraft did not violate Syria's borders, no airstrikes on the positions of Syrian troops have been recorded," a statement issued Monday by the Russian military's Center for Reconciliation of the Opposing Sides in Syria read.
The Syrian Observatory for Human Rights, a United Kingdom-based monitor with ties to the Syrian opposition, estimated a death toll of 13 Syrian soldiers due to Turkish shelling on positions in Idlib, Latakia and Hama provinces. The monitor said the casualties were expected to rise due to the severity of some of the injuries but made no mention of airstrikes.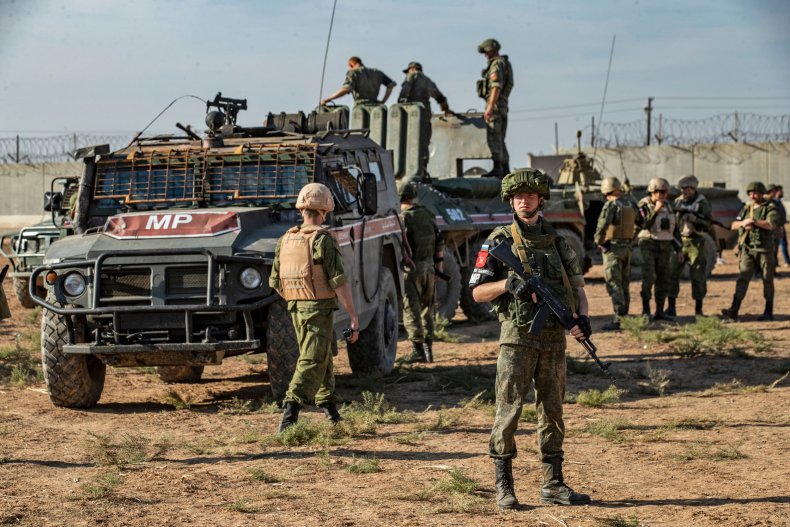 The exchange was followed by talks between senior Russian and Turkish officials. Russian Foreign Minister Sergey Lavrov and his Turkish counterpart Mevlut Cavusoglu discussed the situation by phone and "comprehensively reviewed the course of the Syrian settlement, paying particular attention to the current situation in the Idlib de-escalation zone," according to Lavrov's ministry.
In Moscow, Russia's special representative for the Middle East and Africa Deputy Foreign Minister Mikhail Bogdanov received Turkish ambassador Mehmet Mehmet Samsar. The two held consultations "on a number of urgent aspects of the Middle East agenda with a focus on the task of effectively contributing to the speedy settlement of crises in Libya and Syria"—two conflict-ravaged countries in which Russia and Turkey sought a stake.
The United States also plays a major role in Syria, albeit one that has shifted and shrunk over the course of the war. Initially joining Turkey and some other Western and Middle Eastern powers in backing efforts to overthrow Assad, the U.S. went on to focus on battling the Islamic State militant group (ISIS) in 2014 and re-aligned the following year with a mostly Kurdish group known as the Syrian Democratic Forces and considered a terrorist organization by Ankara.
The U.S. has pulled away from much of the country's north as Turkey launched a new assault against Kurdish-led fighters there and President Donald Trump again repurposed the Pentagon's mission to maintaining control of oil and gas resources in the country's northeast. Here, U.S. and Russia forces along with their respective allies have also repeatedly run into each other, reportedly raising tensions as they pursue rival goals.