Russia Fired 65 Missiles At Homes, Energy Stations in Single Day: Ukraine
Russian forces fired another 65 missiles at residential buildings and energy stations on Wednesday, according to preliminary information from Ukrainian officials.
In an operational update, the General Staff of the Armed Forces of Ukraine said the country's defense forces shot down 51 of the 65 Kh-101 cruise missiles fired toward the capital city of Kyiv, as well as the Vinnytsia, Lviv and Zaporizhzhia regions. Newsweek has not been able to independently verify the information.
"During the day, the Russian occupiers inflicted massive strikes on the objects of the energy infrastructure of Ukraine," Ukraine said on Wednesday.
The attack, which cut power to Kyiv and other areas, was one of the most disruptive strikes Ukraine has seen in weeks.
Kyrylo Tymoshenko, the deputy head of the Ukrainian president's office, confirmed the hits on "critical infrastructure facilities in several regions."
Energoatom, Ukraine's national nuclear power company, reported that the Zaporizhzhia plant, Europe's largest, went into "full blackout mode" amid the Russian shelling.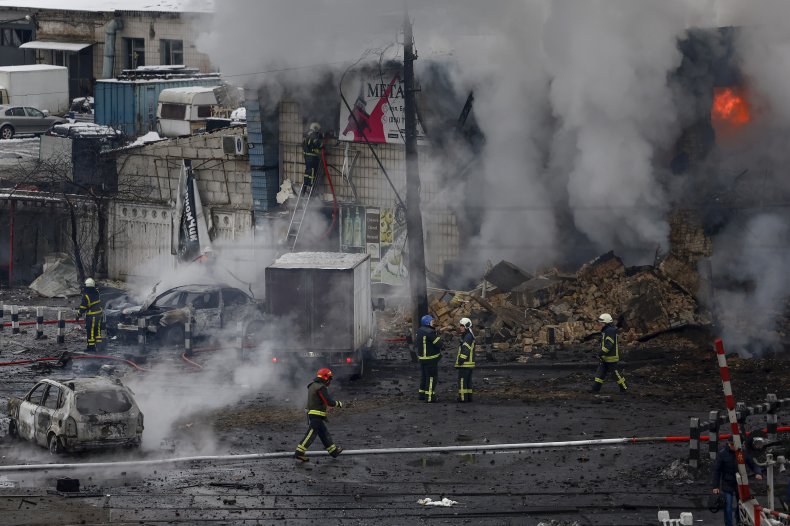 Authorities said that one of the rockets hit a maternity ward, killing a newborn boy and injuring his mother in the town of Vilniansk. Photographs shared by Tymoshenko show rescue workers approaching the two-story building in the Zaporizhzhia region at night.
"The enemy has once again decided to try to achieve with terror and murder what he wasn't able to achieve for 9 months and won't be able to achieve," Ukrainian President Volodymyr Zelensky wrote on Telegram. "Instead, he will only be held to account for all the evil he brought to our country."
Ukrainian member of parliament Lesia Vasylenko claimed that the strikes killed a total of seven people and injured 34 others in a Wednesday tweet.
"When will they run out of weapons? Suppliers and facilitators of military tech trade with #moscow must be sanctioned more harshly," Vasylenko wrote.
Earlier in the day, the European Parliament voted to designate Russia as a state sponsor of terrorism in a largely symbolic move as European lawmakers sought to accuse the Kremlin of committing war crimes in Ukraine.
"Parliament calls on the European Union to further isolate Russia internationally," lawmakers said in a statement. They also called for a ninth package of sanctions against Moscow.
Back in September, the White House said President Joe Biden would not designate Russia as a state sponsor of terrorism, despite pleas from the Ukrainian government, because it could result in "unintended consequences to Ukraine and the world."
"It would also undercut our unprecedented multilateral condition that has been so effective at holding [Russian President Vladimir] Putin accountable, and could also undermine our ability to support Ukraine at the negotiation table," White House press secretary Karine Jean-Pierre said on September 6.
Newsweek reached out to Russia's foreign ministry for comment.