U.S. Calling Russia Terrorism Sponsor Would Be 'Point of No Return': Moscow
Alexander Darchiev, a Russian Foreign Ministry official, warned the United States on Friday that if it designates Russia as a state sponsor of terrorism it will have crossed a "point of no return."
The comments from Darchiev, the director of the Russian Foreign Ministry's North American Department, came in an interview with the Russian-state news agency TASS, and as some lawmakers from both sides of the aisle pressure the Biden administration to give Moscow such a label.
Senator Lindsey Graham, a South Carolina Republican, and Senator Dick Blumenthal, a Connecticut Democrat, told CNN last week that Biden or Congress should make such a designation amid Russia's invasion of Ukraine.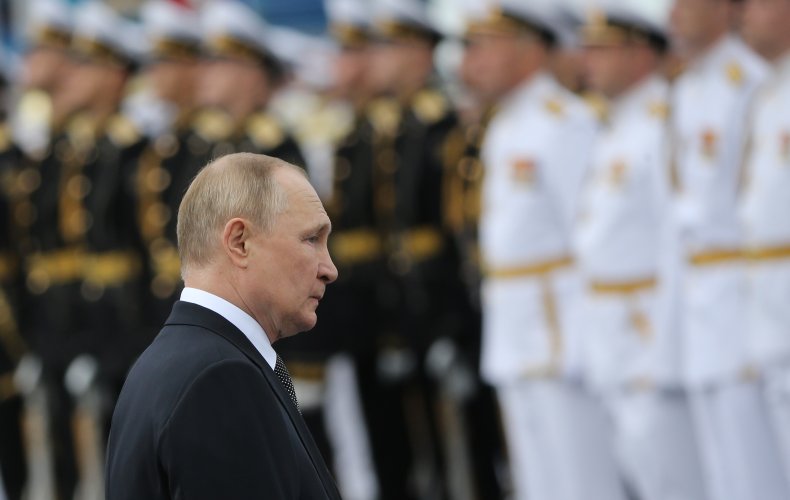 "I hope the president will decide to adopt this stance voluntarily and he hasn't taken it off the table on the state-sponsored terrorism," Blumenthal said in an interview with the network earlier this month.
Meanwhile, Graham said he'd "like to work" with the Biden administration to enact the label. "But whether or not we have to do legislation to make it happen—we're willing to do. I am urging the administration to act now," he told CNN.
Last month, the Senate passed a resolution that was introduced by the two senators urging the Biden administration to put forward such a designation.
During his interview with TASS, Darchiev said he "would like to mention the legislative initiative currently being discussed in Congress to declare Russia a 'country sponsor of terrorism.'"
"If passed, it would mean that Washington would have to cross the point of no return, with the most serious collateral damage to bilateral diplomatic relations, up to their lowering or even breaking them off. The U.S. side has been warned," he said.
In the House of Representatives, Representative Ted Lieu, a California Democrat, and four co-sponsors also introduced legislation that would add Russia to a list of designated state sponsors of terrorism.
In response to a request for comment from Newsweek, the U.S. State Department said it doesn't "discuss deliberations or potential deliberations regarding designations."
The spokesperson said that the U.S. "has already taken a number of significant and effective steps to respond to Putin's war of choice in Ukraine, from the export controls which we have aligned on with 35+ partners to multilateral sanctions with over 30 countries across four continents and restrictions on assistance."
"The costs that we have imposed are the consequences that would result from an [state sponsored terrorism] designation," the spokesperson wrote in an email, adding that economic sanctions have impacted the Russian economy.
"Russia's stock market has lost a third of its value. Inflation has risen to 20%. Russia's imports of goods from around the world could fall by 40%. It was reported that Russia defaulted on its sovereign debt for the first time in more than a century due to the enormous pressure of the U.S. and over 30 partners around the world," the spokesperson said.
According to Reuters on Saturday, Darniev also warned the U.S. against seizing frozen Russian assets, saying that such a move would "permanently damage bilateral relations" between the two countries.