Russia Launches Airstrike As It Tries To 'Make Up' for Loss of Troops: Kyiv
Russian forces launched an airstrike in eastern Ukraine on Thursday in a bit to "make up for the loss of personnel and equipment" they have suffered, according to the Ukrainian army.
An update was posted on the official 'General Staff of the Armed Forces of Ukraine' Facebook page.
It reported widespread Russian shelling on Ukrainian forces in the north-east, east and south-east of the country, along with a number of Russian attempts to advance in the east that either "did not succeed" or were only "partially successful."
Russian forces shelled numerous Ukrainian towns and villages near the fiercely contested city of Slovyansk, whilst an airstrike hit near Zaluman.
The Ukrainian military speculated this heavy bombardment was an effort by "the enemy" to "make up for the loss of personnel and equipment" in previous fighting.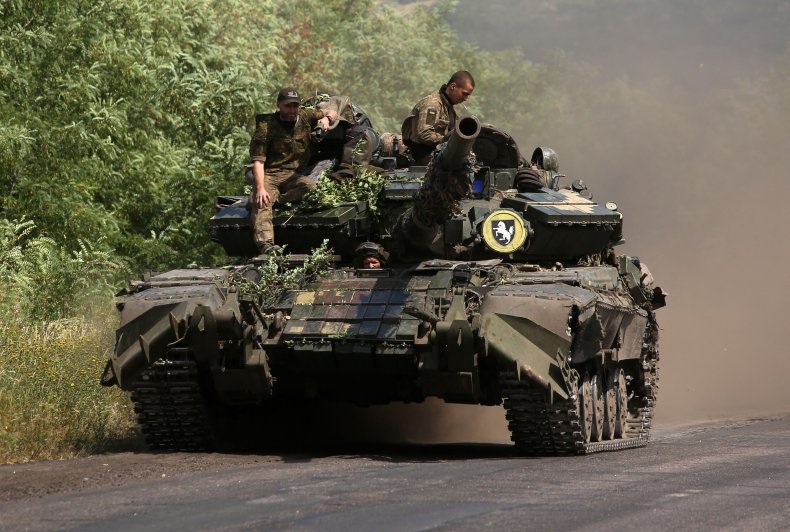 Russian artillery hit a number of villages around Kharkiv, Ukraine's second city, which Russia launched an unsuccessful attempt to capture at the beginning of the war.
Cherkaski Tyshki, Pytomnyk, Ruski, Sosnivka and Lebyazhe were all struck, either by conventional artillery of Russian rockets.
To the east, in addition to heavy shelling, Russian troops launched a tank supported ground attack towards Horlivka-Zaitseve, which was "partially successful".
However, attacks on the settlements of Ivano-Daryivka, Vyimka and Bakhmut were unsuccessful, with the Russians forced to retreat.
A little further south the Russians attempted to advance on the villages of Spartak and Maryinka, but "did not succeed" then "withdrew."
In Ukraine's southern Buh region, across from occupied Crimea, more heavy Russian artillery bombardment was reported, along with airstrikes near near Osokorivka, Andriivka, Blahodatne and Novohryhorivka.
In this region Putin's troops were seen using unmanned aerial vehicles, or drones, to scout and help direct artillery fire.
Meanwhile, the Russian navy continued to blockade "civilian shipping in the northwestern part of the Black Sea" while "attacking military facilities and infrastructure elements deep in the territory of Ukraine."
The Ukrainian statement ended with a note of defiance, stating: "Ukrainian defenders are inflicting losses on the Russian occupiers in all directions where active hostilities are ongoing.
"We believe in the Armed Forces of Ukraine! Together we will win! Glory to Ukraine!"
On Tuesday, a series of explosions ripped through a Russian airbase in Crimea, with satellite images showing numerous aircraft and vehicles were destroyed.
Whilst Russia insists the explosions were an accident, the presence of multiple impact craters have led independent experts to suspect a Ukrainian attack.
One senior Ukrainian official suggested partisan fighters were also involved, though it's unclear if they took part in the attack or just provided intelligence.
On Thursday, the Ukrainian Defense Ministry released a video mocking Russian tourists who were forced to cut short their Crimean vacations due to the attack.
The viral clip, which urged Russian visitors to "head home," has been viewed more than 2 million times on Twitter alone.
The Russian Defense Ministry has been contacted for comment.