Ukraine Mocks Crying Russian in Crimea With Explosions Video
The Ukrainian Ministry of Defense has released a video mocking Russian tourists—including a woman in a viral clip seen crying as she leaves Crimea—after an airbase in the occupied peninsula was devastated in an apparent attack.
On Tuesday the Saky air base was rocked by at least 12 explosions, after which satellite images showed extensive devastation across the site.
Some of the blasts were recorded by nearby Russian tourists at a beach resort, after which a large traffic jam developed as visitors attempted to leave the peninsula, which Moscow seized from Ukraine in 2014.
In one viral clip, viewed nearly a million times on Twitter alone, a Russian tourist is seen crying as she leaves Crimea.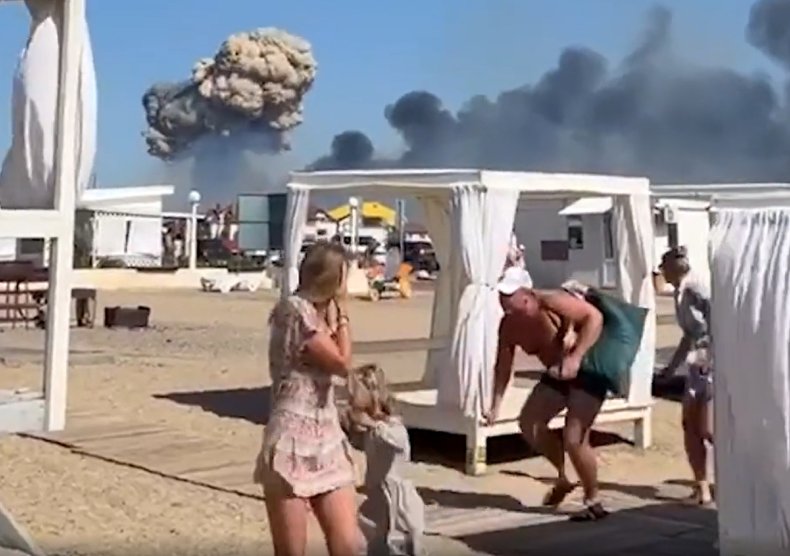 The footage was mocked in a Ukrainian Government video, which suggested alternative tourist destinations and told Russian visitors to "head home."
"Cruel Summer," the 1983 hit from British girl group Bananarama, plays throughout the 35-second clip.
Russian tourists are told: "You have a few options this summer. Palm Jumeirah Beaches [Dubai]. Antalya Resorts [Turkey]. Cuban Cabanas [Cuba]."
Video clips are shown from all three, before the text continues: "You chose Crimea. Big mistake."
Footage of Russian tourists watching explosions at the Saky air base is then shown, after which the text adds: "Time to head home. Crimea is Ukraine."
A clip from the viral video of the Russian tourist in tears as she leaves Crimea is also included.
The sobbing woman, being filmed in the back of a car, says: "I don't want to leave Crimea. It's so cool here and it's like being at home."
More than 13,000 people have liked the Ukrainian Defense Ministry video, which has been retweeted over 3,200 times.
Russia has insisted the explosions at Saky air base were an accident, though this has been widely dismissed by independent experts who point to multiple impact craters.
British Defense Secretary Ben Wallace told the BBC the presence of two independent explosion points indicates an attack.
He added: "It's absolutely legitimate for Ukraine to take lethal force, if necessary, in order to regain not only its territory, but also to push back its invader."
On Tuesday evening, following the explosions, Ukrainian President Volodymyr Zelensky insisted his country will retake Crimea.
In a video address he said: "Crimea is Ukrainian and we will never give it up."
Russian troops seized Crimea in 2014, after Viktor Yanukovych, Ukraine's pro-Russian president, was deposed in the Maidan Revolution.
The peninsula was later annexed following a referendum, which was not recognized as legitimate by independent election experts.
The Russian Government encouraged tourists to visit Crimea after the annexation, hoping to turn it into a popular beach destination as it had been under the USSR.
If the Saky air base explosions were a deliberate attack it is unclear what weapon system was used.
A senior Ukrainian official suggested partisans played a role in the attack, though it wasn't clarified whether they may have participated directly or just provided intelligence.
Russian forces have been facing an armed resistance campaign in areas of occupied southern Ukraine, though Crimea had been largely unaffected thus far.