Satellite Images of Russian Air Base Show Destruction After Explosions
Satellite images have begun circulating on social media that purportedly show the aftermath of a series of explosions at a Russian airbase in Crimea on Tuesday.
Bellingcat founder Eliot Higgins shared before and after photos on Twitter Wednesday of what he said was the Saki airfield. The before photo, which was in color, appeared to show aircraft and buildings far below on a stretch of land.
The second, which was in black and white, pictured the same base, but appeared to show several craters in the area where the blasts may have occurred. Some of the aircraft and structures that were intact in the first photo also seemed to be damaged or destroyed in the second, though the full extent of the impact was not immediately clear. Similar satellite photos were shared Wednesday by Anton Gerashchenko, an adviser to Ukraine's Minister of Internal Affairs.
Newsweek was not able to independently confirm that the photos pictured the Saki airfield before and after the explosions on Tuesday. Russia's Defense Ministry was contacted for verification and comment.
On Tuesday, the agency said the explosions were caused by detonated aviation ammunition, leaving one person dead and several more injured, according to Russian state-owned news agency RIA Novosti. Though Russia's explanation pointed away from an attack as the cause of the blasts, The New York Times reported that a senior Ukrainian military official said Ukraine was behind them.
Newsweek was not able to independently verify the report at the time.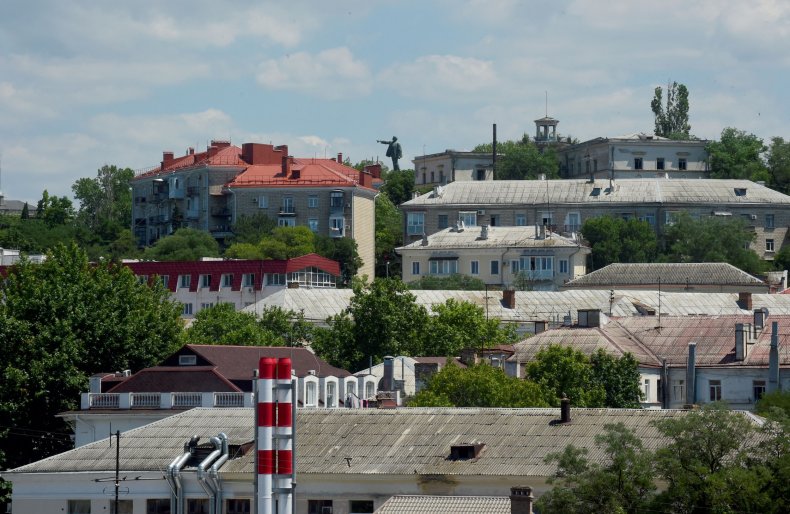 Though Russia said that no aircraft were damaged in the blasts, the Air Force Command of the Armed Forces of Ukraine said in a Facebook post that Russia was down nine planes.
"SAKE!," an English translation of the post's caption read, in an apparent reference to the Saki base. "Minus the nine invader planes."
Associated Press also reported that nine Russian warplanes were destroyed in the Crimean explosions.
Russia annexed Crimea in 2014 and has pushed for international recognition that it is part of Russia since, but the peninsula's status has remained in dispute.
Ukrainian President Volodymyr Zelensky said during an interview with CBS' 60 Minutes in April that he would not let Russia officially recognize Crimea as its territory. Zelensky also acknowledged in an address Tuesday that "there is a lot of attention" on Crimea, and again vowed that Ukraine will never relinquish the peninsula.
"This Russian war against Ukraine and against the entire free Europe began with Crimea and must end with Crimea - with its liberation," he said, according to an English translation. "Today it is impossible to say when this will happen. But we are constantly adding the necessary components to the formula of liberation of Crimea."