Russia Military News 2018: Historic Year for Vladimir Putin as New Weapons, Strategy Aim to Challenge U.S.
Russia's armed forces have claimed historic technological achievements and regional partnerships throughout 2018, making it a year in which the country further challenged U.S. military dominance around the world.
Russian President Vladimir Putin first set out in 2008 to revamp his country's military, whose might was devastated by the dissolution of the Soviet Union in the 1990s. A decade later, he said the most modern and even prospective defense systems are "incapable" of thwarting Russia's newly minted arsenal of weapons. In addition, Moscow forged new ties with Asian powers such as China, India and Pakistan, enhancing the country's footing in the East—a region often touted as the up-and-coming global economic powerhouse.
In the West, however, heightened tensions between Moscow and the U.S.-led NATO Western military alliance have led to dueling military exercises across militarized borders. The East-West dispute also played out in the Middle East, where Moscow's pro-Syrian government campaign outpaced a rival one led by the Pentagon, which has since been ordered to leave the war-torn nation.
Despite President Donald Trump's initial vows to rebuild broken ties between Russia and the U.S., the world's two leading military powers have been at major odds. After another year of a burgeoning Cold War-esque rivalry, neither Washington's sanctions nor tough talk from the Pentagon appear to have prevented Putin from pursuing powerful new defensive measures.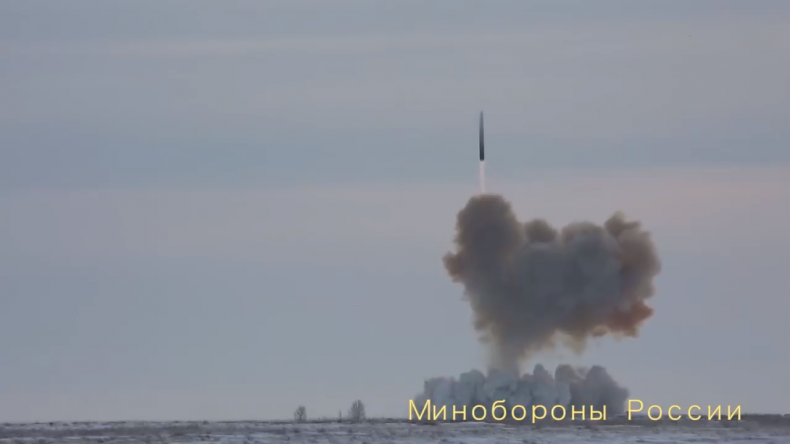 Less than a week after the Trump administration announced its "America First" National Security Strategy targeting Russia—along with China, Iran and North Korea—in December 2017, Putin said 79 percent of the nuclear arsenal had already been modernized and that the 90 percent of advanced arms in 2021 would include "missile systems that are capable of confidently overcoming existing and even projected missile defense systems." This plan was only accelerated by Trump's Nuclear Posture Review in February, a document that referenced low-yield nuclear weapons and perceived by the Kremlin as relaxing U.S. nuclear policies.
Putin's State of the Nation address in March revealed a number of nuclear-capable weapons that the Russian leader said were unmatched across the world. These included the "formidable" RS-28 Sarmat intercontinental ballistic missile (known to the West as "Satan 2"), the "invincible" 9M730 Burevestnik nuclear-powered cruise missile, the "fantastic" Poseidon underwater drone, the "one-of-a-kind" Kh-47M2 Kinzhal hypersonic cruise missile and the "absolutely invulnerable" Avangard hypersonic glide vehicle.
As of this month, the Russian Strategic Missile troops have conducted several pop-up tests of the Sarmat and planned to begin launch tests in spring, according to the state-run Tass Russian News Agency. The Burevestnik was seen on an assembly line in official media, but has reportedly not yet passed flight tests. Nevertheless, Russia recently conducted undersea trials of the Poseidon's nuclear propulsion unit and launched a missile test Wednesday for the Avangard system.
Another weapon revealed by Putin in March, the Peresvet laser combat system, has already been put into service with Russian forces. In addition to these futuristic weapons, the Russian military also reportedly made history that same month by launching a surface-to-air missile 50 miles further than any previous test in history, firing a projectile from the S-500 defense system some 299 miles away.
The Russian navy suffered a massive loss with the severe damaging of its sole aircraft carrier the Admiral Kuznetsov in October, but has geared up to release new upgraded Borei-A-class and Yasen-class submarines and, earlier this month, tested another weapon too fast for existing U.S. defenses, the 3M22 Tsirkon anti-ship hypersonic cruise missile. Another hypersonic missile similar to the Kinzhal was said to soon be set for service with the Sukhoi Su-57 fifth-generation multi-role stealth fighter, an aircraft that could pose a challenge even for the F-22 Raptor.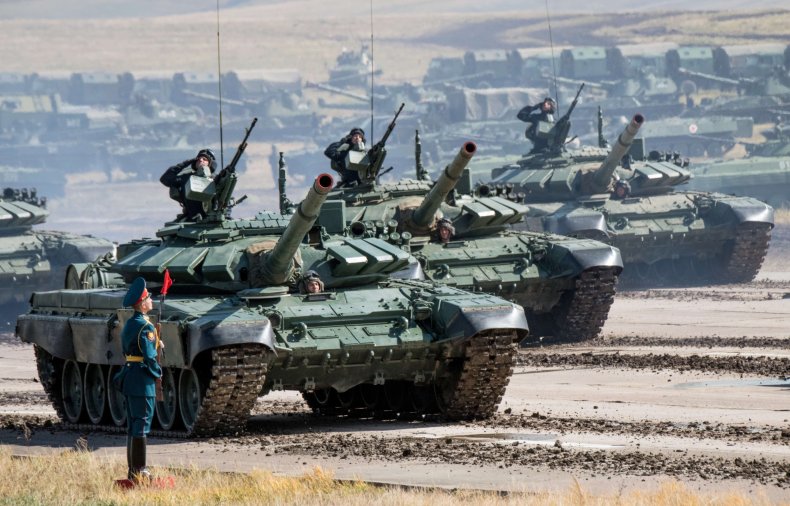 Moscow also held numerous exercises, some of which were unprecedented, with regional powers in Europe, Asia and beyond. Russia collaborated with Belarus and Serbia in June and July for the Slavic Brotherhood drills and, in August, joined personnel from China, India, Kazakhstan, Kyrgyzstan, Pakistan, Russia, Tajikistan and Uzbekistan for the Shanghai Cooperation Organizations Peace Mission that saw the first-ever joint drills between longtime rivals Islamabad and New Delhi.
Russia has also recently trained separately with India and Pakistan, and with Kazakhstan and Kyrgyzstan together alongside Armenia, Belarus and Tajikistan for the debut post-Soviet Collective Security Organization exercises. In October, Russia and Egypt worked together during the "Defenders of Friendship-2018" drills.
The biggest display, however, came when Russia and China again teamed up in August, this time with Mongolia, to hold the Vostok-2018 (East-2018) drills, billed as the largest in Russia's modern history and China's largest such maneuvers abroad. Moscow and Beijing have regularly swapped statements praising their bid to improve ties in the face of a shared challenge faced by Washington.
Moscow's ambassador to Beijing Andrei Denisov said Thursday that "Russian-Chinese bilateral relations of cooperation in all areas are successfully developing with high dynamics," according to the state-run Tass Russian News Agency, while his Chinese counterpart Li Hui said that same day that "our relations are going through the best period in history."
To cap off the year, the Russian Ministry of Defense released an official 2019 calendar that included 12 photos for each corresponding month and featured weapons and equipment such as the Topol-M intercontinental ballistic missile and Tupolev Tu-95 bomber, alongside tongue-in-cheek captions that some Western outlets took as a warning.