Russia's Military Has Laser Weapons That Can Take Out Enemies In Less Than A Second
A leading Russian defense official has confirmed that laser weapons previously alluded to by President Vladimir Putin are in service and capable of disarming targets with rapid precision.
Russian Deputy Defense Minister Yuri Borisov told his ministry's official Krasnaya Zvezda newspaper on Monday that the "combat laser systems" Putin spoke of in his State of the Nation speech earlier this month were in fact delivered to the country's armed forces last year. Once found only in works of fiction, Borisov said such devices were now a very real and necessary tool of modern warfare.
Related: U.S. military may lose war to Russia because top general does not 'have all the forces' he needs
"We can talk a lot about laser weapons and movies were made about them a long time ago and fantastic books have been written, and everyone knows about this. But the fact that these systems have started entering service is indeed today's reality," Borisov said in comments translated by the state-run Tass Russian News Agency.
"Starting from last year laser systems have been entering service that allow disarming a potential adversary and hitting those facilities, which are the targets," he added, saying such a device could take out targets "within fractions of a second."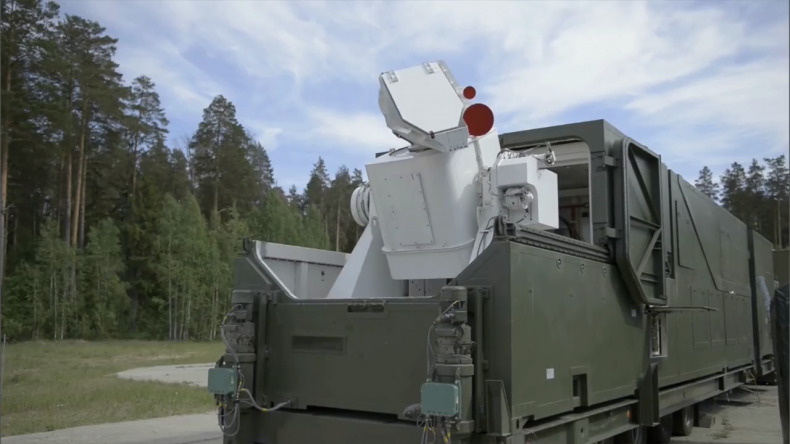 Accompanying Putin's March 1 speech, in which he revealed an array of new and advanced weapons, was a short video showing what appeared to be a truck-mounted laser system. The ministry entitled the clip "Combat Laser Complex," but Putin said at the time that he was not ready to reveal the weapon's true name or any other details.
"We have achieved significant progress in laser weapons. It is not just a concept or a plan any more. It is not even in the early production stages. Since last year, our troops have been armed with laser weapons," Putin told lawmakers.
"I do not want to reveal more details. It is not the time yet. But experts will understand that with such weaponry, Russia's defense capacity has multiplied," he added.
While not much else is known about the system, such laser weapons can be used to intercept missiles and aircraft by disrupting their electronics. The U.S. Missile Defense Agency has begun developing its own laser weapon, a high-tech anti-missile drone that would be built with the $9.9 billion budget the agency requested as part of President Donald Trump's 2019 budget. The Navy was also looking to upgrade its own $40 million Laser Weapons System, potentially preparing to install it on San Antonio-class amphibious transport dock ship USS Portland.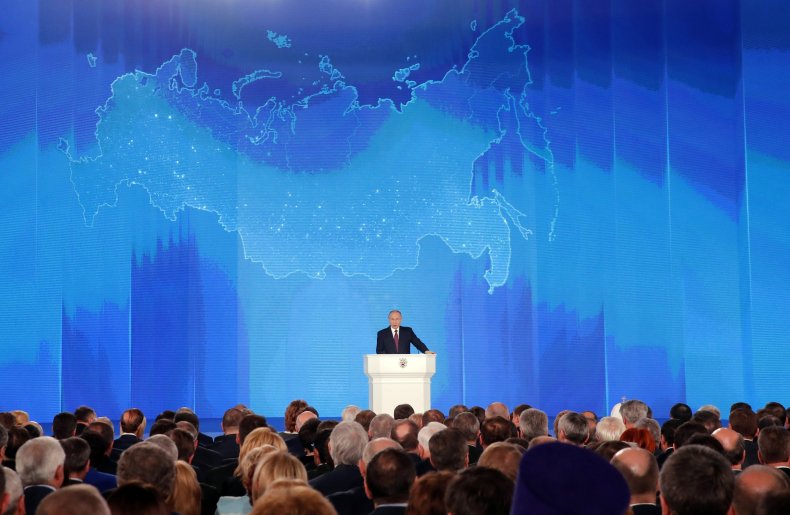 In addition to the new laser weapon, Putin unveiled the long-awaited, nuclear-capable RS-28 Sarmat heavy intercontinental ballistic missile (ICBM), which is called "SS-X-30 Satan 2" by Western military alliance NATO, as well as the Kinzal hypersonic missile, a nuclear-powered cruise missile and a nuclear torpedo. Putin claimed that even the U.S.'s leading defense systems would be of little use against his latest weapons.
Since coming to political power at the turn of the millennium, Putin has sought to revive Russia's military from its post-Soviet collapse and transform it into a force capable of challenging the global ambitions of his leading rival, the U.S. Moscow has become increasingly involved in world affairs and, in recent years especially, enhanced its political and military ties to nations around the world.