A Ukrainian military official on Saturday said Russian President Vladimir Putin's navy had recently removed three large landing ships from the Black Sea following a series of attacks on the Russian fleet.
Dmytro Pletenchuk, a spokesman of the Ukrainian Naval Forces, told a Ukrainian television station that Russia relocated the ships from the Black Sea to the Azov Sea.
Pletenchuk's claim, which could not be independently verified by Newsweek, comes after strikes recently targeted the Russian navy's Black Sea Fleet and hit a large vessel and a submarine at a key naval base in Sevastopol, Crimea.
Photos and video footage from Wednesday morning's attack on Sevastopol show the drydock area in flames, and reports indicate the Minsk Ropucha-class large landing ship and Rostov-on-Don Kilo-class attack submarine were severely damaged.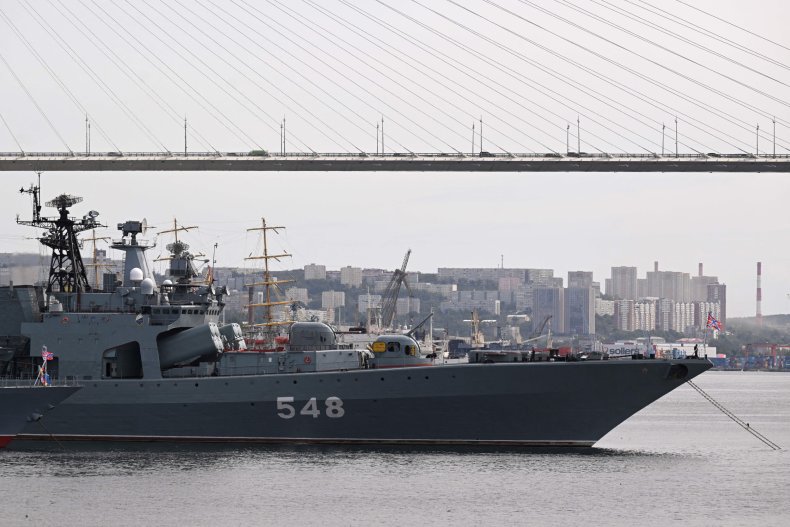 "These processes concerning the liberation of our territory will continue in the future," Pletenchuk said during the television interview, according to a translation by the Ukrainian news outlet Ukrainska Pravda.
He added: "By the way, it is telling that today the Russian invaders have for some reason moved three large landing ships from the Black Sea to the Sea of Azov."
Newsweek reached out to the Russian Ministry of Defense via email for comment.
During the interview, Pletenchuk brought up the Minsk ship and said the vessel was beyond repair due to damages sustained during the recent attack and because it's old. The Ukrainian official also called the Minsk a part of the "Syrian Express," saying it had been used to supply weapons and provide logistics to Moscow's military operations in Syria.
He noted the submarine, which is also believed to not be in a state where it cannot be restored, is believed to be the first Russian submarine lost to Ukraine's forces.
The United Kingdom's Ministry of Defence (MoD) on Friday said that while the Russian Ministry of Defense has been "downplaying the damage to the vessels, open-source evidence indicates the Minsk has almost certainly been functionally destroyed, while the Rostov has likely suffered catastrophic damage."
"Any effort to return the submarine to service is likely to take many years and cost hundreds of millions of dollars," the MoD wrote in the intelligence update. "There is a realistic possibility that the complex task of removing the wreckage from the dry docks will place them out of use for many months. This would present the BSF [Black Sea Fleet] with a significant challenge in sustaining fleet maintenance."