Russia Planning 'False Flag' Attacks on Eve of Ukraine War Anniversary: ISW
Russia is planning to launch "false flag" attacks to drag Belarus into the Ukraine war and "undermine" the government of Moldova, according to the Institute for the Study of War (ISW).
An ISW report published on Thursday, the eve of the one-year anniversary of the war in Ukraine, asserts that Russian President Vladimir Putin's government is "setting conditions" to attack Belarus and make it appear as though the attack was launched by Ukraine.
According to the U.S.-based think tank, the false flag operation could force Belarus into the war, while also diverting Ukrainian forces away from the Donetsk region, where a bloody battle for control of Bakhmut has been raging for around six months.
ISW cited Ukrainian intelligence officials who claim that "Russian convoys with unmarked military equipment and personnel dressed in uniforms resembling those worn by the Ukrainian military" have been spotted near the Belarus border in Russia's Chernihiv Oblast.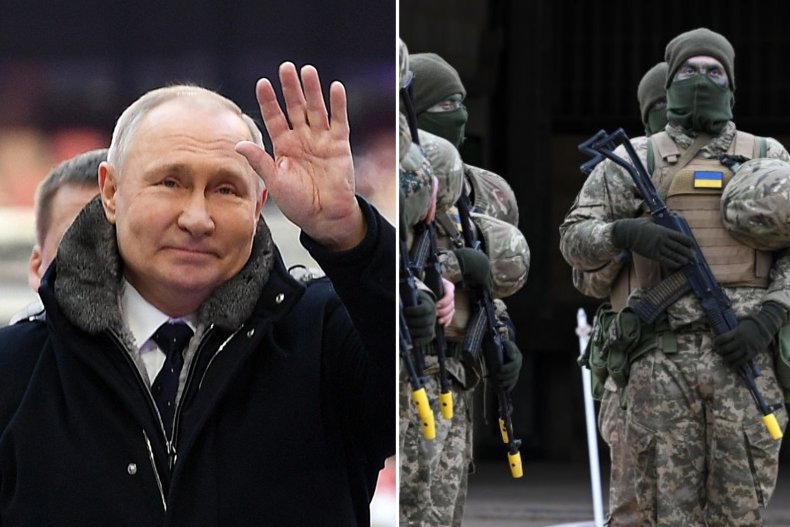 "The Kremlin may be preparing false flag attacks to coerce Belarus into the war following Belarusian President Alexander Lukashenko's February 16 statement that Belarus would only enter the war if attacked by Ukraine," the report states. "Russia seeks to force Lukashenko's hand or blame Ukraine for expanding the war to undermine support for Kyiv."
"Such a false flag operation could also aim to fix Ukrainian forces at the northern border in an effort to weaken Ukrainian defenses in eastern Ukraine and preparations for counter-offensive operations," it continues.
In addition to the purported Belarus attack plans, ISW says that the Kremlin is planning to manipulate "information conditions to stage a false flag operation" in Transnistria, a Russian-occupied region of Moldova that claims independence.
The ISW assessment comes just after Russia's Ministry of Defense claimed that Ukrainian forces were planning to pin the blame on Russia after launching their own false flag attack on Transnistria.
"Ukrainian saboteurs participating in the staged invasion will be dressed in the uniform of the military personnel of the Armed Forces of the Russian Federation," the Russian MOD said on Thursday, according to state-run news agency Tass.
Ukrainian President Volodymyr Zelensky alleged earlier this week that Russia was planning to capture Moldova's Chișinău International Airport and use it to fly in military reinforcements for a new attack on Ukraine from Transnistria.
ISW said that Russia's claims of Ukrainian plans for a false flag attack on Transnistria were a "false narrative" that "does not indicate that Putin intends to attack Moldova," with the goal instead being "an escalation in his ongoing efforts to undermine the Moldovan state."
Russia's military is estimated to have lost as many as 130,000 personnel since launching its full-scale invasion of Ukraine on February 24, 2022, while parting with over half of its tanks, more than 6,300 armored combat vehicles and almost 300 jets.
Multiple experts told Newsweek earlier on Thursday that unexpected Ukrainian resilience and the length of the war have also led to a trillion-dollar price tag that is likely higher than Moscow ever expected.
Newsweek has reached out to the Russian Ministry of Defense and the Washington, D.C., Embassies of Belarus and Moldova for comment.