Russia Plans to Annex Belarus in Military Drill, Says Georgia's Ex-President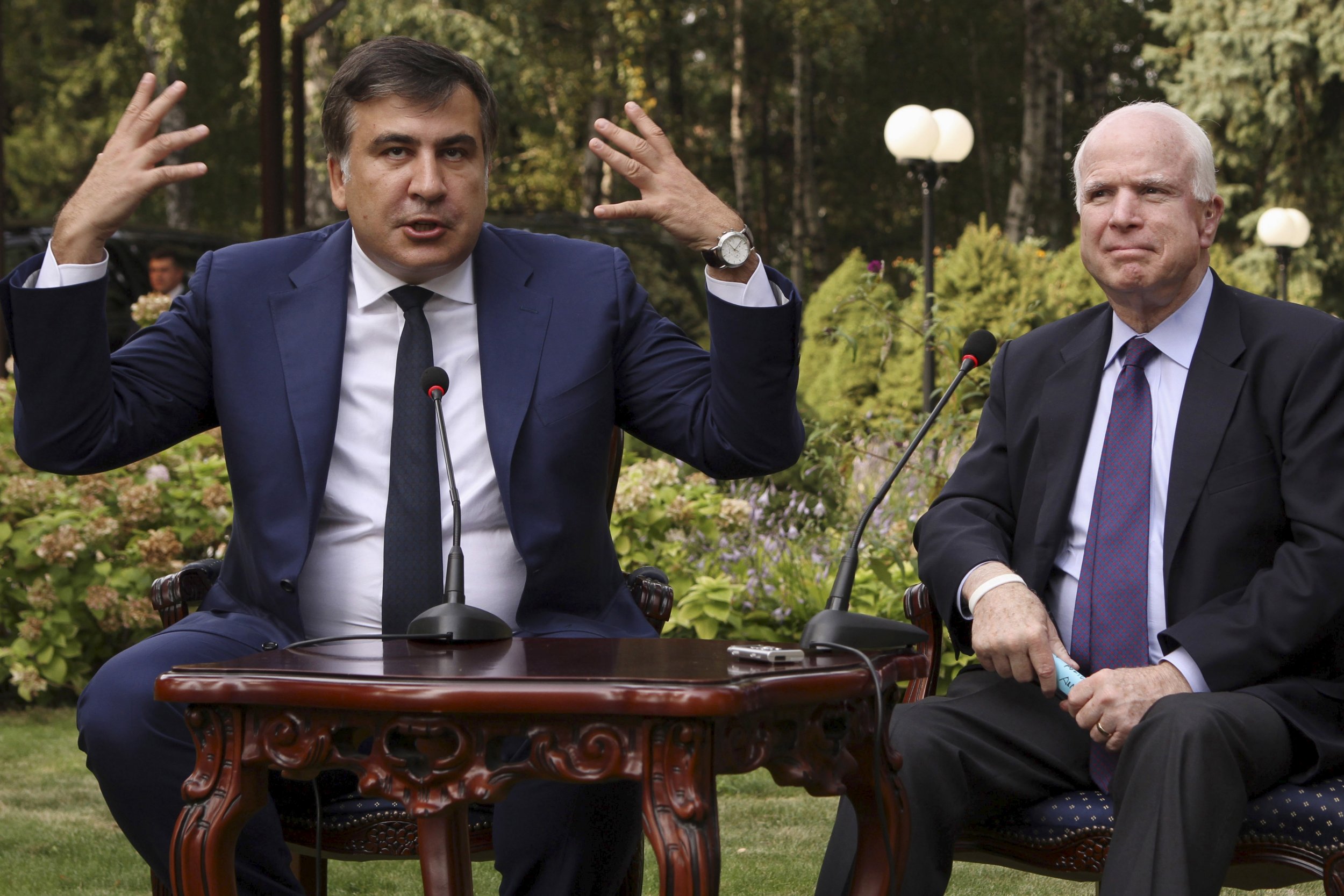 Russia's leadership is angling to annex its closest western neighbor during upcoming military drills, according to the former leader of Georgia. Mikheil Saakashvili made the comments on the anniversary of his own country's brief conflict with Moscow that resulted in Russian troops cordoning off Georgia's two northern regions.
Referring to the much anticipated joint Russian-Belarusian drill in the Baltic region, the former president said: "What we are seeing in Belarus, I think that Russia is planning to take and annex Belarus." Saakashvili, who is a longtime critic of Russian President Vladimir Putin, spoke to told Baltic news agency BNS ahead of the drill, called Zapad and scheduled for September.
Read More: Donald Trump's Twitter diplomacy is nothing to Ukraine and Russia's social media gif war
Lithuania, a NATO ally that borders with Russia, has expressed concern that the drill indicates a wider threat to the alliance, constituting a "simulated" attack. NATO has demanded that Russia allows for more transparency in the drill, nominally set to involve around 12,000 troops. However, Russia has previously sparked much bigger exercises to go in tandem with drills such as Zapad, upping the number of troops from the promised levels.
"During the drill, infrastructure will be brought in," Saakashvili said. "In that sense the threat [from Russia] has not disappeared rather it only grows. It is just that until now Ukrainians have held it at its own borders [with Russia]."
Saakashvili was president of Georgia until 2013, when he lost the election and left the country for Ukraine. He was made a Ukrainian citizen and appointed as governor of Ukraine's Odessa region in 2015 by Petro Poroshenko after the revolution that brought the pro-Europe, pro-West government to power.
His reputation as a hardline opponent of the Kremlin's foreign policy and his imposing oratorical style made him popular quickly, and he was tipped to be the country's next prime minister. But his often combative manner and vows to "clean up" corrupt Ukrainian institutions, put him at odds with established political figures. Ukraine stripped him of his citizenship in 2017 and he became a stateless person. He has dismissed it, and Georgia's previous decision to strip him of citizenship, as political decisions by governments that have fallen out with him.
Despite enjoying Western support for his hawkish positions on Russia and for his campaigns against corruption, Saakashvili's leadership of Georgia was not without its critics. The European Union criticized his decision-making during a 2008 political crisis that sparked a five day war with Russia. Under Saakashvili's command, Georgian forces tried to restore control over two of its regions that have declared independence under Russian military sponsorship.
Belarus's President Alexander Lukashenko has dismissed concerns that Zapad is anything but a routine defense drill. "We traditionally carry out these drills with Russia," he said in July. Although strongly reliant on Russia in most regards, the Belarusian government has shown some signs of disagreement with its bigger partner in what the two countries symbolically call "the Union State."
Despite a Kremlin push to deploy an airbase in Belarus, Minsk has resisted that initiative. The Union State relationship— a post-Soviet branding of Minsk and Moscow's close relationship—looked in minor jeopardy earlier this year when Russia responded to Belarus's looser visa-regime for Westerners by starting border checks between the two countries.