Putin's Top Priest Tells Russians Not to Fear Death Amid Mobilization
The head of the Russian Orthodox Church, Patriarch Kirill, urged Russian citizens on Wednesday not to be afraid of death amid President Vladimir Putin's decision to mobilize reserve troops to fight in Ukraine.
"Go bravely to fulfill your military duty. And remember that if you lay down your life for your country, you will be with God in his kingdom, glory and eternal life," he told a sermon at the Zachatyevsky Monastery in Moscow.
Kirill, who has justified Putin's decision to invade Ukraine in February on spiritual and ideological grounds, made the remarks shortly after Russian officials said up to 300,000 reservists would be called up to fight.
Kirill declared during his sermon that a person of "true faith" is not subject to the fear of death.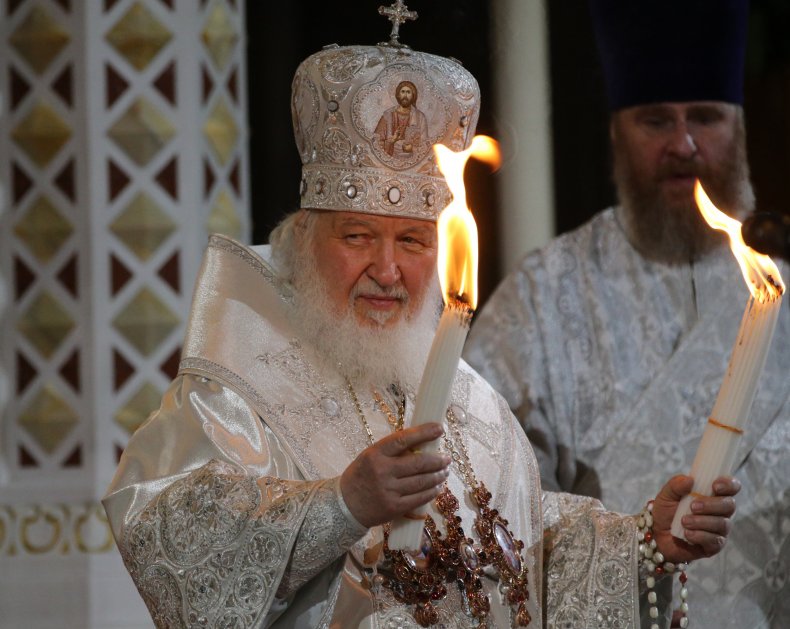 According to him, a person becomes "invincible" when there is a "strong dimension associated with eternity" in him, and he ceases to be afraid of death.
"Faith makes a person very strong, because it transfers his consciousness from everyday life, from material worries, to caring for the soul, for eternity," he said. "Namely, the fear of death drives a warrior from the battlefield, pushes the weak to betrayal and even to rebel against their brothers. But true faith destroys the fear of death."
The leader of the Russian Orthodox Church has previously invoked the idea that Ukrainians and Russians are one people.
He urged Russians during his sermon not to consider Ukrainians as enemies.
According to Kirill, the Ukrainian people "are in danger," adding that now "it is very important that there is no feeling in the hearts that there is an enemy."
Kirill urged his congregation to pray for the strengthening of "fraternal feelings of the peoples of Holy Russia," so that "the unity of the Church, which is the guarantee of peace in the vastness of Russia, becomes even stronger."
Kirill also noted that Orthodox Christians in Ukraine continue to pray for "the establishment of peace in the expanses of historical Russia."
The patriarch has, since the beginning of the war, justified the conflict by giving speeches about Russia as a "peace-loving power" that does not engage in "military adventures."
In June he said that Russia was being "attacked" all over the world because of feelings of jealousy, envy and indignation. Kirill said he believed this was happening because Russia is "different."
Putin said Wednesday that his partial mobilization will affect citizens who are in reserve, and that they will undergo additional training before being deployed.