Russia Pushing World to 'Edge' of Nuclear Disaster in Ukraine: Stavridis
Retired U.S. Navy Admiral James Stavridis said Friday that Russia is pushing the world to the "edge" of a potential nuclear crisis with its ongoing occupation of Europe's largest nuclear power plant in Ukraine's Zaporizhzhia.
The Ukrainian nuclear facility has been under Russian control since March, shortly after Russian President Vladimir Putin launched the internationally condemned invasion of the Eastern European country on February 24. In recent weeks, nuclear experts and analysts have raised alarms as explosions have rocked the plant.
Ukraine blamed Russia for the "provocations," saying that Moscow's actions could lead to "catastrophe." Meanwhile, Russia has blamed the blasts on Ukrainian shelling, and both nations have accused each other of planning so-called "false flag" operations in a bid to blame a nuclear disaster on the other country.
Russia "wants to pull the power grid of the Ukrainians down as much as possible," Stavridis, the former commander of NATO's Allied Command Operations, said during an interview on MSNBC. He added that Moscow aims to "scare the Europeans" and "frighten" the United States into feeling "as though we're living on the edge of Three Mile Island or Chernobyl."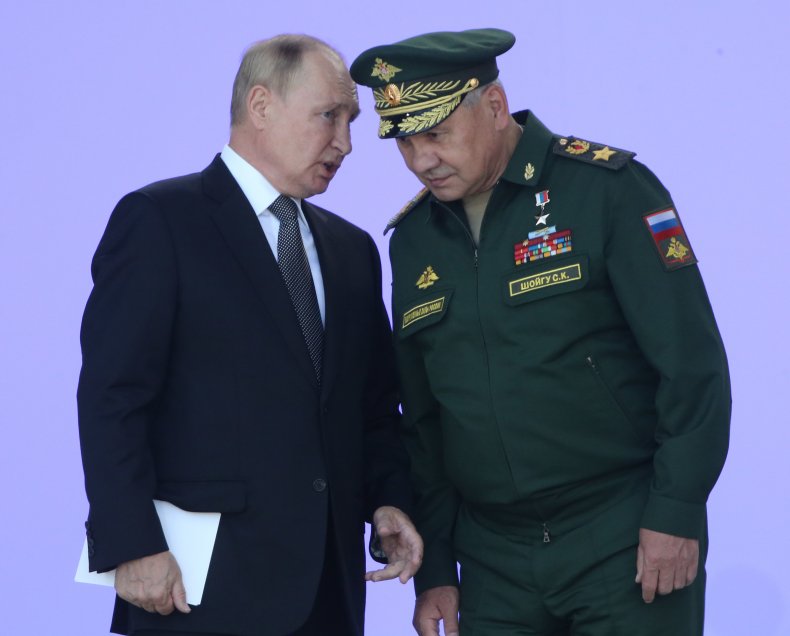 "Here's the bad news, we are," Stavridis said. "This one absolutely screams for international engagement."
In 1979, there was a partial meltdown at the Three Mile Island nuclear plant in Pennsylvania, which remains the most significant incident at a commercial U.S. facility. The Chernobyl disaster took place in Ukraine in 1986, and is one of the most significant nuclear accidents in history.
Stavridis praised international efforts to address the situation at Zaporizhzhia. He pointed to Turkey's previous success in negotiating an agreement to open up ports to ship agriculture products from Ukraine. The retired admiral said Turkey's president should make dealing with the nuclear power plant a priority as well.
"Russia does not stop its blackmail in and around the Zaporizhzhia Nuclear Power Plant," Ukrainian President Volodymyr Zelensky said Monday night, who accused Moscow of "provocative shelling."
"Under the cover of the plant, the occupiers are shelling nearby cities and communities. The Russian troops hide ammunition and equipment right in the facilities of the plant," Zelensky said.
On Friday, Putin said that Ukraine had shelled near the plant, which "creates the danger of a large-scale catastrophe that could lead to radiation contamination of vast territories."
The United Nations Secretary-General António Guterres urged all military equipment to be withdrawn from Zaporizhzhia.
"Military equipment and personnel should be withdrawn from the plant. Further deployment of forces or equipment to the site must be avoided. The area needs to be demilitarised," Guterres said during a visit to Ukraine on Thursday. "We must tell it like it is—any potential damage to Zaporizhzhia is suicide."
After discussions with French President Emmanuel Macron, Putin reportedly agreed to allow for a team of independent experts to inspect the nuclear facility, Al Jazeera reported Friday. Putin had previously demanded that any team of experts first travel through Russia in order to reach the Ukrainian plant, but Macron's office said Friday that the requirement had been dropped.
Newsweek reached out to Russia's and Ukraine's foreign ministries for comment.
Putin and other Russian officials attempt to justify their so-called "special military operation" in Ukraine by bizarrely claiming that Ukraine is led by "neo-Nazis" and needs to be "de-Nazified." They also claim there is a "genocide" of native Russian speakers in the Eastern European country.
In reality, Zelensky is a native Russian speaker and Jewish, who had family members die during the Holocaust that was perpetuated by the Nazis during World War II. He was elected with about three-quarters of the vote in 2019, when Ukraine's prime minister was also Jewish, which would counter Russia's claims that Ukrainians have adopted a "Nazi" ideology.
Putin has also referenced the former Russian Empire and the Soviet Union, suggesting that Moscow has a right to Ukraine and other territories that were previously part of its historic territory. Meanwhile, Ukraine is about to celebrate its independence day on August 24, which marks 21 years since it declared its freedom from the now-defunct Soviet Union.