Russia Playing Up Belarus Threat To Try To Distract Ukraine From Offensive, Says UK
Russia is likely to play up the threat posed to Ukraine by Belarusian military exercises as part of efforts to distract Ukraine from the Kremlin's offensive in the Donbas region, the British defense ministry said.
In its latest intelligence briefing Thursday, the ministry noted that the sudden large-scale drills by Belarusian military forces that began Wednesday are "in line with seasonal norms" as the country enters the culmination of its winter training cycle this month.
Belarusian land forces have been observed leaving their barracks for military exercises, the ministry said, emphasizing that it does not currently anticipate that forces will deviate from the drills in a way that could pose a threat to Belarus's neighbors.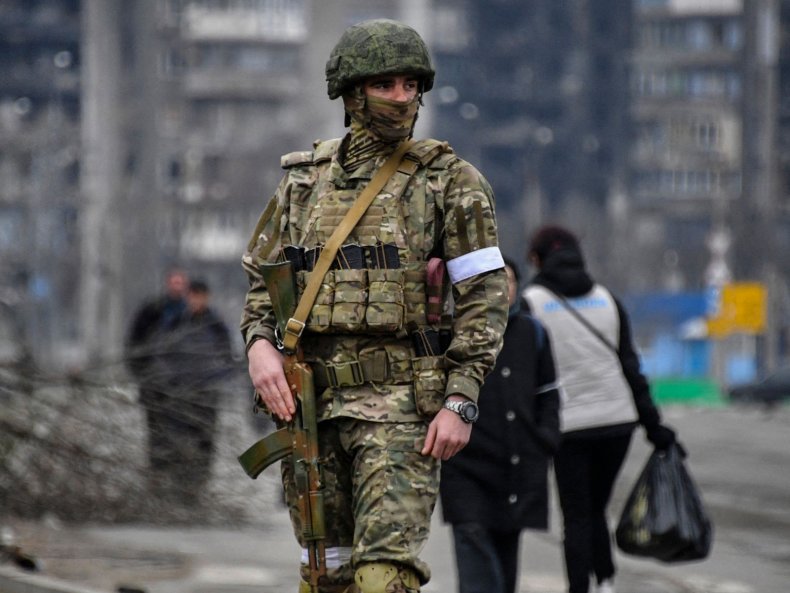 The intelligence update said Russian President Vladimir Putin may, however, inflate this threat in a bid to get Kyiv to divert troops to northern Ukraine, thereby weakening Ukrainian forces in the eastern Donbas region, where a new Russian assault began on April 18.
"Russia will likely seek to inflate the threat posed to Ukraine by these exercises in order to fix Ukrainian forces in the north, preventing them from being committed to the battle for the Donbas," the defense ministry said.
The Battle of Donbas
Putin shifted the majority of his forces in Ukraine to the Donbas region—Luhansk and Donetsk—after withdrawing troops from near the Ukrainian capital Kyiv.
As the Kremlin seeks to establish "full control" of the Donbas, and maintain a land corridor to occupied Crimea, the battle for the region is likely to decide the outcome of Putin's invasion, which he launched in February.
Belarus, a close Russian ally, began its military exercises on Wednesday, describing them as drills that will test combat readinesss. The drills pose no threat to its neighbors or the European community, the country's defense ministry said in a statement.
The drills are to "assess the readiness and ability of personnel to respond promptly to possible crisis situations," the ministry said, adding that Belarus would study the ability of its forces to "counter military threats both on land and in the air."
A day earlier, Belarusian President Alexander Lukashenko and Putin discussed "the situation in the context of a special military operation to protect the Donbas" during a phone call.
Lukashenko has consistently denied that Belarus plans to join Russia's offensive in Ukraine.
Ukraine has claimed that some of Putin's forces had attacked the country from Belarusian territory. Russia stationed troops and military equipment in Belarus before Putin began his invasion although Belarusian troops have not been deployed in Putin's war.
Newsweek has contacted Russia's Ministry of Foreign Affairs for comment.