How Will Putin React to Finland and Sweden Joining NATO? Experts Weigh in
In 2007, then Finnish defense minister Jyri Häkämies was criticized domestically for saying the three most important security challenges for Helsinki were, "Russia, Russia and Russia."
With Finland now looking to join NATO "without delay", his comments condemned as needlessly provoking Moscow now sound prescient but how will Vladimir Putin react, especially with Sweden expected to make a similar announcement soon?
The Russian foreign ministry denounced Helsinki's move on Thursday saying that it would respond with "retaliatory steps" which could be "both of a military-technical and other nature."
Finnish media reported Friday that Helsinki was preparing for Moscow to sever its supply of gas immediately but Finland had already been bracing itself for gas to be cut on May 23 anyway over its refusal to bow to Kremlin demands to pay in rubles.
That may hurt Finnish industry, but gas only accounts for 5 percent of the country's annual energy consumption and the Finnish government said that in any case, "preparations have been made" for Russia turning off the taps.
However, Finnish MP Hjallis Harkimo, who chairs the opposition party Movement Now, told the newspaper Iltalehti: "What I'm worried about is Russia's retaliation."
On Friday, Putin discussed Finland's and Sweden's potential NATO membership with his Security Council, according to the state-owned RIA news agency, which reported the Kremlin line that the Nordic countries' accession to the alliance was "an existential threat" to Russia.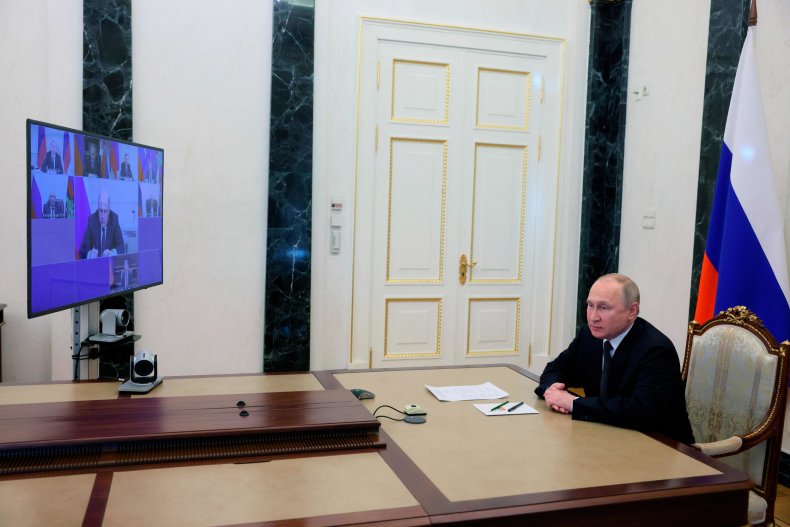 But the ending of Finland and Sweden's neutrality means Putin is confronted with an increased expansion of NATO, the very thing he used to justify his invasion of Ukraine.
Newsweek asked six experts what they thought Putin might do next. The views ranged from cyber attacks to the Russian president using it as a propaganda tool to justify his claims about NATO expansion all along. They agreed a military response was unlikely.
Johanna Vuorelma, researcher at the Centre for European Studies at the University of Helsinki
"Finland is worried and also prepared for scenarios. There has been preparation going on for months now to prepare for different types of threats coming from Russia.
"They might be some hybrid threats, they might be attacks on key infrastructure. There is a discussion on whether they might try to influence the discussion on social media. There is a set of tactics that have been on the table, this is something that has been prepared for from the beginning of the process.
"That is one of the key fears being monitored here in Finland."
Keir Giles, senior consulting fellow, Russia and Eurasia Program, Chatham House, London
"The question is whether Putin will do anything new because Finland, in particular, has long experience of hostile and damaging actions that results simply from being next to Russia, as opposed to actually doing anything that would offend Moscow."
"Damaging actions like economic blockades, like electronic warfare across the border like migrant dumping, like economic warfare, all of the other ways in which Russia has sought to damage Finland will be stepped up, no doubt in the period when Russia thinks that it can get away with it."
Mai'a Cross, politics professor at Northeastern University, Boston
"Putin will certainly use this to bolster propaganda domestically and to claim that NATO really is a threat to Russian security in light of its ongoing expansion.
"There is the possibility that the Russian military will retaliate by using increasingly brutal tactics in Ukraine in order to solidify some sort of territorial win, but this will be difficult to sustain. The possibility of the Russian military using a tactical nuclear weapon still exists, and Putin may resort to this if he feels really backed into a corner.
"But with the West more consolidated than ever, and NATO getting stronger, at some point, Putin could realize that his strategies just keep backfiring. For its part, even with Finland and Sweden on the cusp of joining, NATO won't change its strategy."
Peter Rutland, professor of Russian, East European and Eurasian Studies, Wesleyan University, Connecticut
"His options are pretty limited—Finland has already cut the train link to St. Petersburg for example.
"He could cut off the gas supply, which Russia already threatened to do because Finland refused to pay in rubles, (However,) gas only accounts for five percent of Finland's energy supply, and they can get alternative gas from a pipeline to Estonia."
Lieutenant Colonel William Astore, ex-professor of history at the U.S. Air Force Academy
"Even a pinprick strike against Finland would be a major propaganda defeat for Putin, a quasi-confirmation that he's a 'war criminal.' I see Putin as focusing on the war in Ukraine—he can't afford other distractions at this time."
"Putin has enough trouble in Ukraine. Recall that the Russo-Finnish Winter War of 1939-40 was a disaster for the Soviet Union and Stalin. The Russians have long memories, and I see no reason why they'd want to get bogged down in a war with Finland."
Matt Qvortrup, political science professor, Coventry University, U.K.
"For them to do anything there in Finland would be highly difficult. Russia will say they will do quite a lot but they are not going to use nuclear weapons, they are not going to start a war given that they are not winning in Ukraine."
"The Winter War in Finland in 1940 (which the USSR lost) was the dress rehearsal or a smaller version of Ukraine and the Soviets couldn't beat them."
"If you are in a ballroom fight and you are already reeling, then you don't necessarily start another one, especially not with an enemy that you couldn't beat the first time around."