The Swedish foreign minister has said an armed attack by Russia on Sweden cannot be ruled out, as a report weighing a potential NATO membership was unveiled on Friday.
In a Friday press conference, Swedish Minister for Foreign Affairs Ann Linde presented findings from a government working group that deliberated the security landscape following Russia's invasion of Ukraine.
Linde said that while military non-alignment "has historically served Sweden well," the country "must now relate to a new situation after February 24."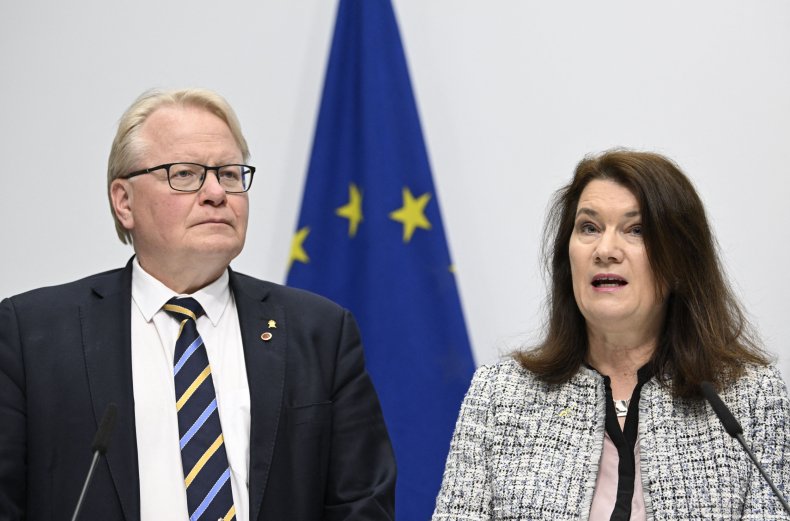 "Finnish and Swedish NATO membership would be perceived negatively by Russia and lead to response measures," Linde said. "The assessment is that we will not be exposed to a conventional military attack as a reaction to possible applications for NATO membership.
"On the other hand, it has been established that an armed attack on Sweden cannot be ruled out."
Minister of Defense Peter Hultqvist said that despite the "risk of Russian reactions" in the event Sweden applies for NATO membership, "there is readiness to handle any countermeasures."
Neither Sweden nor Finland are members of NATO, but both nations have been key partners to the alliance. Finland announced it would apply for NATO membership on Thursday, and Sweden is expected to soon follow.
NATO has welcomed Helsinki's move, but Russian officials responded with threats of retaliation and possible nuclear war.
Conclusions from the Swedish working group's report found that "Russian provocation and retaliatory measures against Sweden cannot be ruled out during a transition period in connection with a Swedish application for NATO membership."
The report states that Sweden's current security and defense cooperation framework has resulted in "a high level of interoperability with strategic partners," but does not include "mutually binding defense obligations."
"Within the framework of current cooperation, there is no guarantee that Sweden would be helped if it were the target of a serious threat or attack," the report reads.
The report said the Russia-Ukraine war "highlighted the boundaries of NATO's commitments to non-Allies and made clear that Article 5 applies to the defense of Allies only." Article 5 guarantees that an attack on one NATO member amounts to an attack on the whole.
"Swedish NATO membership would raise the threshold for military conflicts and thus have a deterrent effect in northern Europe," the report reads. "If both Sweden and Finland were NATO members, all Nordic and Baltic countries would be covered by collective defense guarantees.
"The current uncertainty as to what form collective action would take if a security crisis or armed attack occurred would decrease."
Recent polling in Sweden found public support for joining NATO to have increased since the start of Russia's war in Ukraine. A survey carried out by Swedish firm Novus found 48 percent of Swedes favored a NATO membership as of May 2022, compared to 37 percent in January.
The below graphic by Statista depicts changes in Swedes' views on their country joining NATO throughout the years.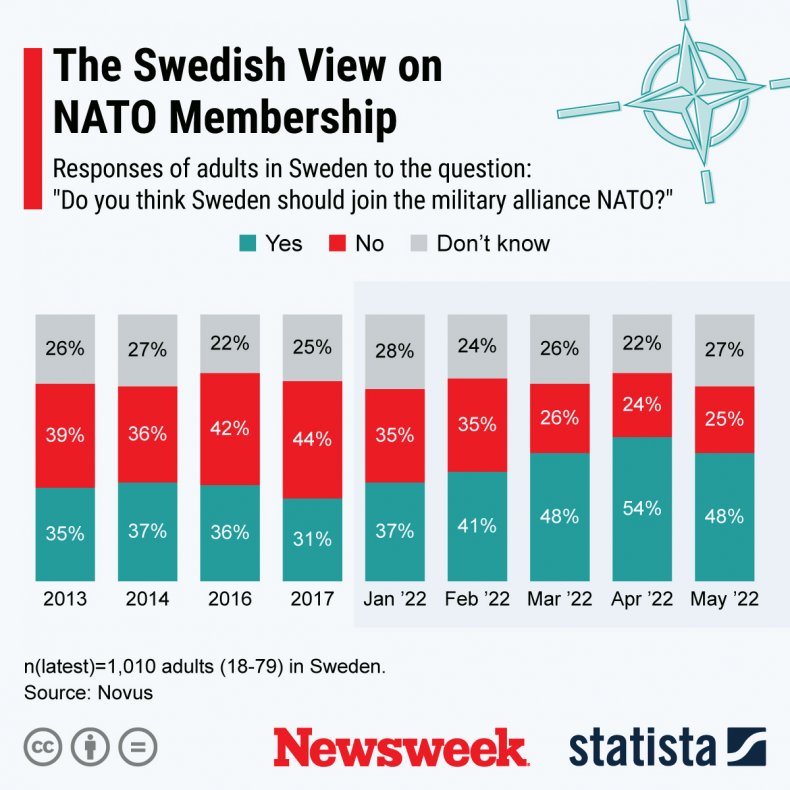 Update 5/13/22, 9:10 a.m. ET: This article was updated with additional information.