Russia Raises Price of Vodka Amid Nationwide Protests Over Conscription
Russia's Ministry of Finance is planning to increase the minimum retail price for strong alcohol, such as vodka, according to the state-owned RIA Novosti news agency.
The ministry said the measures, which are due to take effect in January 2023, are a response to increasing production costs as a result of sanctions imposed after the Russian invasion of Ukraine.
According to a draft order, the minimum price of strong alcohol—including vodka—will rise per 0.5-liter bottle from 261 rubles ($4.4) to 281 rubles ($4.8).
The minimum price of cognac will rise from 480 rubles ($8.1) to 517 rubles ($8.8) per 0.5-liter bottle, while the cost of brandy increases from 349 rubles ($5.9) to 375 rubles ($6.6).
According to RIA Novosti, the Russian Finance Ministry justifies the hikes due to increased production costs (including labor), a rise in the cost of ethyl alcohol, and sanctions introduced earlier this year that have made it harder for Russian firms to get certain equipment.
It reported that the Russian state maintains a minimum price for strong alcohol to stop the market from being saturated by cheap counterfeit products.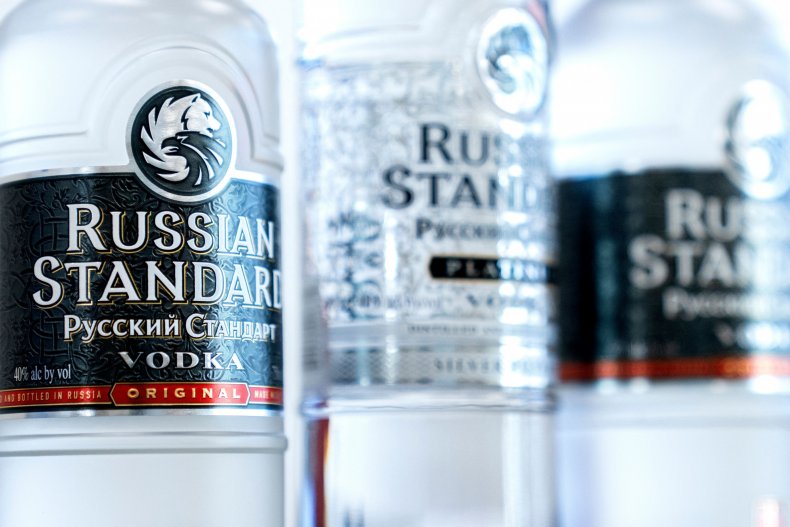 After Russia invaded Ukraine on February 24, Western countries froze Russian assets, banned the export of certain advanced technologies, and cut several of Russia's largest banks from the SWIFT payments system.
More than 1,200 foreign companies announced they were ending operations in Russia, either on moral grounds or because the business case no longer made sense.
In June, Kremlin spokesman Dmitry Peskov admitted sanctions were having a significant impact on Russia.
Speaking to Tass, he commented: "The situation is not easy, it can rather be described as difficult in terms of this unprecedented economic war.
"But there is a positive side, this situation is pushing us and our friendly countries to look for new ways of interaction, new mechanisms for interaction and new mechanisms for financial settlements."
Figures released in June showed Russian manufacturing output declined by 3.2 percent after sanctions were imposed, with car production in particular falling by 96.7 percent compared to 2021.
On September 21 Putin announced a partial mobilization to support his invasion of Ukraine.
Russian authorities insisted only 300,000 men with previous military experience would be conscripted, but there are widespread reports of men with no military background being drafted.
A number of videos purporting to show Russian conscripts drinking heavily, and in one case passed out, have been shared on social media.
The BBC's Francis Scarr shared one clip on Twitter, adding: "Absolute scenes at an airfield in Russia's Far East where one man mobilized to fight in Ukraine was so drunk that he reportedly fell asleep in the long grass next to the runway."
The Russian Foreign Office has been contacted for comment.