On Friday, Russia offered to get involved in Venezuela's political crisis by mediating between the government and opposition, as concerns of a U.S.-backed coup were raised.
Moscow has backed Venezuelan President Nicolás Maduro in a dispute with opposition-controlled National Assembly head Juan Guaidó, who declared himself "acting president" Wednesday in a move recognized by the United States and regional allies. President Donald Trump and his administration have branded Maduro's leadership "illegitimate" due to alleged human rights abuses and failed economic policies, calling on him to step down immediately.
Citing Russia Foreign Minister Sergey Lavrov, the ministry's Latin America department director Alexander Shchetinin told RIA Novosti that "we are ready to cooperate with all political forces that show a responsible approach."
Caracas's ambassador to Moscow, Carlos Rafael Faria Tortosa, told the Interfax news outlet, "we heard about the proposal of the Russian side to serve, if necessary, as an intermediary in the dialogue between the Venezuelan government and the opposition." Tortosa noted that Maduro had accepted the offer as Russia "great similar experience" in mediating world conflicts.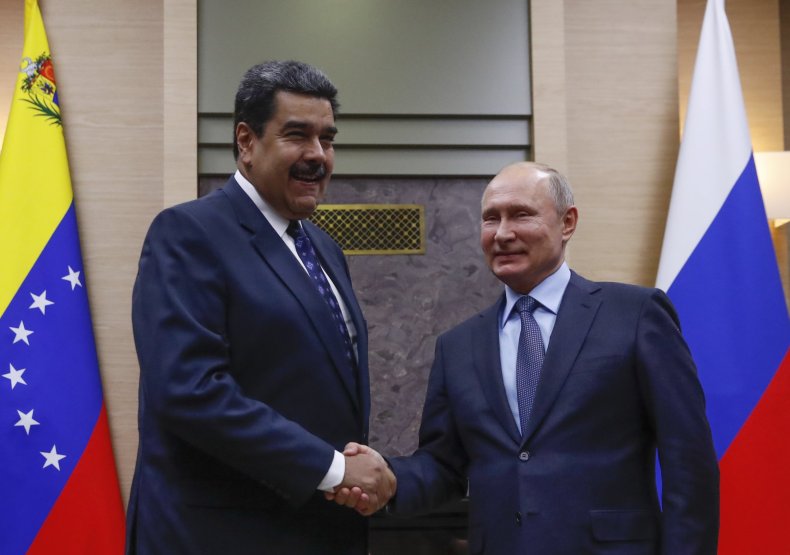 Russia is one of Venezuela's closest foreign allies and just last month sent an air force delegation that included a pair of nuclear-capable Tupolev Tu-160 bombers at a time when Washington's ties with both Caracas and Moscow were especially strained, sparking a negative U.S. response. The Trump administration has already issued sanctions that prevent Venezuela from restructuring or issuing new debt and has discussed both privately and publicly the prospects of regime change.
Such a move would be the latest chapter in an extensive U.S. history of combating leftist movements in Latin America, where Washington spent decades sponsoring coups and right-wing forces as part of the broader Cold War against the Soviet Union. These efforts continued into the 21st century, however, as the CIA was shown to have some role in a 2002 coup attempt against late Venezuelan President Hugo Chávez, whose style of government Maduro has continued.
U.S. interventionism has continued to frustrate Moscow over the past decade, who viewed Washington's wars in the Middle East as a destabilizing factor that led to the rise of Sunni Muslim militant groups like Al-Qaeda and the Islamic State (ISIS). With the U.S.-led NATO Western military alliance having expanded to Russia's borders in Eastern Europe and the Pentagon actively backing Ukraine against pro-Russia separatists in the east, Moscow has sought to step up its role in global affairs by modernizing its military at home and intervening on behalf of Syrian President Bashar al-Assad against a rebel and jihadi uprising backed by the U.S. and its regional allies, many of whom have since retreated from the conflict.
As U.S.-Russia ties continued to deteriorate and Cold War-era arms control treaties such as the 1987 Intermediate-range Nuclear Forces (INF) treaty failed, Moscow has looked West for new areas of support. Prior to its air force visit to Venezuela, Russia reached out to old Soviet ally Cuba in a move that drew comparisons from both Moscow and Washington officials to the 1962 Cuban Missile Crisis.
In the immediate aftermath of Trump's decision to recognize Guaidó as president, the Russian Foreign Ministry described "Washington's unceremonious actions as yet another demonstration of its total disregard for the norms and principles of international law and an attempt to pose as the self-imposed master of another nation's future." On Friday, Lavrov said the U.S. moves were "destructive" and that "calls for a coup d'état are in plain sight."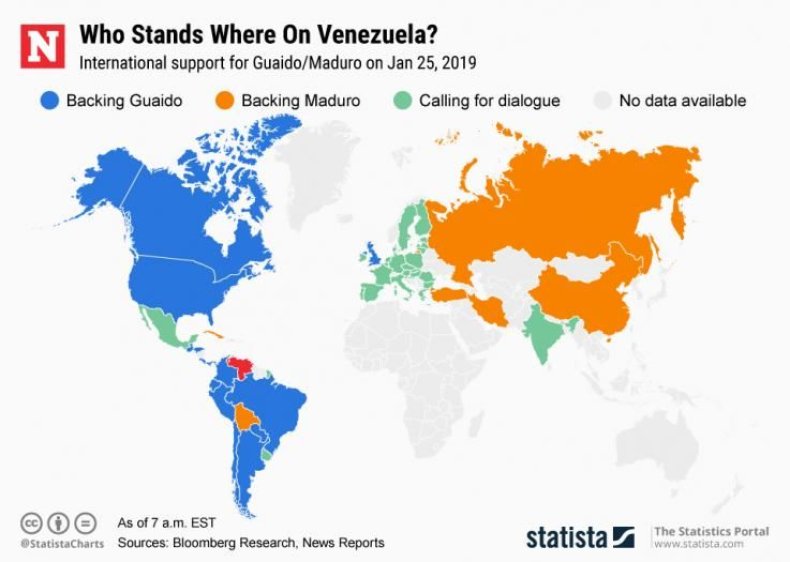 Citing an unnamed source Friday, Reuters reported that members of Russian private military company Wagner Group have traveled to Venezuela in recent days to provide security to Maduro. The group has reportedly fought alongside pro-Russia campaigns in Syria and Ukraine as well, though the Russian Defense Ministry has said that the group has no official affiliation.
While the U.S. and Russia have so far been the most vocal major powers to weigh in on the recent events in Venezuela, other countries have taken sides as well. Canada and the United Kingdom have joined Trump in backing Guaidó, while China, Iran, Syria and Turkey have stood by Maduro and have condemned any U.S. attempts to pursue regime change. The E.U. and India have called for dialogue.
In the region itself, Argentina, Brazil, Chile, Colombia, Costa Rica, Ecuador, Guatemala, Honduras, Panama, Paraguay and Peru have backed the opposition, while Bolivia, Cuba, El Salvador and Nicaragua have declared solidarity with their fellow left-wing ally. Mexico and Uruguay have offered to host talks between the two sides in Venezuela.