China's Foreign Ministry likened Russia's suspension from the United Nations Human Rights Council to "adding fuel to the fire."
"It is like adding fuel to the fire, which is not conducive to the de-escalation of conflicts, and even less so to advancing the peace talks," China's Foreign Ministry spokesperson Zhao Lijian said during a regular press conference on Friday.
The comments by Zhao come just a day after Russia was suspended from the U.N. Human Rights Council amid allegations that Russian military forces committed war crimes in several cities surrounding Ukraine's capital of Kyiv, including Bucha. Several Ukrainian officials, including President Volodymyr Zelensky, have accused Russia of committing "genocide" in Bucha and other cities after Ukrainian troops regained control of Kyiv.
On Thursday, 93 nations voted in favor of a resolution that suspended Russia from the council, while 24 voted against it. China was one of the 24 nations that voted against the resolution, with China's Ambassador to the U.N. Zhang Jun saying that the resolution was not proposed in "an open or transparent matter."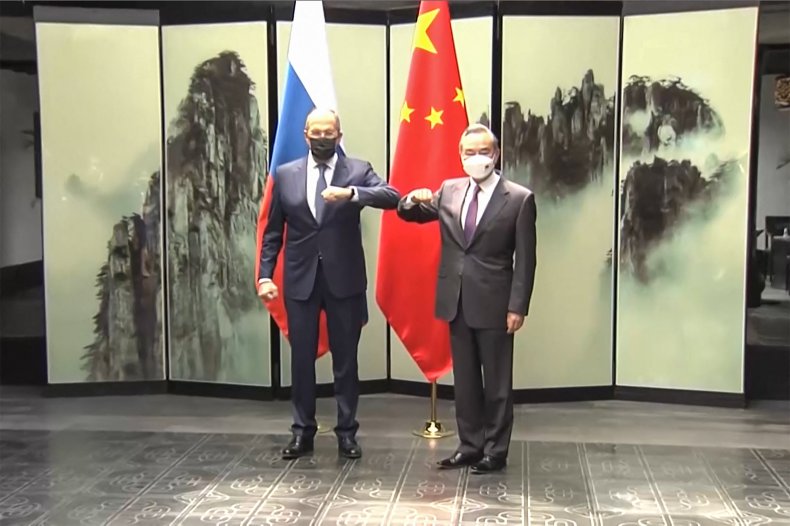 The vote to suspect Russia from the council was first prompted by U.S. Ambassador Linda Thomas-Greenfield, who called Moscow's participation in the council a "farce."
Following the vote on Thursday, Russia's Foreign Ministry issued a statement that called the suspension "an unlawful and politically motivated act of punishment designed to make an example of a sovereign UN member pursuing independent domestic and foreign policies."
During the press conference on Friday, Zhao made further criticism of Russia's suspension from the council, saying "Such a move will only aggravate the division among member states and intensify the contradictions between the parties concerned."
Zhao continued, "Dealing with the membership of the Human Rights Council in such a way would set a new and dangerous precedent, further intensify confrontations, bring a greater impact on the UN governance system, and produce serious consequences. China calls on all parties to work together in the same direction, so as to create opportunities for peace and prospects for negotiation."
China has not condemned Russia's invasion of Ukraine and has continued to call for peace between both sides. However, the U.S. and other Western countries have continued to call on China to condemn the invasion.
During an interview with MSNBC in March, White House press secretary Jen Psaki said called on China to condemn Russia's invasion, saying "This is not a time to stand on the sidelines. This is a time to be vocal and condemn the actions of President Putin and Russia invading a sovereign country."
Newsweek reached out to the foreign ministries in China and Russia for comment.