Russia 'Running Out' of Decades Old Weapons Stockpile: Ukraine Official
A key Ukrainian security official said Russia is running out of a decades-old weapons stockpile as its invasion of Ukraine continues to stagnate.
Russian President Vladimir Putin launched his "special military operation" on Ukraine on February 24, 2022. Although the Kremlin initially aimed for a quick military victory, Ukraine responded with a stronger-than-expected defense effort, bolstered by Western military aid, blunting Russia's gains. After more than a year of the conflict, Russia continues to struggle to make progress, with combat remaining concentrated in eastern Ukraine.
Following Ukraine's counteroffensive last fall, which saw its military retake thousands of square miles of formerly occupied territory, Russia began launching missile strikes against Ukrainian civilian areas and critical infrastructure, including energy facilities, in an effort to add pressure to force Ukrainian President Volodymyr Zelensky to agree to an end to the war.
Amid these ongoing strikes, Oleksiy Danilov, the secretary of the National Security and Defense Council of Ukraine, tweeted on Saturday that Russia is beginning to run low on a stockpile of weapons its military has maintained for decades.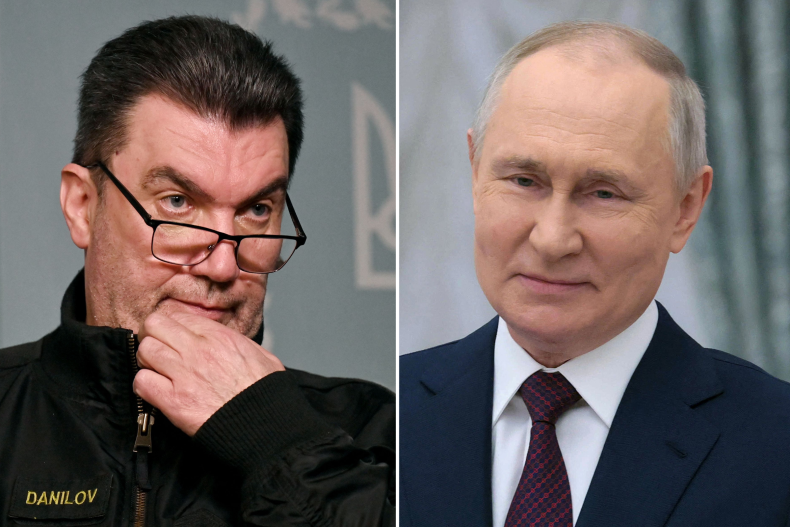 "Russia is running out of prepared stockpiles of weapons," Danilov wrote. "Missiles and military equipment have been accumulating for decades. The calculations called for blitzkrieg, not blitzutilization."
He explained that Russia's "corrupt economy" is unable to sustain the production of new weapons, making foreign aid for Russia "a matter of primary importance." Although Russia's invasion has been widely condemned, some allies have provided it with assistance. Iran, for instance, has provided the Kremlin with Shahed drones that have been used against Ukrainian infrastructure.
Russia has not publicly commented on Danilov's allegations, and it remains unknown exactly how many weapons Russia has left in its arsenal.
Experts Warn of Russia's Dwindling Arsenal
Still, Danilov's remarks are not the first indication that Putin's troops' stockpile of weapons could be dwindling. Estonia's Intelligence Chief Margo Grosberg said in late January that Russia may only have the capacity to launch missile strikes for three to four months, though a "more pessimistic" projection found that they could continue for up to nine months.
British intelligence indicated in December that Russia had been forced to scale back missile strikes due to a shortage of cruise missiles. Retired U.S. Army Lieutenant General Mark Hertling also said during a December CNN appearance that Russian efforts to gain partners stemmed from Putin "realizing that he's quickly running out of the kinds of munitions he needs to continue this fight."
Throughout the combat, Russia has reportedly suffered substantial military losses. Ukraine has claimed to have destroyed thousands of Russian tanks and many other military equipment including aircraft and missiles, according to its defense ministry—though other counts remain lower, with Russia not confirming Ukraine's estimates.
Newsweek reached out to the Russian Ministry of Defense by email for comment.